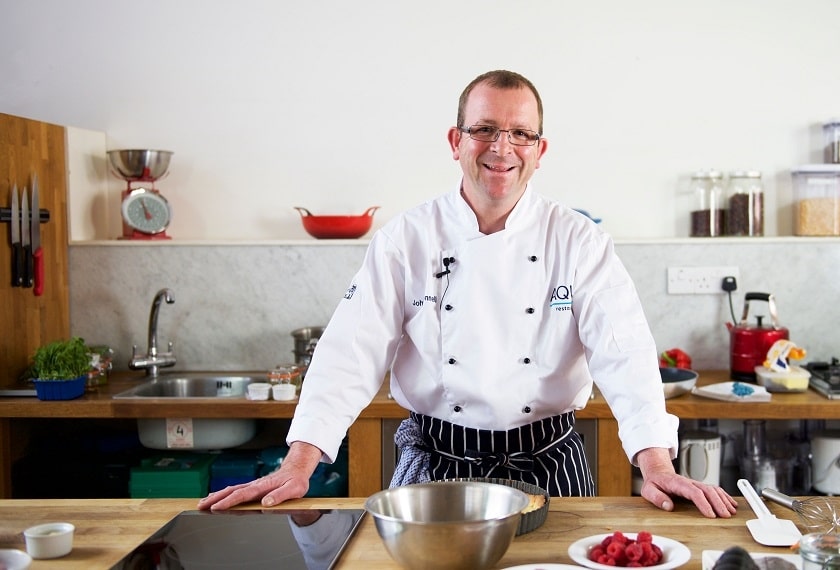 John O'Connell, Head Chef at Aqua Seafood Restaurant in Howth. I've been cooking for 34 years. My career has been varied. I've worked in restaurants in Dublin, London, and on cruise ships in the Caribbean, as well as running my own outside catering company for eight years. Among other things! I worked with Aqua owner Charlie Smith in the 1990s, so it's good to be back working together again now.
THE NITTY GRITTY
What type of training did you have?
Well firstly, I should say my career was either going to be cooking or cars! Cooking won! I attended Cahal Brugha Street Catering College in Dublin from 1983 to 1985. It's now the Culinary Arts School at the Dublin Institute of Technology. I was eighteen. I wanted to go when I was sixteen but my parents made me stay on at school.
After that, I worked as a commis chef in Dublin and in the Hyde Park Hotel in London. When I returned to Ireland, I decided it was too cold to stay here so I got a job on the cruise ships in the Caribbean. After that, I travelled extensively to Australia where I really learned a lot about food. All the places I have worked have taught me something new. It's been a great learning experience all around. Read more on learning to cook.

What were the challenges along the way?
Managing staff is a challenge. I've worked with big companies like Avoca where there are lots of staff. Good discipline is very important especially in a big organization, but not as easy to control as a smaller kitchen. I'm always trying to improve on discipline and good practice wherever I work and instil it into my team!
Were there any major positives or crucial turning points in your career?
Going to London was crucial to my career. It was hard work but I learned a lot about classic cooking. I still think London is the Capital of the food world. You can get top quality dining in any cuisine there, whereas in other international cities you will find some restaurants that are superb, but then the Chinese or Asian will not be good, or whatever. London does it all so well.
My travels in Australia were also a massive turning point.  I learned so much about food there. It really opened my eyes. I still use a lot of the ideas I picked up. When I came back to Ireland I worked as a sous chef at a boutique country house in Wicklow. Johnny Moloney was my Head Chef at the time. He was amazing to work with. We had free reign to do what we wanted, so we were able to be experimental using excellent quality ingredients served in a simple way.  We would cook beautiful fresh lobster and sardines in season, plus meats like calves liver. The emphasis was on quality and everything made from scratch. That period was very educational. And fun, working with Johnny as well!
Which people influence your cooking?
From way back, I love the River Cafe cookbooks by Rose Gray and Ruth Rogers, two iconic ladies who founded the River Cafe. Rose Gray passed away in 2010. I admire Jason Atherton very much.  His food concept is absolutely amazing. I've got a cookbook of his at home which I like a lot. I also like Simon Hopkinson, a classic food writer. I love the way he talks about food.
Paul Flynn of The Tannery in Dungarvan is another favourite. He brought all the things he learned in London back to Ireland. The Tannery is a super restaurant that has stayed Irish in its offering but raised the bar here on so many levels. I'd have to give praise also to Ross Lewis of Chapter One and Derry Clarke of L'Ecrivain, who have worked hard over many years and they get better every year.
Which food styles/trends interest you or influence your cooking as a professional chef?
Simplicity and freshness would be my key influences. We are a small team and I have a saying in the kitchen: 'Keep it simple stupid' which to explain, means staying simple with dishes, so you can concentrate on the ingredients and preparation. That's what we do at Aqua. We serve good quality fresh fish prepared and cooked well, but simply.  Being part of Good Food Ireland means we source Irish, and the seasonal aspect is also important.
Why do you love your job as a professional chef?
I love cooking. My wife says I'm obsessed! And I probably am. I like cooking at work and at home. I just love having people around, not for a big posh meal, but for barbecues in summer or a casual slow-cooked roast dinner in winter. Cooking is always about pleasing people, whether that's professionally or at home.
What's the worst thing about your role as a professional chef?
Computer stuff! I can't get to grips with it. I don't like having to type up menus or reports. It's just not my thing.
Describe a typical day in the kitchen…
My lads start about noon, but I come in by 10 am, because I like to turn on the ovens and get pans of water on to boil, prepare the fish and stuff. I like to get that all that out of the way because I like my kitchen to be totally clean, and ready for service.
We take booked tours here, so we could do a big crowd for lunch, and if you don't start off with a clean kitchen you just get in a total mess when service starts. I generally take a break in the afternoon between 3 pm and 4 pm. I have a cup of tea and a bite to eat, or pop home to Clontarf. Then back again for evening service.
What are your strong points? 
I'm a good communicator.
Would you change anything about your journey so far?
If I could have my time again I would travel more. Ideally, I would cook in Northern Spain, Italy, Lebanon, and New York. There is so much to be gained from cooking in different countries with different cuisines.
Who does the cooking at home?
Well, I never mind doing it because I love cooking at home and at work!
Any advice for anyone who wants to become a professional chef?
Keep your head down and work hard. Cheffing is a tough old game. You can see the people who become famous on programs like Masterchef and don't get me wrong, that's great that they get the opportunity. But you've got to admire the people who have worked really hard over years to learn their skills. The chefs I mentioned before, like Ross Lewis and Derry Clarke, Paul Flynn, and Kevin Thornton, have stuck at it and just kept on improving. That's a real inspiration for anyone who wants this as a career.
What's your favourite Christmas dish or recipe?
A friend of mine asked me what she should cook for a festive dinner party starter recently.  I advised her to keep it simple with pan-cooked crab toes served with nice garlic butter. We usually have fresh crab in winter on the east coast. That dish is simple to do, but impressive.
For anyone who wants to cook fish at Christmas, I'd recommend hake, pan-fried with the skin on, with some seasonal vegetables, or a Black Sole on the bone with a Meuniere Sauce. We do that here, but we add parsley and tomato to the sauce for a bit of colour.
We never have turkey at home. I will do my own Gravalax to start probably, then Beef Wellingtons with proper large leaf spinach with cream, and obviously roast potatoes! I also love game, things like mallard and pigeon. We have a pigeon salad on the menu at the moment which is going really well.
I make all my mincemeat for home and work in August, so it has a long time to mature. We serve our own Mince Pies topped with Frangipane for Christmas and they are delicious. I will be doing them at home as well.
Buy a Cookbook
Written by: Good Food Ireland®
Aqua Restaurant, Howth, is home to spectacular seafood and Dublin's best seaside views.
1 West Pier
Howth, Dublin
Ireland
A real shining star in the culinary lexicon of Irish restaurants.
109A Baggot Street Lower
D02 V580
Dublin CityDublin
Ireland
In Chapter One, the welcome is legendary, the food spot on and the dining room elegant at this Michelin starred restaurant.
The basement of Writers Museum
18-19 Parnell Square
Dublin, Dublin
Ireland
Visit Website