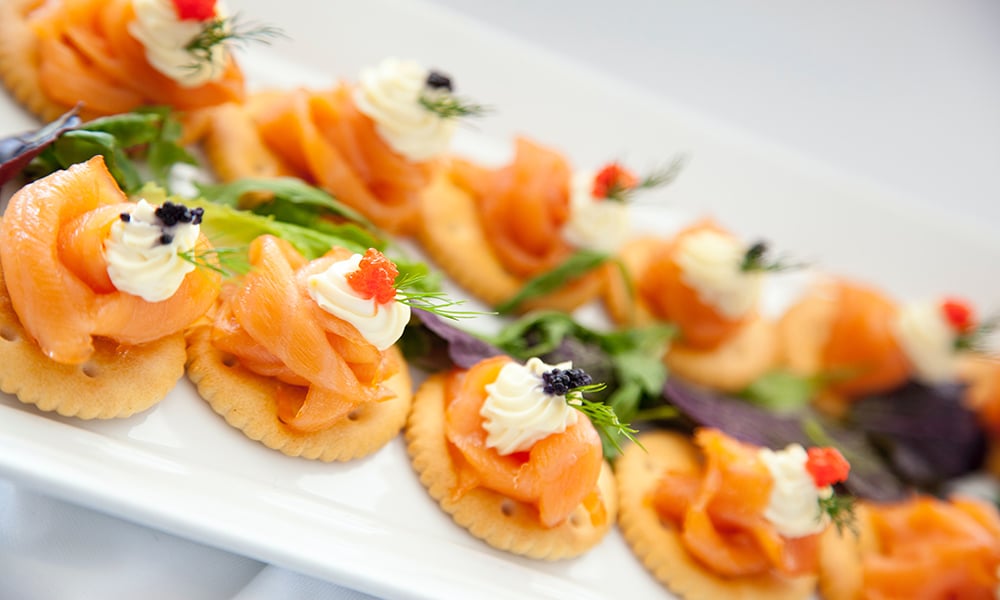 Planning a party or gathering soon and don't fancy catering for the crowds? That's fine. You don't have to! Many of our members are great at putting on a shindig in their premises, to take the ease out of cooking and entertaining your guests. But some are also quite happy to cater your private or business event at a venue of your choice.
Visit Our Shop
The range of outside catering services our members provide goes from lunchtime platters of sandwiches to dig into at a business lunch or office gathering, to full-blown dinner parties in your own home.
Here's a list of who to call when you've got a crowd to feed: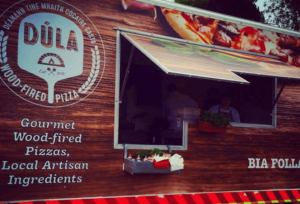 Dúla Woodfired Pizzas. This is partying with a difference. The Dúla woodfired pizzas team will bring their colourful pizza catering truck to your venue,  for your guests to enjoy proper woodfired pizzas as they party. Real handmade dough and homemade tomato sauce provide the base for the wonderful toppings of these pizzas. From Irish and continental charcuterie and cheese to vegetarian offerings – your will is their command!
Dúla is based in Mayo and caters for the local area.  But they are happy to discuss events and festivals further afield.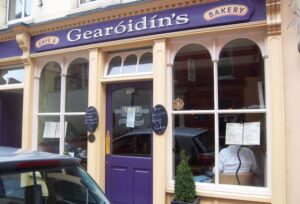 Taste @Gearoidins. In Clonakilty, Geralidine Kingston's cafe is famous for great daytime casual dining from a cook who was brought up in a farmhouse and knows how to feed people with the local produce of West Cork. This service is also available for outside catering events. Take away menus for private events and bigger parties catered for with the same care and attention to detail Geralidine displays in her lovely cafe.
Call her to chat through your requirements for events in the Clonakilty area.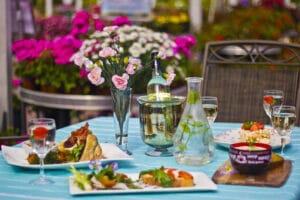 The Spinning Wheel Restaurant. Deep in the heart of rural Co. Cork, Griffin's Garden Centre is home to this restaurant, known for its home cooking and baking. Margaret Griffin learned at her mother's apron strings and she's bringing that knowledge to the cafe and in her outside catering strand of the business. The Spinning Wheel can do it all, from Gourmet meals, finger foods and substantial savoury dishes to the finest of desserts and cakes. Talk to Margaret to discuss your requirements.
She will be delighted to help. Special dietary requirements and gluten-free diets catered for.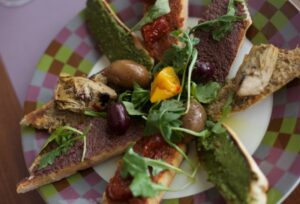 Dunne & Crescenzi. Great Italian food made with fresh Irish ingredients is what these Dublin restaurants in South Frederick Street and Sandymount are known for. That ethos translates to complete home and office delivery service with a full menu of Italian favourites, for your private event or party. Crostini, Insalate, Panina Fermati (toasted sandwiches), Piadine, (filled flatbreads) Zuppa, Dal Forno (from the oven), and La Pasticceria (dessert) are all on the menu.
Alongside a selection of Corporate Express Lunches.  Menus can be tailored to suit your needs, with allergen menus also available.
Free delivery applies for events within a 3km radius. Minimum orders apply.  All orders require 24 hours notice to be certain, but D&C will try to accommodate last minute orders for same-day delivery if at all possible.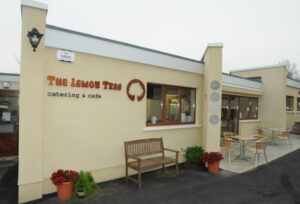 The Lemon Tree Cafe. In the pretty fishing village of Dunmore East,  Co. Waterford, The Lemon Tree Cafe concentrates on fine local fish and meats for a casual menu. Chef Jane Power learned her skills in her family's hotel in the village and brings her wealth of knowledge to your outside catering event.
Choose from a full menu of starters, mains, desserts, canapes, buffet dishes and party foods to find a mix of things that will please your guests. Parties and private events of all sizes catered for in the Waterford, Wexford and South Kilkenny areas.
24-hour notice for small parties.  For bigger events, Joan can discuss your requirements by phone or pop in.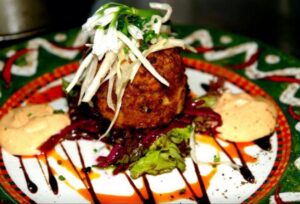 Cistin Eile. Warren Gillen is Wexford's little secret. This top-class chef runs his small cafe restaurant Cistin Eile in Wexford Town quietly and discreetly. But when you've got Michelin star chefs raving about him, then you know you're onto something serious.
Cistin Eile will happily come out of the kitchen to cater your event with a selection of dishes that marry eclectic styles with good Irish ingredients. A classy act. Ring to discuss your details and requirements.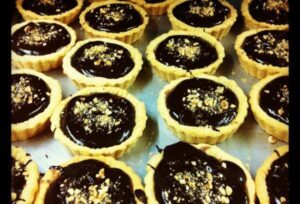 Rua Deli. Rua is legendary in Castlebar.  Both Cafe Rua and Rua Deli are available for in-house private parties for a minimum of 25 and a maximum of 40 people. But the team will also provide food for an outside event. Orders must be placed at least 3 days in advance, and a week in advance at Christmas.
Salads, sandwiches, mini quiches and main courses are available to order for any work events from desktop and business lunches to bigger office gatherings, and for private social events.  Discuss all your requirements with the very helpful staff. 
Rua caters for events held in and around the Castlebar area and does not have a delivery service.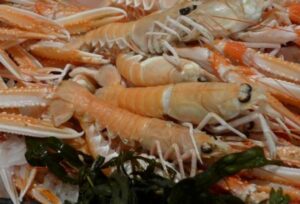 Caviston's Food Emporium. An award-winning shop and seafood cafe in Glasthule, Dublin, with an iconic owner! Peter Caviston's reputation goes before him. Here is a man who combines a wealth of food, wine and retail knowledge with legendary charm, and even a singing voice when the occasion calls for it! Caviston's caters for all private events, small or large.
The chefs here will provide food to your venue for small intimate lunches, buffet parties, or quick business lunches, to any bespoke event you may have in mind. 
Choose from a Finger Food menu or more substantial Salads, Seafood and Meat Dishes. Don't hesitate to discuss your full requirements with the team.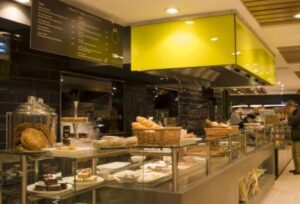 Donnybrook Fair. This invaluable food shop in Donnybrook is well known for its selection of fine meats, cheeses, fruit and vegetables and storecupboard items. Every cook in the area knows he or she will find what is required for a recipe right under this one roof. This service extends to a range of outside catering options.
An extensive Office Catering menu starts with a breakfast selection of croissants, continental pastries, scones and muffins, through to lunchtime small, medium or large selections of Classic Sandwiches and Wraps or Luxury Sandwiches and Wraps, with prices starting at €21.00. 
More substantial Lunch Platters include Cheese Boards or Meat Platters, Antipasti Boards, Individual Savoury Tartlets and Fruit Platters. You can also choose from Sushi, Soup, Salads and many more, plus tea, coffee and drinks, to keep the crowd at work fed and watered. The Event Catering Menu runs through the complete meal, from soup and starters to buffet dishes, main courses, salads, side dishes, desserts and cakes. A full service is provided, from food delivered to your door to hire of staff and equipment. Any event catered, from celebration parties and christenings to weddings and First Communions.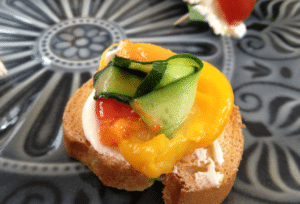 Lady Eve Cookery. Nikki Walsh is a little genius when it comes to entertaining her guests. She runs a home-based cookery school where bespoke classes and themed demos take place. But she will bring the Lady Eve experience to your door too, anywhere in Ireland. 
The Lady Eve Moveable Cookery School is a novel concept in entertaining a gathering. Nikki will come to your venue for an educational and fun gourmet evening of cookery demonstrating and tasting.  She brings recipe booklets, plates, cutlery and wine if required, so you don't need to worry about a thing.
If you want an extra special and intimate gathering of friends at home, The Lady Eve Pop-Up Dinner Party is an evening where you do the inviting and Nikki does the cooking, table setting and everything else you need, in your own home. Call to discuss your requirements for a Moveable Cookery School or Pop Up Dinner Party at your venue of choice.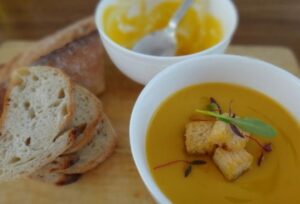 Butler's Pantry. This unique chain of shops has been making life easy for working people for many a moon. Home-made so you don't have to is the original ethos that has ensured a proper wholesome meal on the table for those who have a busy professional life. This has now extended to ready-made dishes and baking for any occasion, all made and packaged by hand in the Butler's Pantry kitchen.
So no better crowd to put on a party while you are getting your glad rags on. Butler's Pantry provides the whole service for party planning and event management. 
Everything from delicious menus to suit any occasion and party size, to arranging linen, serving plates and dishes, cutlery, flowers, staff, music and themes. You can even arrange for the Butler's Pantry chefs to cook in your own home. If you want to hold a dinner party at home but you don't want your guests to know you didn't do all the work, the Butler's Pantry team can keep a secret! You give them your serving dishes and they will do the rest. No one need ever know. Just don't blush when the compliments come rolling in!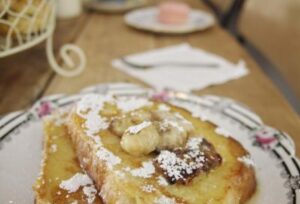 Urbun Cafe. This little spot in Cabinteeley north county Dublin is a haven for those who love good baking, great coffee and food with an eclectic twist. The whole cafe is available to book for a party or event. But the gorgeous staff at Urbun will also come to you, with their special brand of contemporary Irish food for any event at your chosen venue. Get with the beautiful people from Cabinteely next time you want a party!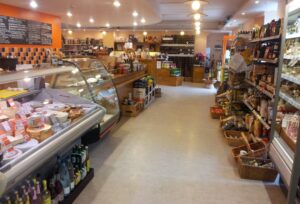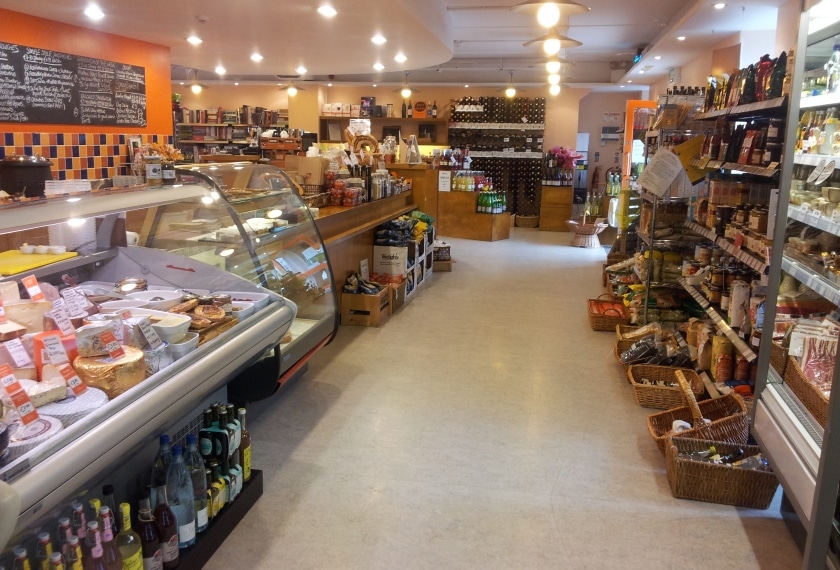 Urru Culinary Store. Ruth Healy's culinary shop and cafe in Bandon West Cork is famous for its sandwiches to eat in or take away.  Ruth also supplies lunch platters for office meetings or private events in the immediate Bandon area.  Customers can collect perfectly presented platters of sandwiches filled with artisan produce, plus side salads, cheese and meat platters to order.
Great for business lunches, desktop working lunches or small group gatherings. Call the shop with your order in advance.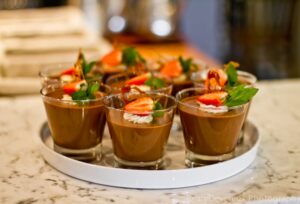 Woodstock. Trendy Phibsborough is home to this upbeat hipster cafe, deli, bakery and wine bar. A great mix of clientele enjoys the funky beat of food and drinks and laid back atmosphere that has become much loved in the area. You can also take the Woodstock vibe home with you for private parties and events.
An extensive outside catering menu is available for collection from the cafe or according to your requirements. Choose from homebaked bread, salads, tarts, cold meats and fish dishes, savoury tray bakes, casseroles and stews, and of course, cake. Lots of cake. 
Buy Gift Voucher