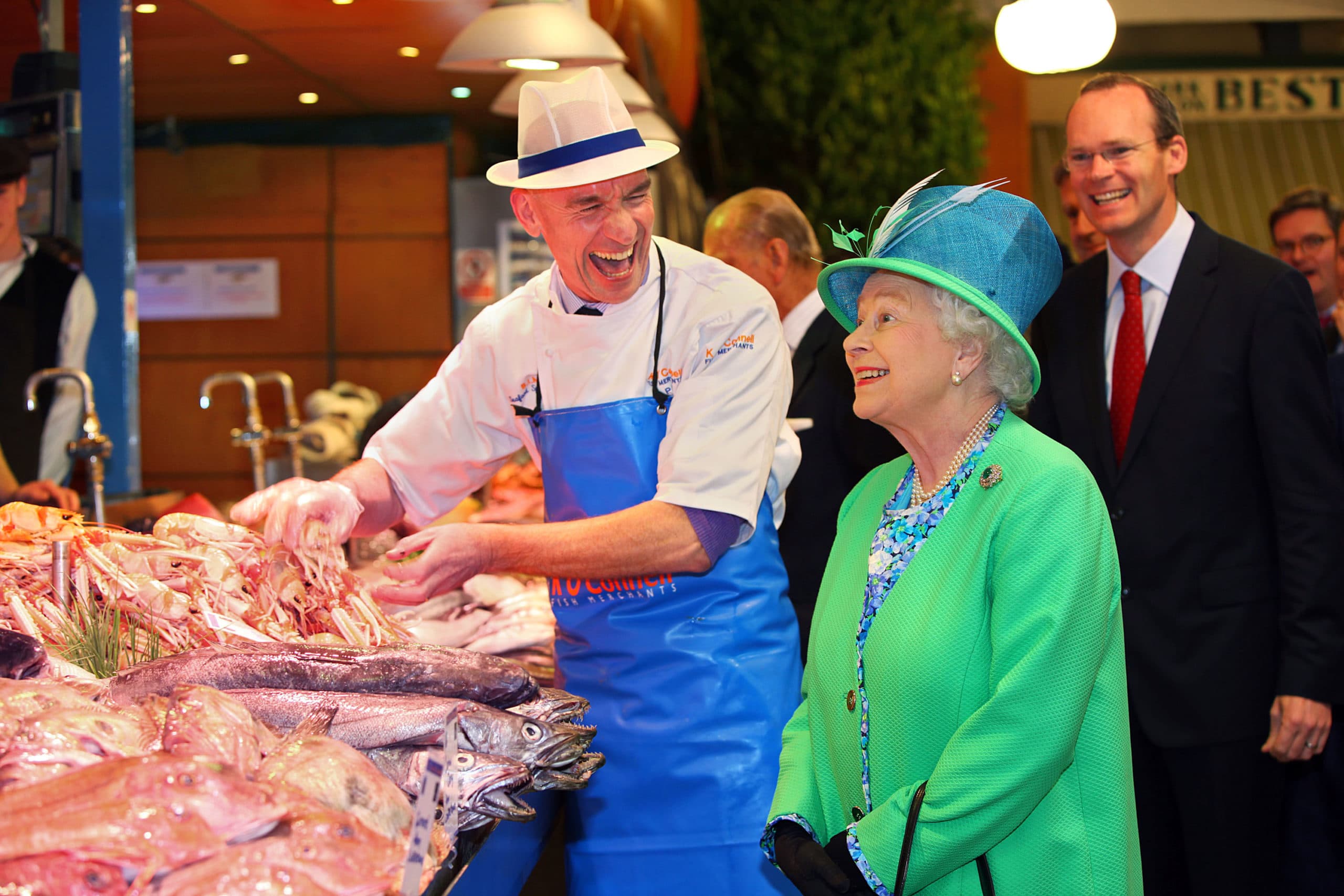 The English Market in Cork is one of the city's most iconic buildings. Donal O'Drisceoil, the co-author of Serving a City: The Story of Cork's English Market, says in his historical overview on the English Market website 'The Market was created in 1788 by the Protestant or 'English' corporation that controlled the city until 1841. 
Envied by the rest of Ireland and indeed revered as one of the best permanent markets in Europe, the English Market is a Mecca for those who want to worship at the altar of good local food. 
If you ever visit the English Market, you'll notice immediately the vibrant buzz and Cork sense of humour prevails. These are the people of this Rebel City and they live up to that name! The banter is lively, the craic is mighty. Articulate, graced with the linguistic talents of an acclaimed writer, blessed with sharp wit and intelligent humour, English Market stallholders are a piece of theatre in their own right! You'll hear the familiar greeting 'How's it goin' boi?' more than once if a stallholder encounters a neighbour or friend. Or 'any sca?' – which means 'any scandal?' to you and me! Another great way for Corkonians to start a conversation.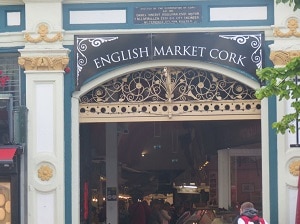 This market is way more than the sum of its parts. Not just an emporium of all that is good in food, but an illuminating insight into a way of life that has existed here for centuries. 
Among the stalls, you'll find fresh seasonal vegetables, a stall dedicated to fresh poultry, butchers with their own beef and game like wild Irish rabbit, spice stalls, chocolate stalls, coffee bars, hot sausages cooking on a griddle. This market is an assault on the senses in every good way possible. Needless to say, there are a few Good Food Ireland members in the market. Let us introduce you to them on our 'virtual tour'.
Isabelle Sheridan's flagship stall in the market was where it all started in 1992 for this award-winning and acclaimed producer. French-born and married to an Irishman in Cork, Isabelle missed the foods of her homeland so much she began to make pates from old family recipes and imported French cheeses, selling them here from this tiny stall.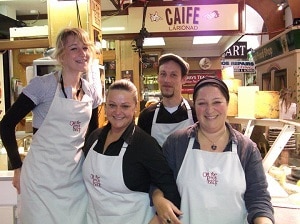 As Irish producers and cheesemakers became more prominent, she supported them and stocked their wares. These days, On The Pig's Back, has one of the best Irish cheese counters in the country. Isabelle's legendary pates, tarts and quiches are all here, alongside other fantastic Irish produce. In her homeland, Isabelle has recently been awarded the Chevalier de l'ordre National du Merite, one of the highest awards a French person can receive. Awarded in recognition of Isabelle's ceaseless championing of Irish and French foods.
With this award, Isabelle now stands alongside deep-sea expert oceanographer Jacques Cousteau, actor Gerard Depardieu and former French President Francois Mitterand! And here she is, being her usual humble self, providing bliss in culinary terms to the shoppers at the market.
Roughty Foodie is a 3rd generation business founded by the Murphy family, who have cultivated quite a reputation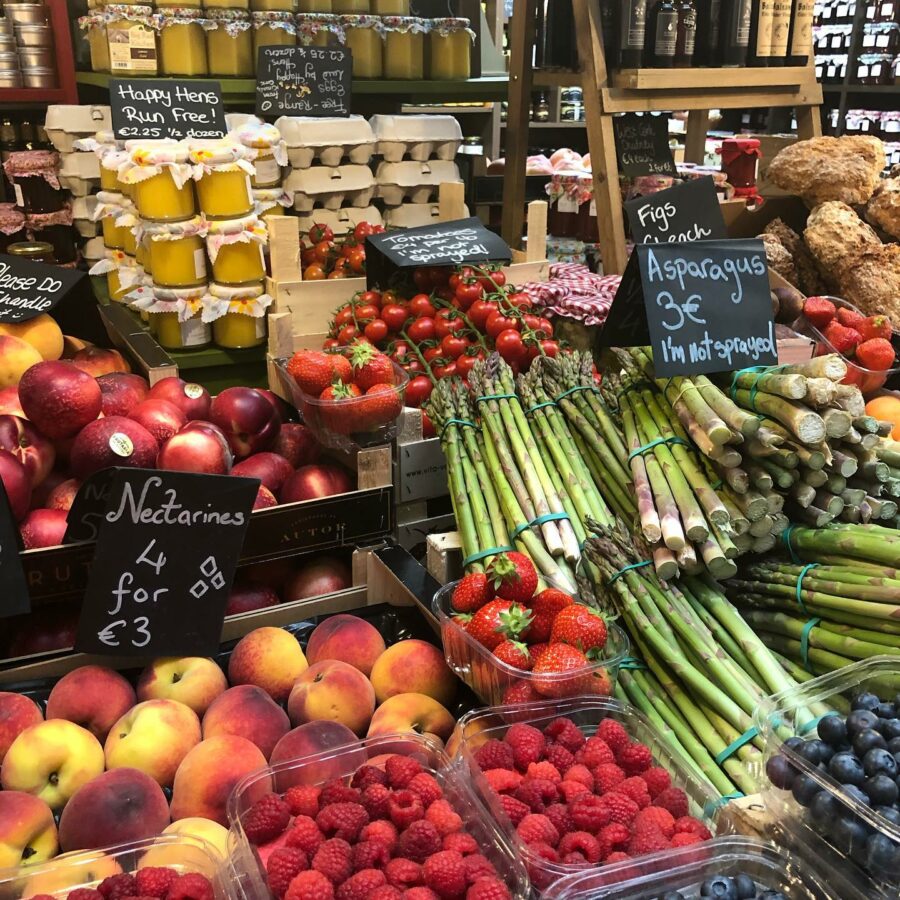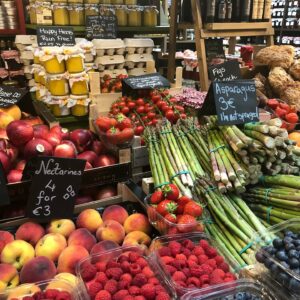 for excellence over the years.
A fantastic spot to find the best of Cork and Irish produce. There is always a small range of fresh seasonal fruit, herbs and speciality vegetables like asparagus. These would change with the seasons. The shelves are laden with preserves, chutneys, raw honey harvested locally, Cork cheeses & salamis, free-range eggs, chocolates, biscuits, crackers, porridge oats and more. You can't rave enough.
This food Emporium also carries a range of local and Irish craft products, such as seaweed cosmetic products,  beeswax candles and a quality range of fresh Cork produced flowers.
Roughty Foodie is an upmarket shopping experience rooted in all things local and authentic.
Did someone say 'fish'? At O'Connell's, you're visiting one of the long-standing stalls of the English Market. Queen Elizabeth II loves this place, as is obvious from the big giggle she is having with Pat O'Connell after he told her his mother-in-law's joke during her State Visit in 2011! Take a look at the moment, captured perfectly in a photograph on display behind the counter.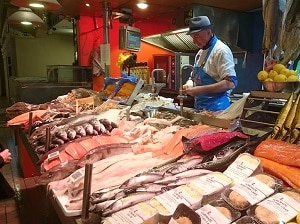 Pat and brother Paul learned all about the best fish from their mum Kay O'Connell, who began this stall many years ago when they were only small fellas. They continue her legacy, travelling daily to Castletownbere to buy their fish, just as she did. As well as admiring the display, you can watch O'Connell's and their team working away behind the counter. The stall recently featured significantly in the acclaimed Cork made movie The Young Offenders, when one of the main characters had a job on the stall with his mum. Class.
Tom Durcan's reputation precedes him. He is the Cork Spiced Beef King. We kid you not. This man has been making his spiced beef a secret recipe since he started his butchering career many years ago. Now it's so popular he sells it all year round and has a separate spiced beef stall across the way from his original butcher's stall in the market. Tom Durcan Meats is a big corner stall located at the famous fountain of the market, so it's easy to find.
Behind the counter, you'll see traditional cuts of meat from Cork farmers. Well hung beef, good pork and local lamb are specialities here, as well as homemade sausages and Polish foods. There'll also be the economical slower cooking meat cuts that are traditional in Cork, as well as familiar steaks, chops and fillets. Look out for offal too. Offal is big in Cork because it was once the centre of meat export trade when the best cuts were shipped out and the offal was kept for the local market. Liver, kidneys, heart and all sorts of stuff that's good for you are on this stall!
Tom serves a busy retail trade and supplies some of Cork's best restaurants with his meat. Stand and admire for a while as you watch proper butchers doing proper butchery, a craft skill that takes a lifetime to learn. Then decide which meat you want and enjoy the chat as you purchase. Great customer service, we call it!
Buy Gift Voucher