Good Food Ireland® Approved Since 2021
We stand over our recommendations. With exacting selection and regular review processes, we ensure a rewarding local Irish ingredient-led experience. You can count on it!
Overview
Murphy's Craft Butchers Shop in Tullow is a famous Carlow institution founded in 1934. This is a family business that amazingly stretches across 5 generations. Murphy's Butchers are known far and wide for their quality products and excellent customer service. It's no wonder as all of this invaluable knowledge and skill has been passed down from generation to generation. Today, Murphy's Butchers is in the expert hands of husband-and-wife team Jim and Bernadeta Murphy, who reinforce this reputation for excellence that is decades old. What also makes Murphy's Butchers a step above the rest is t
Read More
---
Murphy's Craft Butchers
A visit to Murphy's Craft Butchers shop is an excellent shopping experience in which you'll have your eyes opened to the fascinating world of Butchery.  A centrepiece of this tastefully decorated shop is the showcase experience of fresh meat.
Fresh meat and poultry are neatly placed in shining display fridges, so you'll get to properly inspect the selection before making your purchase.
Murphy's Butchers are a step above many other butcher shops in that they rear their own sheep and cattle. This guarantees that they can control the quality of the product from the farm right to your fork.
Furthermore, a unique selling point of this family business is the dry ageing of beef for a minimum of 21 days – 35 days after killing. Owner Jim Murphy and his dedicated team kill their own animals every week in the family's abattoir. The carcass is split in two and hung in the abattoir fridges for 2-3 weeks to relax the meat and break down the sinews. It is then taken across the yard to the butcher's shop and broken down into full sections and dry-aged for a further 10 days, then it is ready for cutting into portions and selling.
Visitors to Murphy's Butchers get a special glimpse into the process as they can observe the classic beef cuts on display in the refrigerated glass-fronted ageing chambers that produce this beef in the unique and specialised 'Murphy's Way'.
The inclusion of a family abattoir is also something very special. Once something seen in every town and village across Ireland, small family-run abattoirs have declined in recent decades. The continuation of Murphy's Abattoir is preserving a vital part of Irish food culture and Irish culture in general.
The culture of butchery and family dedication to this art is very much within the essence of everything Murphy's Butchers do day to day. The current generation pays homage and respect to generations past. A must-see feature in the shop is the generational family history of the Murphy family told in a family tree 'story board' and photographs mounted on the wall at the entrance to the shop from the back private customer car park.

When you visit Murphy's Craft Butchers in Tullow you are guaranteed to be greeted with a friendly welcome vibe from the expert Craft butchers on duty. The team will help and advise on the selection of meats and provide professional tips on cooking the cut of meat at home. There is a real pride of place experience here.
The product selection at Murphy's Craft Butchers is something to behold. From their special selection of dry-aged beef and succulent steaks across different cuts such as fillet, striploin and t-bone, meat lovers and those who appreciate a top-quality steak will be very pleased with a visit to Murphy's Butchers.
You'll also find a selection of more unusual cuts such as feather blade and beef cheek.
Not to forget those who love pork, bacon, lamb and poultry, Murphy's Butchers also supplies an exciting range across all these meats. Choose from plain chicken fillets and pork chops to specially seasoned options that can be cooked right away. You'll be guaranteed a delicious quick and easy family meal full of flavour.
If it's your first time cooking certain meat, don't hesitate to ask the Murphy's team for advice on cooking and seasoning. They'll happily share their vast knowledge.
For those looking for leaner options, Murphy's also have healthy options that are lower fat and full of protein.
Ready Meals.
If you're in a hurry and looking for a delicious meal, pop into Murphy's Butchers and browse their range of ready meals. The selection covers everything from lasagne to curries, pies and stews.
Coffee House.
Enjoy the ultimate relaxing retail experience at Murphy's Butchers with their delightful fresh gourmet coffee offering. There's also limited seating to enjoy.
Wine Cellar.
Choose from a selection of delicious wines from across the world to enjoy with your steak with Murphy's dedicated wine cellar. This selection is carefully sourced and includes options across various price ranges.
Artisan Bakery.
What makes the Murphy's Butchers an even better retail experience is the selection of fresh bread and mouth-watering bakes that are available from their bakery. The selection includes fresh loaves and cakes for all occasions.
---
Sustainability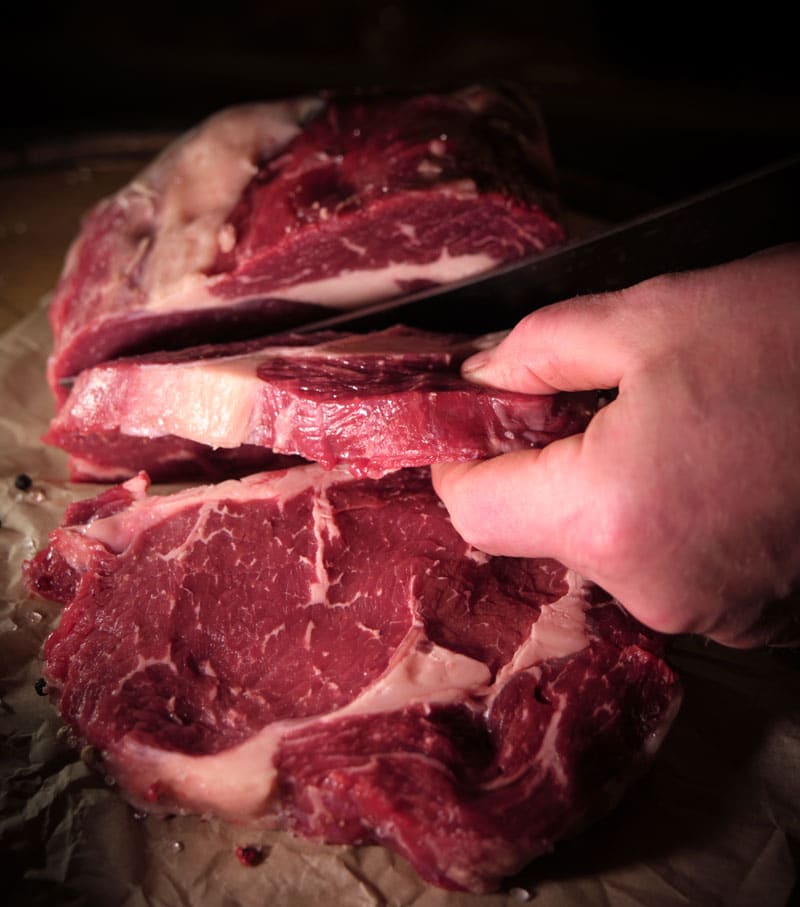 Murphy's Craft Butchers are very much rooted in sustainable methods. For example, all packaging has been switched from plastic to paper including paper shopping bags. Furthermore, the business has moved away from foil and plastic trays to compostable trays.
If you're sipping away on a gourmet coffee while shopping, you'll be happy to know that takeaway coffee cups are compostable.
In terms of energy usage, LED light fittings have been installed throughout the business. Murphy's Butchers has also switched from oil fired heating to a Geo Therma heating system.
In terms of local food and mileage, Murphy's Craft Butchers rear a vast amount of their own meat across lamb and beef production, ensuring very little food mileage. Furthermore, they also have their own Abattoir which ensures the controlled movement and butchering of the lamb and cattle. The animals also have less distance to travel which ensures the process is as stress-free as possible.
---
Leave review
There are no reviews yet. Be the first one to write one.
---
Nearby Experiences
Experiences

Accommodation

Dining

Cook & Shop

Meet the Makers