Good Food Ireland® Approved Since 2021
We stand over our recommendations. With exacting selection and regular review processes, we ensure a rewarding local Irish ingredient-led experience. You can count on it!
Overview
GROW- COOK- EAT is the name of the game at Grow HQ Café. Situated on 4 acres of cultivated land just outside Waterford City, Grow HQ provides its customers with a fresh and seasonal food offering with ingredients grown right on-site, supplemented with produce from local producers and suppliers. You'll get a taste of local with each delicious bite! Grow HQ Café is a branch of the larger GIY (Grow It Yourself) organisation, a wonderful initiative founded by Michael Kelly. Here Michael and his dedicated team of horticulturists cultivate the land to produce seasonal fruit, vegetables, salads and herbs that are us
Read More
---
Dining
Visitors to Grow HQ are given an all-around dining experience as they enjoy the very best homegrown and local produce presented in one tasty package.

€€
Grow HQ Café is a must visit for green fingered gardeners and those who in general just love good local food. The interior is bright and spacious with large floor to ceiling windows, giving great views of the beds of fruit and vegetables that are grown right outside, there's also an outdoor dining space, so you can soak up the sunshine while you eat.
It's very much a team effort at Grow HQ as the team of talented horticulturists work closely with the culinary team to provide visitors with a delicious and authentic Irish food experience.
Manager, Shona proudly declares that the carbon impact of the food service is approximately 100 steps, an impressive feat! This self-sufficient supply of fresh produce is supplemented by meat, poultry, fish and cheese conscientiously sourced from local producers.
The menus at Grow HQ are full of wholesome and tasty items made all the better by the top-quality homegrown ingredients that go into each dish. Your plate will be popping with vibrant veggies and fruits just begging you to dig in!
Dishes include options across breakfast, brunch and lunch and there is something to suit all appetites and requirements from vegan to vegetarian. Some highlights on the menu include a Veg Patch Quiche, The Full HQ (GIY's take on the full Irish breakfast) and fluffy pancakes.
Waterford's famous regional food offering also makes an appearance in the form of a tasty Waterford Blaa, served with fellow Good Food Ireland® member Jane Russel's Original Handmade Sausages and locally sourced bacon. Blaa's are also supplied by Good Food Ireland® member Walsh's Bakehouse. Now that's local on a plate!
You'll also find a range of mouthwatering freshly baked treats to enjoy with a cup of coffee or juice for the little ones.
At GIY HQ the ingredients speak for themselves, providing visitors with a delicious local food experience that will have them coming back for more!
---
Sustainability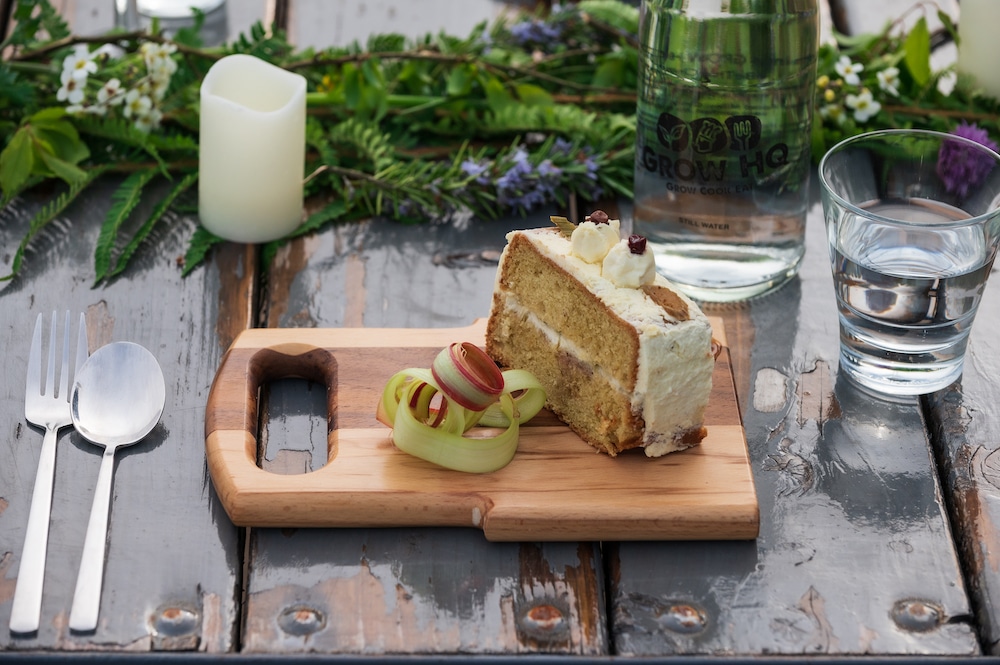 Sustainability is at the essence of everything that is GIY and Grow HQ. The organisation as a whole actively campaigns for education in sustainable food practices, encouraging budding growers to grow their own fruit, vegetables and herbs at home. At GIY HQ you'll find four acres of homegrown produce that is lovingly cared for by the expert team of horticulturists.
This produce is then used in the Grow HQ café to produce a number of delicious dishes using their produce as the main ingredients. These are supplemented by produce carefully sourced from local producers so that the integrity of the food & drink offering is constant.
In GIY and Grow HQ is a prime example of how sustainable food production can work and not only work but be a raging success.
---
Leave review
There are no reviews yet. Be the first one to write one.
---
Nearby Experiences
Experiences

Accommodation

Dining

Cook & Shop

Meet the Makers