Good Food Ireland® Approved Since 2021
We stand over our recommendations. With exacting selection and regular review processes, we ensure a rewarding local Irish ingredient-led experience. You can count on it!
Overview
The Lifeboat Inn is a classic gastropub restaurant located on the edge of the seafront in Courtmacsherry. This restaurant specialises in fresh seafood but there are also classic options for meat and poultry lovers.
---
Dining
The Lifeboat Inn is owned and operated by Husband and Husband team Martin Buckley and David O 'Halloran. Opened in June 2017, there are strong credentials behind this business, as both Martin and David bring together their individual talents to create an exemplary food & drink offering. Martin Buckley is the chef and creative talent behind the food.
Previously Martin worked in leading restaurants in London, Chapter One in Dublin and The Cliff House Restaurant in Dublin.
David seamlessly manages the front of house at The Lifeboat Inn and brings a similar track record of experience including Maitre'd at the Cliff House Restaurant in Dublin.

The Lifeboat Inn has been remodelled in recent times and is a perfect balance of a traditional Irish bar front with a bright and inviting contemporary dining space. It presents as a two-story terraced property with an indoor seated area around the main bar and an outdoor dining area to the rear.
One of the Lifeboat Inn's most showstopping features is its unique outdoor dining space directly across the road from the restaurant with outdoor tables and seating down to the water's edge. Savour a tantalising seafood feast as you gaze out at the waters from where it came. Sublime!
This restaurant offers the best of both worlds with indoor stylish dining or South of France style dining on the water's edge when Courtmacsherry is bathed in sunshine.
Customers can expect a warm welcome backed up by professional service and a quality food and drink experience rooted in great hospitality and local ingredients.
€
The Lifeboat Inn serves dinner 6 days a week and is closed on Wednesday's. Lunch is served on Saturdays & Sundays.
The food is the hero of The Lifeboat Inn and is at the heart of what Martin & David do each day. An exciting menu of dishes features the very best of local ingredients from the West Cork area. Fish and seafood are locally caught while local butchers supply a range of top quality meat and poultry. Moreso, you'll see the list of local suppliers proudly displayed on The Lifeboat Inn website. This is a priority and a passion for Martin & David and is a hallmark of the dining experience at The Lifeboat Inn.
When we were planning our visit, we had received rave reviews of the Seafood Platter which is a signature dish for the restaurant, so when Martin suggested that he would prepare this for our tasting, we were ecstatic!
The centrepiece of the platter is a mini pot of steaming fresh mussels, fresh oysters, smoked salmon, fresh crab goujons of wild haddock dipped in house-made tempura batter and freshly made tartar sauce. Each bite was enjoyed immensely. Rest assured, diners to The Lifeboat Inn will not be disappointed.
If you're travelling through beautiful West Cork, make sure to stop off at The Lifeboat Inn, you'll be treated to a heartwarming local food experience!
---
Sustainability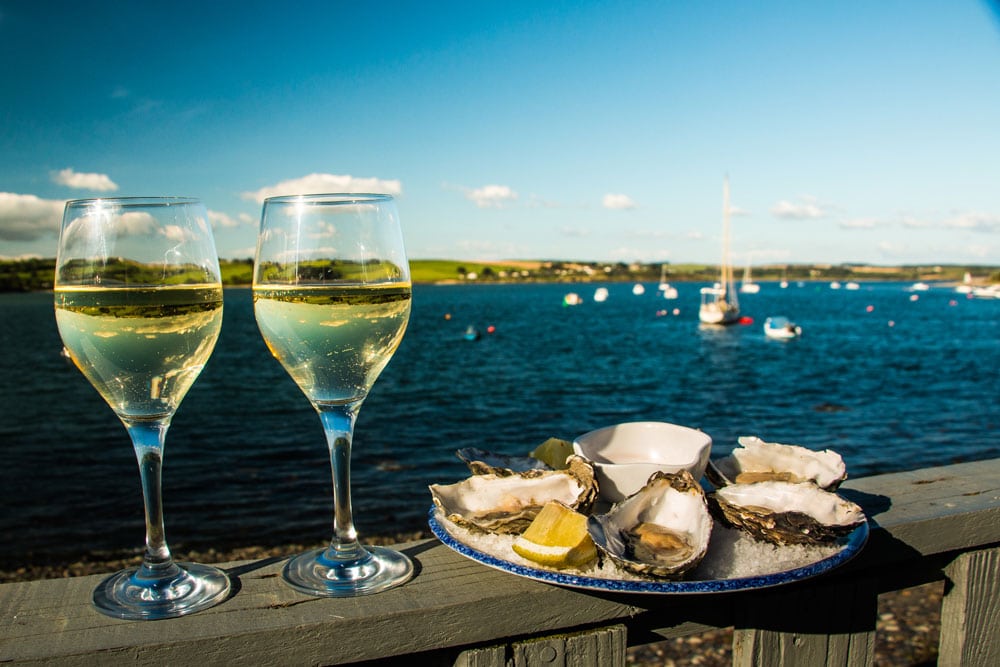 The Lifeboat Inn have a very proactive attitude to sustainability and are always trying to improve on this each day. For their takeaway offering, compostable packaging and wooden cutlery are used. They are also trying to move towards minimising and eliminating plastic packaging.
All suppliers delivering to the restaurant are asked to remove all packaging from the point of delivery.
---
Leave review
There are no reviews yet. Be the first one to write one.
---
Nearby Experiences
Experiences

Accommodation

Dining

Cook & Shop

Meet the Makers