Good Food Ireland® Approved Since 2022
We stand over our recommendations. With exacting selection and regular review processes, we ensure a rewarding local Irish ingredient-led experience. You can count on it!
Overview
This step back in time experience is a taste of 'Old School Dublin'. As you walk through the cobbled streets of Temple Bar sampling the buzz and atmosphere of this trendy part of Dublin city centre, you come upon a stand out feature, the vintage style 1950s double-decker Routemaster bus that houses Vintage Tea Trips. This standout example of vintage transport, with the ½ cab driver's compartment and the boarding platform to the rear, awaits you to embark on an unforgettable Vintage Afternoon Tea Trip Dublin style.
---
Dining
When you arrive to take your pre-booked Vintage Afternoon Tea Trip you are greeted by your host and taken to your allocated table on the top deck giving you a bird's eye view of the Dublin sights.
The vintage bus on duty the day we visited is Christened 'Pauleen', Karen Nixon the owner of the business called the bus after her Granny who was known for providing legendary hospitality to all visitors to her Dublin home. In all, there are 3 Routemaster vintage buses along with 1 Leyland bus in the fleet.


The start and finishing point for this unique experience is Essex St East in Temple Bar, the trip takes about 70 minutes. You can sit and chat and soak up the enjoyable vibe and atmosphere.
Our trip was expertly hosted by Anna Reid who looked after all our hospitality needs. In between serving drinks and the afternoon tea, Anna shared lots of interesting tidbits of information about some of the exceptional sights and locations on the trip, it was fun, educational and very enjoyable.
As soon as you reach the top deck on the bus, every table is set and ready with a stunning classic tiered Victorian Afternoon Tea stand. This stand is filled with freshly cut delicate finger sandwiches of Egg Mayonnaise, Coronation Chicken, Ploughman's pickle brioche bun hosted on both soft brown or white Dublin sliced pan bread. The sandwiches were full of flavour and super fresh for devouring.
As soon as you sit down the tea and coffee orders are taken and the journey truly begins. Unlimited drinks are served both hot and cold and there is a quality about the beverage offering where the presentation is in a gorgeous Keep Cup, branded Vintage Tea Trips… A very nice touch.
Note – there are no bathrooms on board so keep that in mind. The lovely background music is only rivalled by the chat from the neighbouring afternoon tea trippers.
After time passes by and when the sandwiches have vanished, the next food adventure begins with freshly made warm fruit scones coming up the carriage with Irish fruit jam and clotted cream. It's worth saving a special bit of room for a big slug of Tea and a big bite into one of these Dublin delights.
The higher tiers of the Afternoon Tea stands are stacked with delicate and delicious pastries with a selection of choux buns, chocolate cake, red velvet cake, lemon and raspberry tart, praline pillow and white chocolate cremeaux.
By the time you are wiping away the last of the crumbs from the corner of your mouth, Dublin will never seem the same again.
What a treat to see Dublin from this angle!!!
---
Sustainability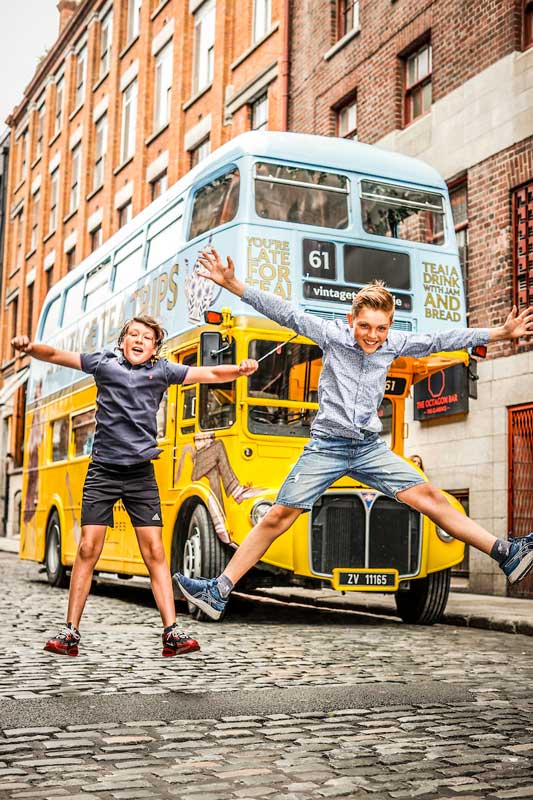 Afternoon Tea on board Vintage Tea Trips is a veritable feast of delicious local foods. Enjoy such delights that include jams and preserves from artisan suppliers among many other local producers.
Furthermore, tea and coffee are presented to you in quirky Keep Cups, a lovely memento from your experience!
---
Leave review
There are no reviews yet. Be the first one to write one.
---
Nearby Experiences
Experiences

Accommodation

Dining

Cook & Shop

Meet the Makers