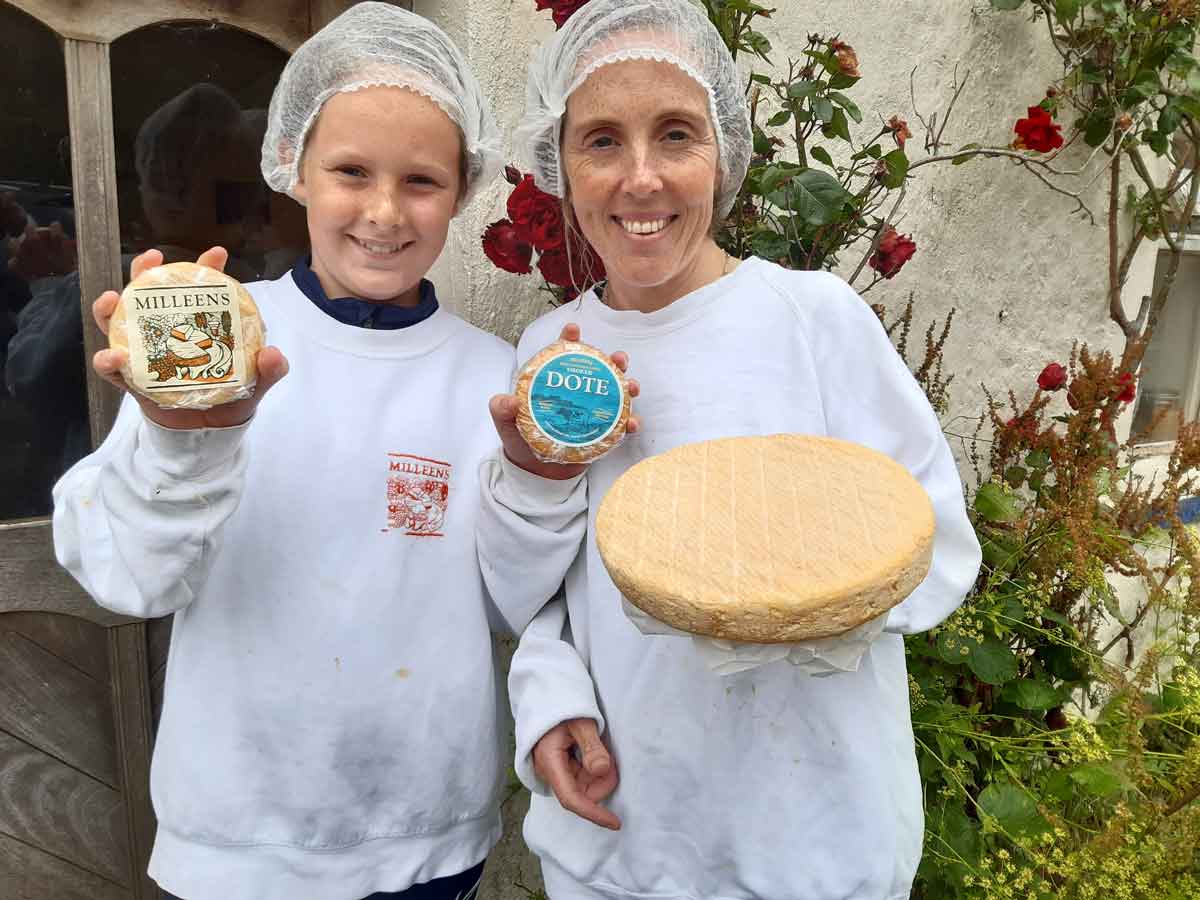 Deirdre & Liam Steele Holding Cheese.
In 1976, Veronica Steele dreamed of creating a world-class cheese. Her legacy is Milleens, a washed rind cheese that put Ireland on the cheese map. Melanie May explores the story of Ireland's most important cheese.
"As we all know, any fool can make a 'cheese.' It takes a genius to ripen it." So wrote Veronica Steele, maker of Milleens and mother of Ireland's farmhouse cheese revolution. Created on the rugged Beara Peninsula in West Cork in 1978, the philosophy student's soft, washed-rind raw milk cheese became synonymous with the birth of the modern Irish farmhouse cheese movement.
Veronica was a diligent and driven cheesemaker, qualities shared by Quinlan, her son, who took over at Milleens in 2003. "My mother and I would be very similar in many ways. We develop fascinations with certain things like making cheese, and then just become absolutely obsessed with them until we've explored every avenue of the art."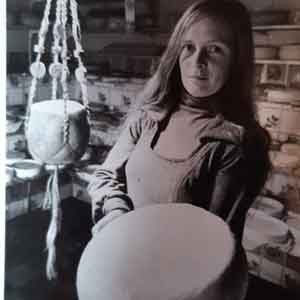 In 1976, Veronica was living in a stone cottage on a smallholding at Eyeries on the weather-beaten Beara Peninsula. Here she began making European-style cheeses and cheddars, with mixed results. Encouraged by her husband, Norman, to try something different, she began creating semi-soft cheeses. Of one such cheese, she noted, "It was a quare hawk alright. Wild, weird, and wonderful." That cheese was Milleens.
Cheesemaking in Ireland goes back to the Celtic times but the craft had died out by the 18th-century. In the 1970s, when Veronica started dabbling in dairy, the cheese market was dominated by mass-produced Calvita and Galtee.
It was "hunger and shame" that led to the creation of Milleens: Veronica's local greengrocer closed and she could no longer buy good cheddar. She then witnessed a French couple "asking for the local cheese and being given Calvita." Determined, she set about creating an Irish cheese that would "defeat Switzerland and Italy and France on the road to world domination."
Though the growth of their farmhouse industry was accidental, the cheesemaking was a studied calculation. Veronica absorbed John Ehle's book The Cheeses and Wines of England and France and her endeavours were scientific in approach. Her creation was unique, a new cheese type, of which Veronica was most proud.
The farm's sea-level location is responsible for Milleens' distinctive wet, orange rind. Veronica explained that the humidity would always result in moist skin on the cheese. Furthermore, being a farmhouse cheese, the first ones into the mould would be quite different to the last ones, but because of the curing and handling process, certain flavours would be common throughout them all.
Those flavours are seasonal and depend on what the cows are eating. The cows of the Beara peninsula graze on a mix of rich flora and pasture that makes Milleens so exciting. When the cows are eating interesting food, you get interesting milk which gives you a chance to make interesting cheese. It is in this way, that each Irish farmhouse cheese tastes different. They express terroir in the true sense of the word.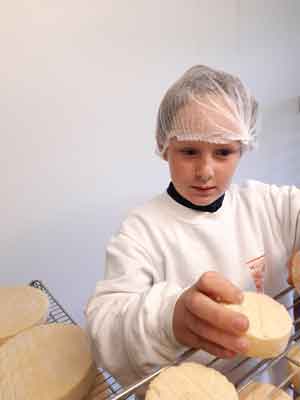 In the spring and summer, Milleens has floral, herbaceous and grassy flavours. Cheeses made from autumn and winter milk have savoury, mushroom and earthy flavours. In each, you can taste the farm and the fields. Milleens' texture also varies from a semi-firm paste to an oozy creamy one.
In 1978, with a surplus of this new semi-soft cheese, Veronica and Norman gave some to their friend Annie Goulding of the Blue Bull in Sneem. Annie shared it with her friend Declan Ryan of the Arbutus Lodge and Myrtle Allen of Ballymaloe House. Both adored it and requested it for their Michelin-star restaurants.
Milleens had well and truly arrived, and soon found its way onto menus across the country and even on to the cheeseboard of London's Dorchester Hotel. It was not only Milleens in demand but Veronica's cheesemaking knowledge too. She generously shared her skills with the women in the area, notably Jeffa Gill of Durrus and Giana Ferguson of Gubbeen. It was these three pioneering women who kickstarted the Irish artisan cheese industry.
Veronica also forged relationships with Teagasc dairy scientists and UCC's Department of Dairy Science. She tapped them up for advice and classes on cheesemaking. She, herself, also held cheesemaking workshops across the country. From the dissemination of her knowledge new styles of cheese emerged from farmhouses across the country, and the Irish artisan cheese industry flourished. Then, in 1983, Veronica helped establish CÁIS, the Irish Farmhouse Cheese-makers Association.
Of course, not everything was plain sailing. In the 1990s, for various reasons, Veronica had to switch from raw milk to pasteurised. She wrote, "My heart was broken, but I got over it and life continued. The cheese, as usual, didn't seem to mind." In fact, nobody seemed to mind as evident by Milleens being crowned the Supreme Champion at the British Cheese Awards in 1997. Following this, their herd of cows had to be culled because of BSE. Norman was heartbroken so they decided from then on to buy milk from neighbouring farms.
In 2003, Veronica retired, ceding the business to her son. Veronica wrote, "Quinlan Steele, who was born on the 19th May 1980, picked up the Harp in the Summer of 2003 and continues to perfect the cheese." And perfect it he did. In 2018, Milleens Céad won gold at the World Cheese Awards.
Sadly, Veronica, who had Multiple System Atrophy (MSA) died in January 2017 but she would have been so very proud that Milleens put Irish cheese on the international map and did indeed "defeat Switzerland and Italy and France."
Nowadays, Quinlan makes the cheese in the same natural, sustainable way on the farm where his mother did. The milk comes from his neighbour's Friesian cows that graze on the wildflower-filled pastures of the Beara peninsula. The rind is washed using local spring water, "and a touch of salt. We are still doing things pretty much the same, still following the traditional recipe, but it's something that you never stop learning or developing because cheese making is endlessly complex, which makes it a lot more interesting to do."
Keeping things interesting, Quinlan started making smoked Milleens. "It is a very popular grilling cheese. It's just born to grill," he laughs. "We've also started making a Camembert version of our cheese called CamemBeara. It's not actually a Camembert. It's just a bloomy rind cheese, which appears like a Camembert but it's just a Milleens with a velvet coat.
We've also started keeping bees here, so that's something else that we hope to do as a little side project. Honey pairs incredibly well with the CamemBeara."
Always playing with different cheese recipes, he amidst that there are no plans to launch new products. "We are working on refining and perfecting what we do."
Norman is retired, but still helps out occasionally with deliveries, but over the last 12 months, like many other Irish businesses, Quinlan had to change the way he operates. "This has involved my son and my wife coming on board in the making room. We're moving on to the third generation of cheesemakers," he proclaims proudly.
"He's been a pure inspiration to work with. It's come full circle. Now that I see my children becoming involved, I realise just how beautiful family working with family is, and how inspiring it is to be getting asked questions by our children. I couldn't be happier!"
Over four decades in production, times may have changed, but Milleens hasn't. Veronica's dream of Ireland having a "genuine regional cheese industry to be proud of" has come true.

Explore & Book
Food & Drink Experiences
Luxury Overnight Stay and Afternoon Tea for Two at the Grand Central Hotel

What You'll Get Luxury overnight accommodation for 2 in the Grand Central Hotel Belfast, including afternoon tea in the Observatory – 'Irelands highest cocktail bar' Stay in a Deluxe Bedroom with views over the city, and enjoy a full Irish...

Wild Atlantic Distillery Tour & Tasting

What You'll Get Witness the magic of distilling with a visit to Wild Atlantic Distillery located in the north-west of Ireland. Brian and Jim, your hosts will give you a warm welcome with a complimentary drink waiting at your arrival. Following this,...