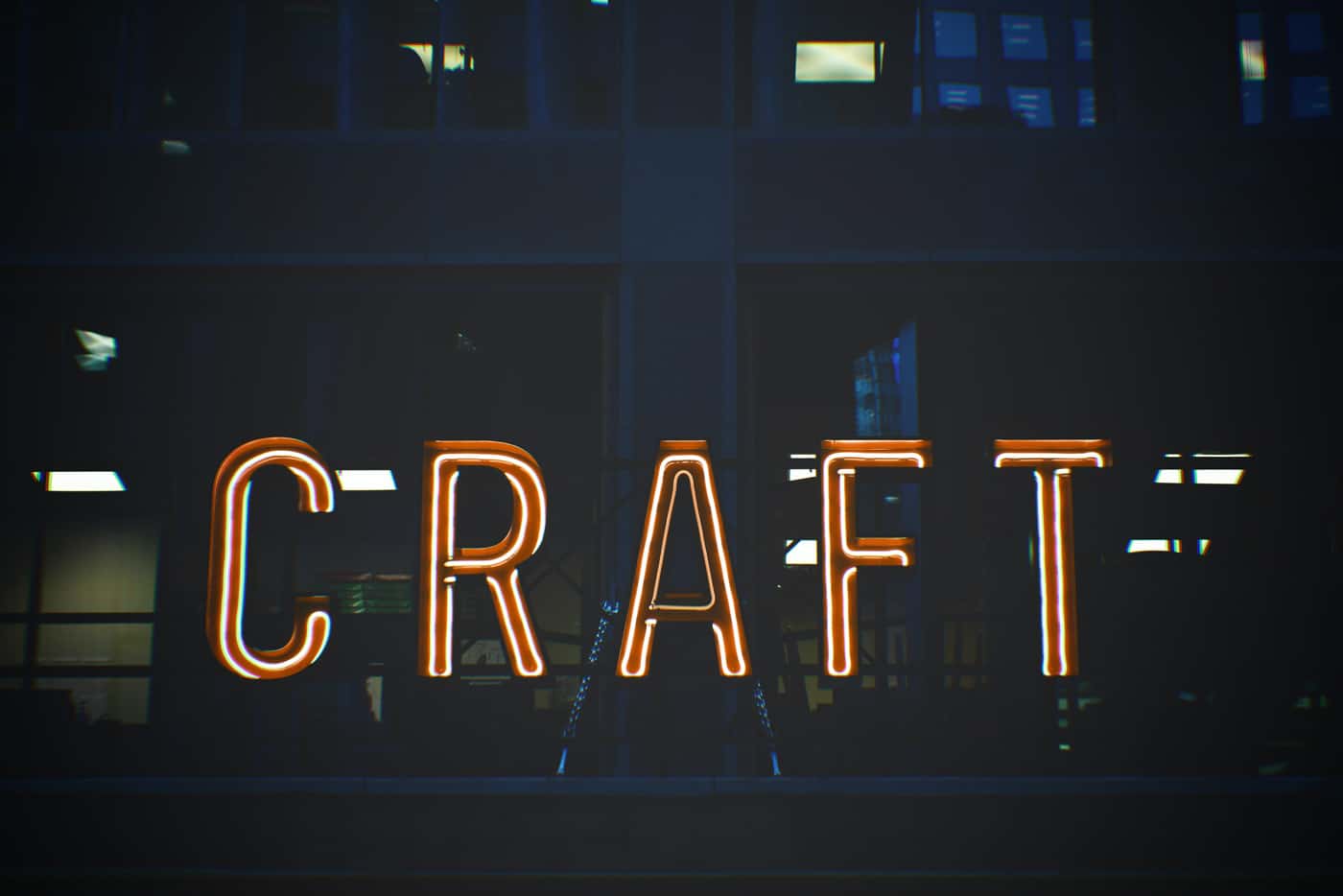 Irish craft beer is wonderfully diverse. Try matching it to your food, suggests John Wilson, who gets some delicious tips from 5 craft brewers.
We are used to matching wine with our food, but how many of us think about what beer to drink with our lunch or dinner, either when we go out, or at home? In countries such as Belgium, combining beer and food together is a given; heated discussions take place over what beer goes best with the national dish, Flemish stew. There are restaurants devoted to food and beer. There is no reason why we cannot match Irish beers to the foods we eat.
If it seems daunting, experiment by trying fresher beers such as lager and pilsner with lighter foods like salty nibbles, seafood and shellfish, salads, pork and chicken. Try full-bodied stouts and porters with rich stews, game and barbecued red meats. Don't forget that stout is magical with oysters, and, as argued below, a great partner for dark chocolate too!
Over the summer months, we will be barbecuing outdoors whenever the Irish weather permits (and often when it doesn't!). A good IPA provides the perfect match for all sorts of grilled foods, including burgers, spicy pork, as well as pizza. Remember too that Irish cider is great with many foods especially pork, bacon and charcuterie as well as creamy pork or chicken, cheesy crepes, quiches, and salads with cheese or pork.
I asked five Irish craft beer producers to share their favourite food and beer matches.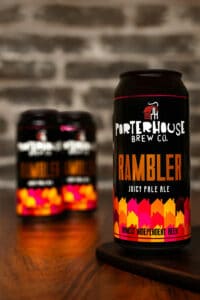 Doug Leddin from The Porterhouse Brewing Company went for their Rambler Juicy Pale Ale (currently available from Lidl) with barbecued chicken wings or ribs.
It is made from three hops, Dorado, Enigma and Eukanot. These, he tells me, bring, "Flavours and aromas of orange peel, watermelon, citrus and white grape.
The hop flavours and sweetness of the beer cut the saltiness of the meat and Ramblers slightly bitter but juicy and citrus flavours complement and contrast the searing sauces. In addition to this, pale ales are always the perfect partner for a blue cheese dip!"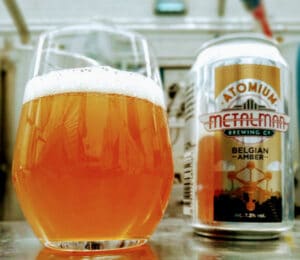 Gráinne Walsh of Metalman in Waterford came up with a familiar but very tempting option; "I know the pizza and beer thing might sound like a bit of a cliché, but a great pizza and a hoppy IPA go so well together.
A simple margarita with plenty of mozzarellas and fresh basil, paired with our Cosmic Horseshoe double dry-hopped IPA is a super combination; the spiciness of the basil, the creaminess of the cheese just sings with those citrusy hop flavours, and the smooth bitter finish cleans the palate, ready for another bite. It's pretty hard to beat!"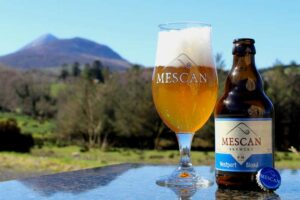 Cillian Ó Móráin of Mescan, the Westport-based Belgian-style brewery is well-used to matching beer and food, and there are plenty of helpful suggestions on the website. "My favourite food and beer combo change on a daily basis but as the sun is shining here, outside dining is currently essential.
Anticipating a summer of sunshine, I'm going with Saison as the beer. This is a farmhouse style of beer from the south of Belgium and North of France and was originally brewed as a low-alcohol, refreshing beer to slake the thirst of labourers in the field. It is fermented with a yeast that finishes the beer very dry and lends a spicy character.
The Mescan version is brewed with an addition of New World hops, adding another dimension to the flavours. It is very versatile and among other things, it pairs well with barbecued meats. So I'm looking forward to drinking one with a homemade burger of prime Irish beef, served with pickles and salad and followed by some delicious Irish Cheeses. Washed-rind cheeses like Milleens, Durrus and Gubbeen from Cork would work really well; as well as a "ploughman's favourite" – Barr Rua, an Alpine-style, hard cheese matured for a minimum of 3 months from Dozio's Cheeses in County Mayo.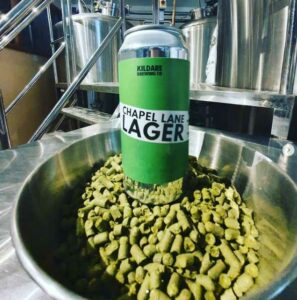 Lock 13 in Sallins runs regular beer and food evenings. Barry Flanagan offered his two favourites, a lighter dish for summer, and a richer dish for cooler weather. They serve their Kildare Brewing Chapel Lane Lager with Lager Beer Battered Atlantic Cod, with fries and a tartare sauce. Barry Flanagan says "They go perfectly together, both as an ingredient in the dish itself, but also as an accompaniment.
The crispiness of the beer batter around the white fish needs a refreshing, light beer to complement the delicate flavours and our lager fits that perfectly. It is a crisp, easy-drinking beer with low bitterness from using German hops and has a balanced malt profile that doesn't overpower your palette, making a perfect thirst-quenching summer food & beer match."
The other house favourite is their Railway Heist Red Ale served alongside the dry-aged sirloin steak with sautéed onions and mushrooms and a peppercorn sauce. "Red Heist is the perfect accompaniment for red meat and game dishes as both share a complementary depth of flavour. It has a sweetness of caramel and chocolate from the local malt, and this sweetness matches perfectly with the characteristics of our dry-aged and tender meats. We have chosen this sirloin cut as the fat when rendered releases flavours that add a level of  complexity, while the spiciness and creaminess of the peppercorn sauce match up to the herbal & grassy hop profile in the ale."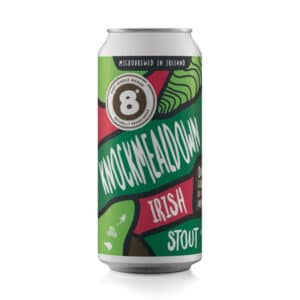 If you are a chocolate fan, Caroline Hennessy of Eight Degrees argued for a combination of stout with dark chocolate. "For me, the magic pairing has to be our Knockmealdown Irish Stout and chocolate. There's such a remarkable synergy there: the rich espresso aroma and roasted coffee flavour of the beer is always enhanced by having it with some good chocolate.
If I'm going for bars, I'd pick Hazel Mountain's 70% dark chocolate bar with honey-roasted hazelnuts, the sweet fruity and nutty notes of the chocolate cut nicely by the dark coffee bitterness and dry finish of the beer. Or, always a favourite pairing at the brewery, this stout plus my double chocolate porter brownies: https://bibliocook.com/2011/12/rds-cookery-demo-chocolate-and-knockmealdown-porter-brownies/
I love bringing this combination to a tasting and watching people's eyes light up when they have the Knockmealdown Irish Stout with the brownies. It's one of those "ah-ha" moments that can send you off on a beer and food journey of discovery.
These combinations provide a few ideas, but the best way to learn about matching your beer to food is to experiment. It's a great way to learn more about the ever-growing selection of Irish craft beers while supporting native drinks producers.
Visit Our Shop

Explore & Book
Food & Drink Experiences
Good Food Ireland® Picnic for Four – Co. Clare

What You'll Get The prelude to a great day out exploring the outdoors is having a tasty and satisfying picnic to enjoy on your travels. For families or small groups looking to explore the beauty of Co. Clare and enjoy some great local and homemade...

Mountain Lamb Farm Tour & Tasting on Achill Island – Co Mayo

What You'll Get Immerse yourself in the longstanding tradition of Blackfaced Mountain Sheep farming with an adventurous experience on Achill Island. The high hills and coastal splendour of Achill is home to this famous variety of sheep. You'll...

Unique Seafood Experience, Oyster Farm Tour & Tasting – Co Sligo

What You'll Get Enjoy a unique seafood experience when you tour a Sligo oyster farm with your guide Aisling. The experience offers an immersive guided tour and visits the working oyster farm on the shores of Sligo Bay, overlooked by the majestic...