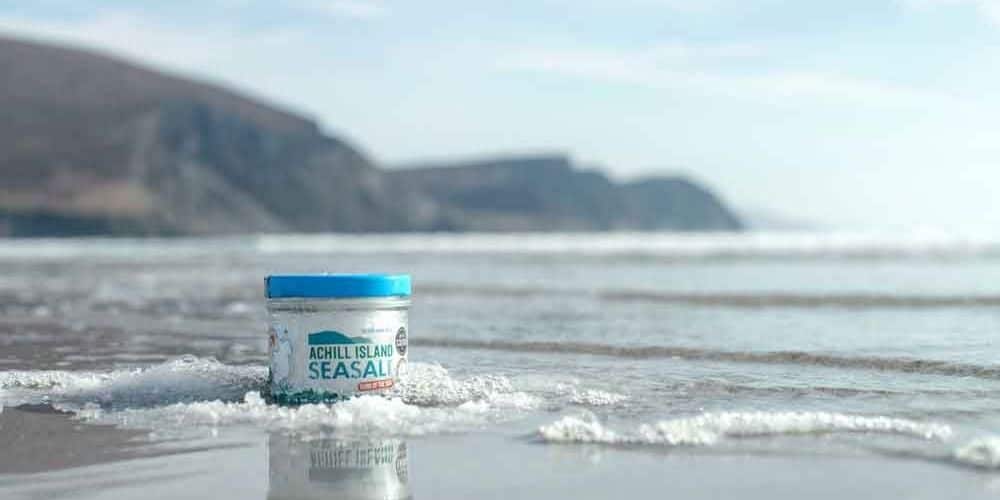 Good Food Ireland® is delighted to welcome a new Approved Member to the Good Food Ireland® Collection, Achill Island Sea Salt, Co. Mayo
The O'Malley Family of Achill Island, Co. Mayo have rejuvenated the age old tradition of sea salt production on this famous island along the Wild Atlantic Way.
In 2013 Kieran O'Malley along with his family; wife Marjorie and children, Seán, Colm and Maebh founded Achill Island Sea Salt having been influenced by a documentary they saw on sea salt production on Achill Island.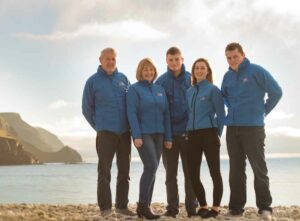 Through trial and error they developed a flavourful sea salt produced from fresh sea water harvested from the Atlantic Ocean. Starting out, they started selling their sea salt a local country and farmers markets, thrilled with the response from customers.
An intense salty flavour of the sea is what you taste when you use Achill Island Sea Salt.
The complex mineral character comes from minerals naturally occurring in the Atlantic Ocean around Achill, and the spring water flowing from the mountains on the island into the sea combined with the slow evaporation process to create the distinctive tasting and textured sea salt flakes.
As demand and popularity grew their operating circumstances grew too, from kitchen to portacabin to where they are located now in a custom modified Udarás na Gaeltachta factory which allowed them to increase production.
Today, Achill Island Sea Salt features a range of products from the original Achill Island Sea Salt to flavoured editions including smoked sea salt; a seaweed salt and the most recent addition is their own branded salted caramel fudge made in conjunction with a fellow producer who specialises in making fudge.
To round off the experience, you can visit Achill Island Sea Salt and tour around the Visitor Centre, a great Irish staycation experience this summer!
Read More About Achill Island Sea Salt

Explore & Book
Food & Drink Experiences
Luxury Overnight Stay and Afternoon Tea for Two at the Grand Central Hotel

What You'll Get Luxury overnight accommodation for 2 in the Grand Central Hotel Belfast, including afternoon tea in the Observatory – 'Irelands highest cocktail bar' Stay in a Deluxe Bedroom with views over the city, and enjoy a full Irish...

Wild Atlantic Distillery Tour & Tasting

What You'll Get Witness the magic of distilling with a visit to Wild Atlantic Distillery located in the north-west of Ireland. Brian and Jim, your hosts will give you a warm welcome with a complimentary drink waiting at your arrival. Following this,...