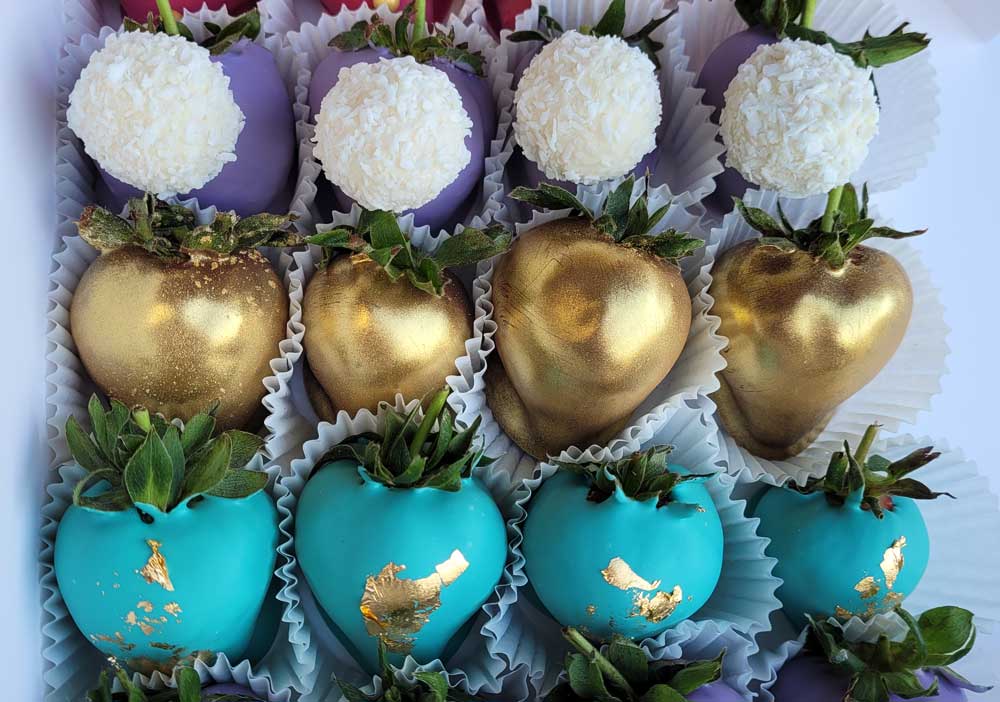 We are delighted to welcome Finch & Berry, Dublin as an Approved Member of the Good Food Ireland® Collection.
The delicious Irish strawberries are taken to the next level with Finch & Berry. Finch & Berry see themselves as boutique chocolate artisans specialising in producing unique Irish treats.
Their flagship product is Belgian chocolate covered strawberries, but these are no ordinary chocolate strawberries. Each strawberry is designed and decorated using vibrant colour pigments and topped with handmade chocolate flowers, edible jewels, finest chocolates, and biscuits. Their chocolate is also conscientiously sourced and 100% traceable.
Kate is the master behind the taste and design of these lush products. Upon building the concept for the business, Kate did a significant amount of research around the dessert market and discovered that taste, colour and decoration were important along with identifying that many people buy with their eyes. Parisian bakery shops were also a great influence. Kate combined this with the Irish people's love of strawberries and thus Finch & Berry came to be.
Finch & Berry produce a gifting box of unique handcrafted Irish treats, which are designed to the customers' requirements. These are then produced and packed on the day of delivery.
Each order also includes a handwritten note to the recipient, a truly special and bespoke high-end gift to present to loved ones.
They also produce a delicious range of cakesicles. These mini treats look like a chocolate lollipop and feature Oreo cheesecake filling. Cakesicles come in a variety of colours topped with handmade chocolate bars, edible jewels and 24k gold foil.
Read More

Explore & Book
Food & Drink Experiences
Good Food Ireland® Picnic for Four – Co. Clare

What You'll Get The prelude to a great day out exploring the outdoors is having a tasty and satisfying picnic to enjoy on your travels. For families or small groups looking to explore the beauty of Co. Clare and enjoy some great local and homemade...

Mountain Lamb Farm Tour & Tasting on Achill Island – Co Mayo

What You'll Get Immerse yourself in the longstanding tradition of Blackfaced Mountain Sheep farming with an adventurous experience on Achill Island. The high hills and coastal splendour of Achill is home to this famous variety of sheep. You'll...

Unique Seafood Experience, Oyster Farm Tour & Tasting – Co Sligo

What You'll Get Enjoy a unique seafood experience when you tour a Sligo oyster farm with your guide Aisling. The experience offers an immersive guided tour and visits the working oyster farm on the shores of Sligo Bay, overlooked by the majestic...