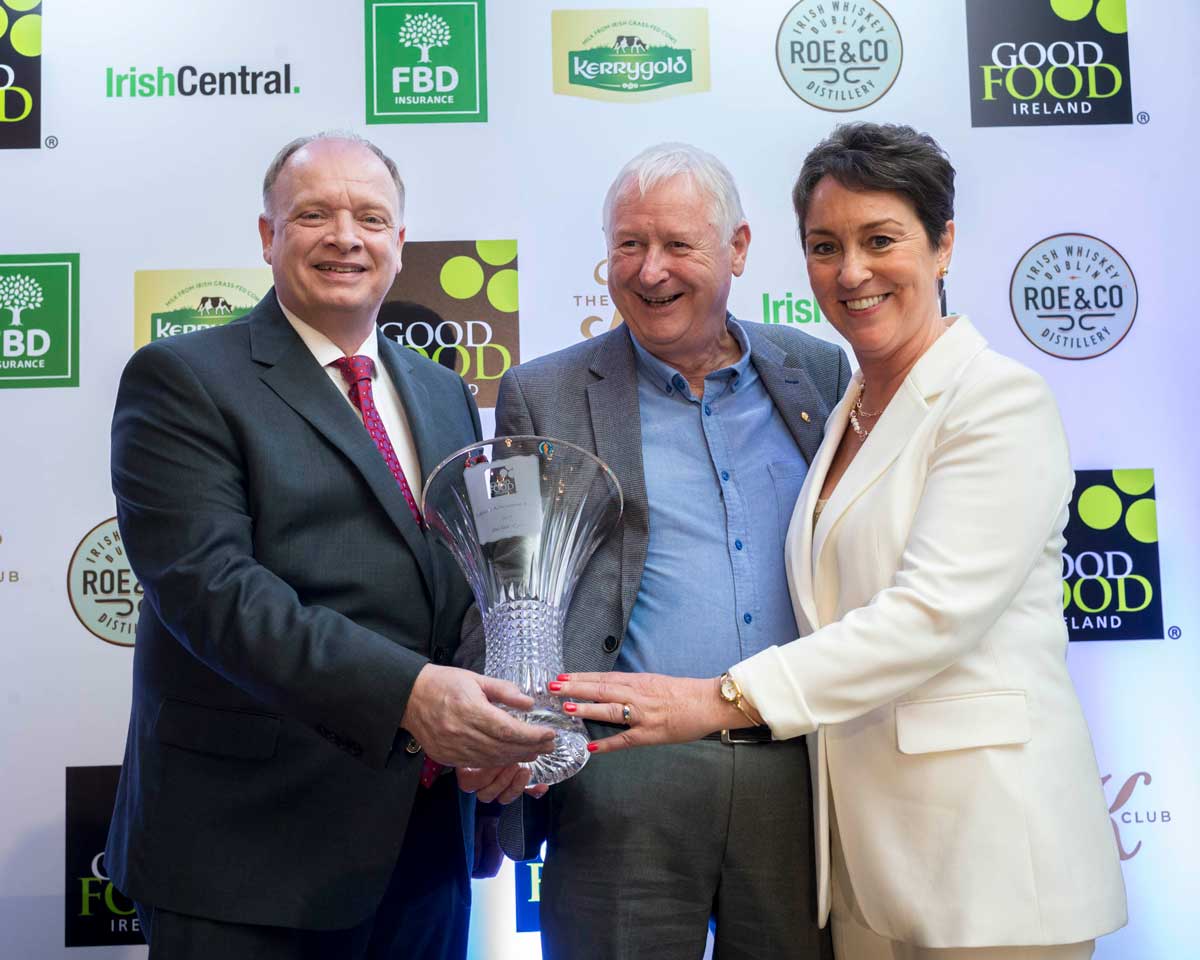 At our annual awards on April 17th at The K Club, Good Food Ireland® was honoured to present a Lifetime Achievement Award to Declan Ryan for his contribution to the promotion of Irish Food both at home and internationally over his career.
Acclaimed Irish Chef, Declan Ryan has had an illustrious career that has influenced the Irish Food scene to no end. Co-Owner of Arbutus Lodge with his brother, Michael, Declan Ryan was the first Chef to be awarded a Michelin Star in Ireland. This excellence in the kitchen paved the way for budding chefs for years to come.
In subsequent years after Arbutus Lodge was sold, Declan remained a keen promoter of Irish Food and turned his skills to breadmaking with the formation of Ryan's Arbutus Breads. This wonderfully successful bakery located on the outskirts of Cork City produces delicious fresh loaves of natural artisan bread that are free of chemicals and made using natural methods.
Some of the bread has variations on the traditional – products such as walnuts, red wine, tomatoes and herbs give an extra flavour that's highly delicious. The West Cork soda cake, made with the addition of Macroom oatmeal, is one of the most popular products. There's also light-as-air pastries, classic French baguettes and soft brioche rolls.
This commercial bakery supplies businesses throughout Cork and beyond while individuals can pick up fresh loaves themselves at local farmer's markets in Cork located in Midleton and Mahon Point.
Declan's dedication to supporting local and traditional breadmaking has largely influenced fellow businesses to look towards using artisan breads in their establishments while also providing loyal customers with their much-loved loaves of fresh bread.
It is with this in mind that Declan Ryan has been awarded the Good Food Ireland® Lifetime Achievement Award 2023. This award is in recognition of a remarkable lifelong achievement across both the tourism hospitality sector and the food production sector.
Good Food Ireland® was delighted to welcome Declan and his wife Patsy on the day where he was presented his award by Seamus Heaney of Pure Cork.
Read more about the Good Food Ireland Awards 2023 here.