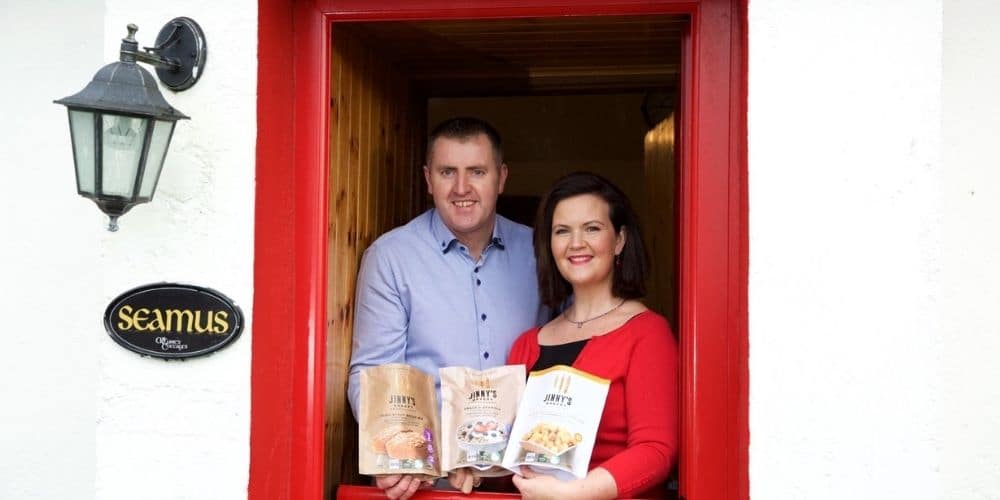 Good Food Ireland® is thrilled to welcome a new Approved Member to the Good Food Ireland® Collection, Jinny's Bakery & Tea Rooms, Co. Leitrim 
In the small town of Drumshanbo in the heart of Co. Leitrim you'll find Sinead and Pascal Gillard's charming Bakery & Tea Rooms. Jinny's Bakery & Tea Rooms was founded in 2003 when Sinead decided to grow her love of baking into a small business.
Having grown up amongst her family's self-catering cottages and restaurant business, Sinead was no stranger to the food and hospitality sector, using her experience to grow her business.
Sinead started off by baking loaves of bread and cakes that she sold at the local farmers' markets, quickly she gained a great following of customers who were wowed by her delicious baked treats.
To keep up with the high demand, Sinead and Pascal decided to take a leap and scaled up the business, to what is today employing a team of 11 people in a purpose built bakery just off the stunning Acres Lake, a popular outdoor destination.
Furthermore, the Jinny's Bakery range is now available in supermarkets and food shops across the Connacht and Midlands region.
And what a tasty range of baked goods it is. Fans of traditional Irish foods will be thrilled to see an Irish Stout Bread, Irish Soda Bread (with a sugar-free version), along with a Treacle Bread and more. The range of cakes are presented in neat loaves and feature a Lemon Drizzle and a Coffee Cake option. Just add that cup of tea or coffee and you've got a lovely afternoon treat!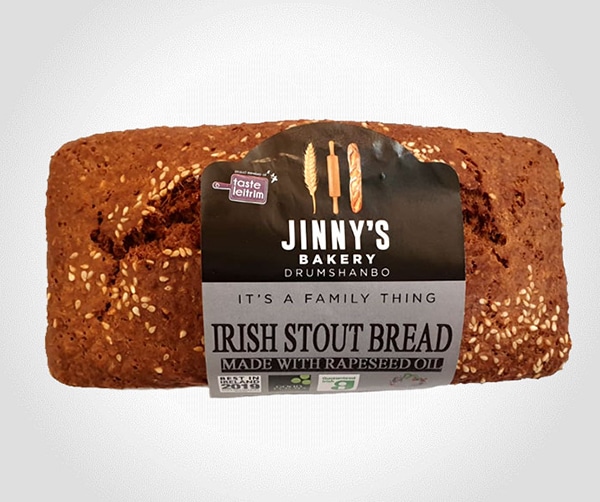 The very best natural ingredients and seasonal produce where possible are sourced to create the Jinny's Bakery Range. This is also the case with their Tea Rooms, a charming dining space located on-site.
In Tea Rooms, you'll find an exciting selection of sandwiches, salads, soups and more savoury goodness produced homemade. Ingredients are sourced locally and this is also supplemented by a kitchen garden located on-site, which produces seasonal veggies and fruits.
The Jinny's Bakery range is also available to buy in the Tea Rooms whether to enjoy at home or as part of a seated dining experience with friends and family.
If you're planning an outdoor adventure this summer make sure to journey towards Leitrim for a lovely local food experience at Jinny's Bakery & Tea Rooms!
Read More About Jinny's Bakery & Tea Rooms
Good Food Ireland® Physical Gift Voucher – Our Good Food Ireland® Physical Gift Voucher can be used in over 200 locations across the island of Ireland, including Jinny's Bakery & Tea Rooms.
Buy Gift Voucher

Explore & Book
Food & Drink Experiences
Vintage Afternoon Tea At Newbridge Silverware

What You'll Get The Good Food Ireland® Vintage Afternoon Tea at Newbridge Silverware with a Museum of Style Icons visit & a 20% Discount Voucher for Newbridge Silverware Shopping Included, and free car parking. Domo's restaurant in Newbridge...

The Gourmet Food Parlour Dinner Special Two Course

What You'll Get Your choice of two starters, two mains @€20.00 and two Coole Swan Coffees. Offer available Thursday to Saturday 5 pm – 9 pm and Sunday 5 pm – 8 pm Offer excludes the 10oz Ribeye – available for an additional €8.00...