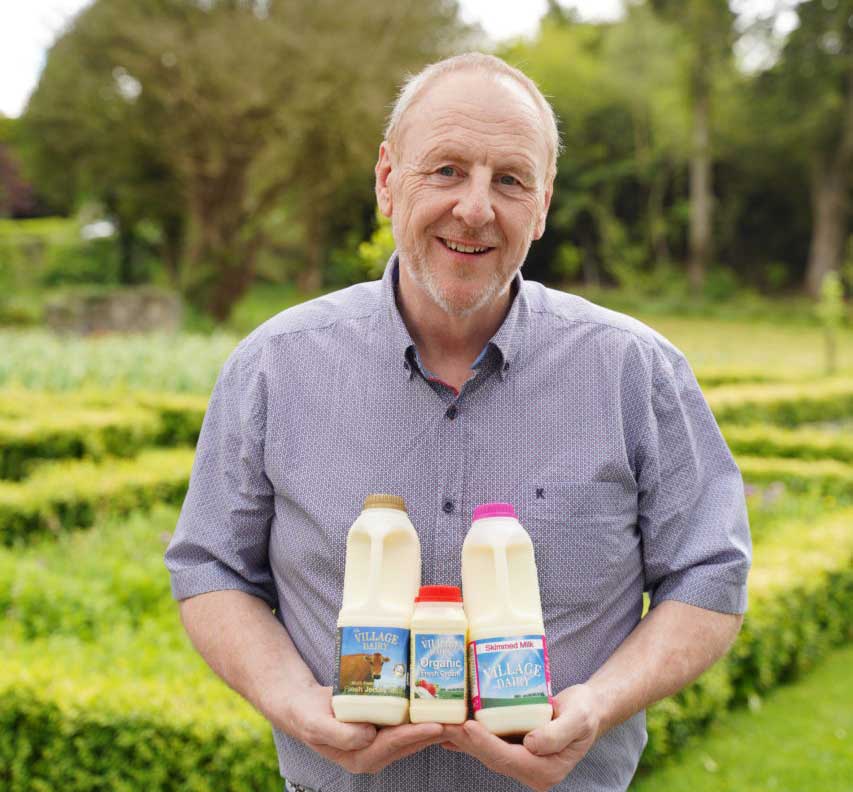 Noel Barcoe, The Village Dairy
The Village Dairy located on the Carlow/Laois border in Kileshin is a small locally run dairy producing a variety of milk based products with milk sourced from second and third generation farmers from the local area.
Where Milk Matters
Founded in 2014, The Village Dairy is operated by General Manager Noel Barcoe who has a passion for promoting the great taste and quality of craft based milk products including Jersey and organic milk and cream. This amazing micro dairy sources fresh milk from local farmers, the majority of which is sourced from within a 10km radius, ensuring an authentic local taste.
The milk then goes through the dairy, in which it is then carefully pasteurised to ensure the freshest and most natural tasting product. The milk is pasteurised and homogenised as little as possible in order to not interfere with the natural great taste, texture and nutrients present. Upon packaging it up, the milk is delivered to customers all within a 24 hour period.
And what loyal customers they have! The Village Dairy supply cafes, restaurants, hotels and more up and down the country and have built up a stellar reputation for producing top quality fresh milk, well known as the perfect ingredient for making tasty coffee and hot chocolates.
The product range offers something for all tastes from fresh milk and cream to organic milk and even the popular Jersey milk and cream, renowned for its taste and texture.
Noel and his dedicated team, have truly elevated the status of the much loved humble glass of milk!

Explore & Book
Food & Drink Experiences
Simnel Cake

Ballymaloe House is home to the cooking dynasty of the Allen family, so you know you are in for a gastronomic treat when you dine here. This elegant country house has all the elements you will need to enjoy a relaxing full of great hospitality and of...

Traditional Roast Beef Dinner

The suburbs of Cork City are home to a little secret. Located near Douglas, just a short drive from the centre of the Rebel City, Maryborough Hotel and Spa is set in a private estate of mature grounds and gardens. You can sense the 300 years of history...