NOW CLOSED WIN with Good Food Ireland a Copy of Cooking with Donegal Rapeseed Oil Cookbook
---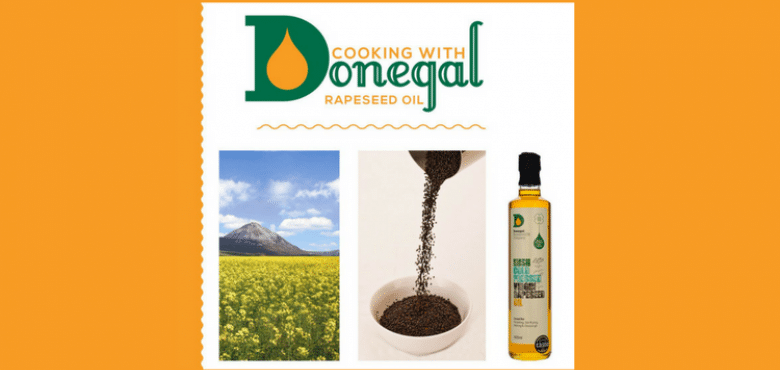 Everyone loves a good cookery book, there's no better feeling than triumphing over that difficult recipe from one of your favourite chefs. Looking to discover a new range of delicious recipes? Well we are giving two lucky winners the chance to win the recently published Cooking with Donegal Rapeseed Oil Cookbook.
Donegal based food company, Donegal Rapeseed Oil, produce a range of sumptuous healthy and nutritious culinary oils. Grown from rapeseed in the county, the seeds are cold pressed retaining their vast healthy properties. Donegal Virgin Rapeseed Oil is packed with Omega 3, 6, and 9, all believed to have a profound positive effect on heart health, reduction of strokes, and rheumatoid arthritis. This oil also has a perfect balance of mono and polyunsaturated fats, which can reduce cholesterol levels. So do you need any more reason to use it? Oh yes we almost forgot it tastes great too!
There are plenty of ways to enjoy your bottle of rapeseed oil and the folks in Donegal Rapeseed Oil have ingeniously created a cookbook of recipes to give you a helping hand. The Cooking with Donegal Rapeseed Oil Cookbook was recently launched at this year's Taste of Donegal Food Festival. The 168 page cookbook features a range of recipes from top Irish Chefs and food establishments, all using Donegal Rapeseed Oil as one of their key ingredients. Fellow members of the Good Food Ireland Collection are also getting involved. These include The Lemon Tree Resturant in Co. Donegal, O'Connor's Seafood Restaurant in Cork, Ballymaloe Foods in Co. Cork, The Burren Smokehouse in Co. Clare, The Brook Inn in Co. Cork and The Tavern Bar & Restaurant in Co. Mayo. Proceeds for the cookbook will be donated to three worthy causes, The Alzheimer Society, The Good and New Cancer Bus and Shalom Conflict Centre.
Interested in getting your hands on a copy of this cookbook? Well we are giving away copies of the cookbook to two lucky winners. All you need to do is fill in the from below and answer the question included (Top tip the answer can be found Donegal Rapeseed Oil Company profile page here.)
Good Luck!