NOW CLOSED WIN Good Food Ireland Experience for Two at Renvyle Country House Hotel, Co. Galway
---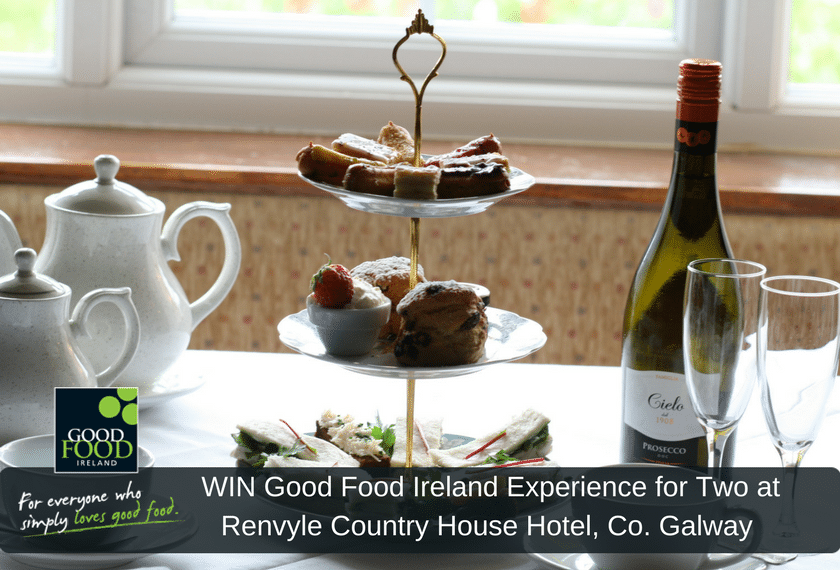 WIN A Sublime Afternoon Tea with Bubbles at the Scenic Renvyle Country House Hotel in Co. Galway
Ahh Afternoon Tea, that widely popular treat that's the perfect way to while away the afternoon with family and friends. Haven't got around to practicing the art of Afternoon Tea and want to get in on the action? Well Good Food Ireland are giving you the chance to win a fabulous Afternoon Tea experience with our friends in Renvyle Country House Hotel, Co. Galway.
Located along the Wild Atlantic Way in Galway's stunning Connemara region, Renvyle Country House Hotel represents comfort and good food combined in a relaxed family friendly setting. In fact this is one of the special places in Ireland that makes you feel as if you live here – there are two fireplaces blazing in the cheerful and cosy entrance hall and lounge. Surrounded by rolling hills and breathtaking Atlantic coastline, what better place to sit back and relax with your best friend for an afternoon of pampering!
Delicate sweet and savoury delights await for those who experience Afternoon Tea at Renvyle Country House Hotel. A special menu has been devised by Ronnie Counihan and Tim O'Sullivan the hotel's Chief Executive and Executive Chef. The menu includes delights such as delicate finger sandwiches, mouthwatering eclairs and fruit scones with cream and preserves.The cherry on top of this afternoon of great tasting food, is the inclusion of a glass of bubbles to make the experience all the more special…
Discover more about Renvyle Country House Hotel on their Good Food Ireland profile page here.
Want the chance to win this fantastic Afternoon Tea delight? All you need to do is answer the question below. (Top tip the answer can be found on Renvyle's profile page here).