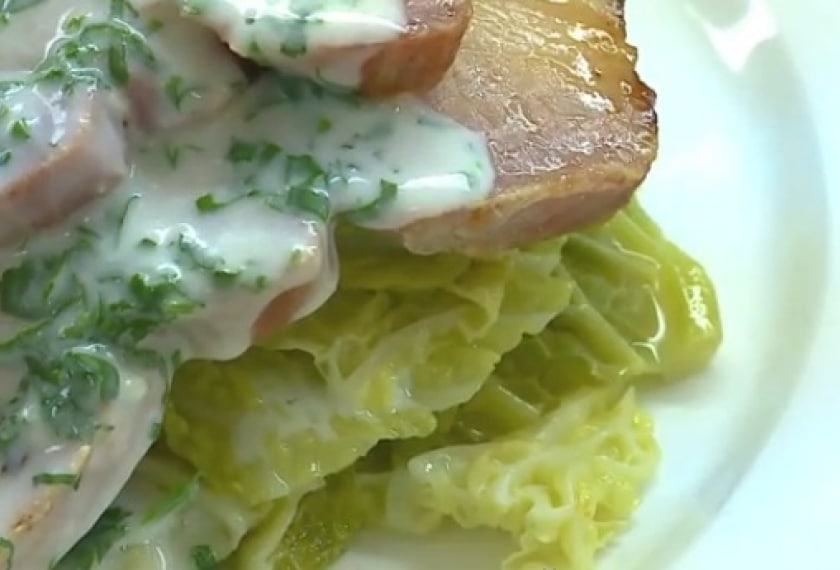 Ingredients
600g Bacon Loin
10g Dijon mustard
10g Brown sugar
10g Honey
250g Cabbage (Savoy Cabbage if possible)
10g Butter
10.5 kg Potatoes
150g Butter
125ml Cream
Parsley Sauce
400ml Milk
40g Butter
20g Plain Flour
1 Studded Onion
Cloves 6 each
30g Chopped flat parsley
Method
Loin of Bacon:
Cover the bacon loin in cold water. Bring to a boil then turn down to gentle simmer and cook for 45 minutes. Check the internal temperature with a temperature probe, it should be 74°C. Remove from pot and place on baking tray. Score the fat with a sharp knife. Brush the bacon loin with the Dijon mustard, then press down the brown sugar on top of the mustard and drizzle with honey. Place in a pre-heated oven at 180°F until golden brown, usually about 15 minutes. When golden brown leave to rest for 15 mins before carving.
Mashed Potatoes:
Peel the potatoes, cover with water and bring to boil. Turn down and simmer until soft. Drain all excess water and leave to dry for 5 mins Pass through a potato mouli, or use a masher to achieve a smooth consistency. Add the cream and butter, season with salt and pepper. This is a basic mash potato mix. To make champ potato melt some butter in a heavy-bottomed pan, separately gently sauté chopped spring onions for 1 minute then add the butter and onions to the mashed potato mix.
Parsley Sauce:
Place the milk on a low heat with a studded onion (1 whole onion studded with cloves). Bring to the boil, remove from the heat and leave to rest. In a heavy-bottomed pan melt the butter on a low heat, when melted add the flour and cook gently for 2 mins stirring constantly. Slowly add the warm milk, a little at a time, stirring continuously until the sauce acquires a smooth texture – the sauce should be smooth and glossy. Season to taste with salt and pepper, and cook on a low heat, stirring occasionally, for 5 minutes.
Cabbage:
Cook in the left over bacon stock until soft and tender (usually 5-7 minutes, but may take longer if using spring cabbage). Place the cooked cabbage into a pan and season with salt and pepper. Stir in 10g of Glenillen Irish Country Butter for extra taste.
To Present:
Carve the Joint of Bacon into 2 – 3 slices per portion, quennelle or pipe the Champ Mash, drain the cabbage and place on the plate. Finally cover the bacon with the parsley sauce and don't forget to sprinkle chopped parsley over the parsley sauce.

You may also like
Simnel Cake

Ballymaloe House is home to the cooking dynasty of the Allen family, so you know you are in for a gastronomic treat when you dine here. This elegant country house has all the elements you will need to enjoy a relaxing full of great hospitality and of...

Traditional Roast Beef Dinner

The suburbs of Cork City are home to a little secret. Located near Douglas, just a short drive from the centre of the Rebel City, Maryborough Hotel and Spa is set in a private estate of mature grounds and gardens. You can sense the 300 years of history...