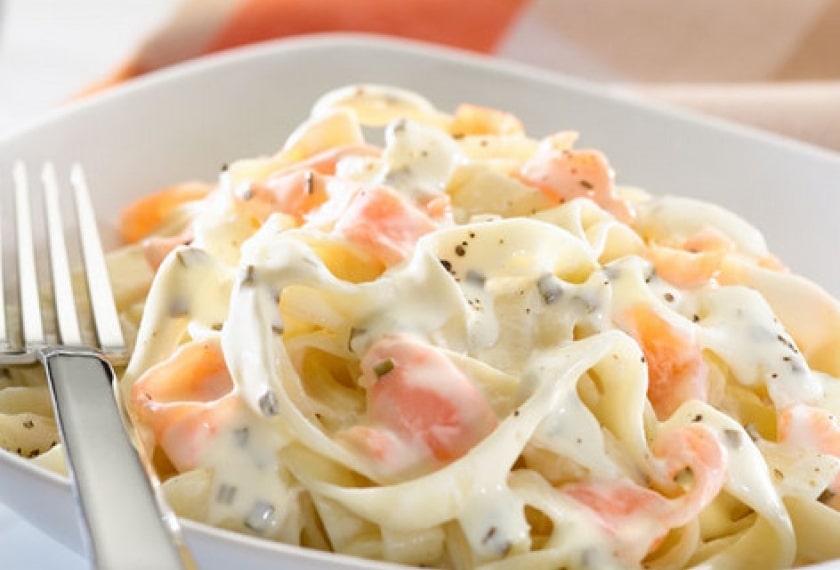 Ingredients
180g Burren Smoked Irish Organic Salmon (cold smoked)
1 medium sized leek
2 tablespoons of crème fraiche
1 tablespoon of lemon juice
2 tablespoons of fresh dill or 1 tablespoon of dill paste
Black pepper & salt
Pasta or Tagliatelle to serve 2 people
Method
Before you start, throw on Tagliatelle or another pasta of your own choice. This won't take long, so once the pasta is on get started on the sauce.
Slice the leek and sauté until the leek is soft and almost transparent.
Chop the smoked salmon in strips and just barely heat with the leek.
Add in the crème fraiche.
Season to your own taste, and throw some fresh dill on top if you like.
Serve with the cooked pasta.

You may also like
Simnel Cake

Ballymaloe House is home to the cooking dynasty of the Allen family, so you know you are in for a gastronomic treat when you dine here. This elegant country house has all the elements you will need to enjoy a relaxing full of great hospitality and of...

Traditional Roast Beef Dinner

The suburbs of Cork City are home to a little secret. Located near Douglas, just a short drive from the centre of the Rebel City, Maryborough Hotel and Spa is set in a private estate of mature grounds and gardens. You can sense the 300 years of history...