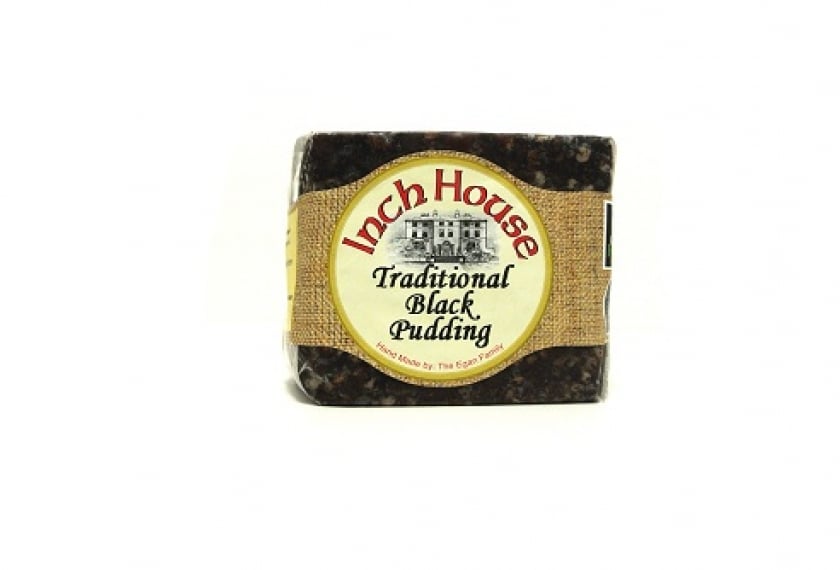 Ingredients
Butter or extra virgin olive oil
6 slices of local Irish Black Pudding approx. 1cm (½-inch) thick
6 slices of local Irish White Pudding
Sweet Apple Sauce:
1 lb (450g) golden delicious or Cox's orange pippins
1-2 dessertspoon water
2oz (55g) sugar, depending on how tart the apples are
Grainy Mustard Sauce:
8 fl. oz (250ml) cream
2 tsp smooth mustard
2 tsp grainy mustard
Salt and freshly ground black pepper
Garnish: Flat parsley or watercress
Method
Serves 12 for canapés, 4-6 as a starter
Make the apple sauce — Peel, quarter and core the apples. Cut the pieces into two and put in a stainless steel or cast iron saucepan with sugar and water. Cover and put over a low heat. As soon as the apple has broken down, beat into a puree, stir and taste for sweetness.
Make the mustard sauce – Put the cream and both mustards in a small pan and bring slowly to the boil, stirring occasionally. Taste and season if necessary. Melt a very little butter in a frying pan and fry the pudding on both sides on a medium heat until cooked through. Remove the skin from the pudding.
Make a bed of apple sauce on the serving plate or plates. Lay the pieces of hot pudding on top of the apple. Spoon a little Mustard Sauce carefully over the top. Garnish with flat parsley and serve immediately or pile it on top of a white soda bread scone.

You may also like
Simnel Cake

Ballymaloe House is home to the cooking dynasty of the Allen family, so you know you are in for a gastronomic treat when you dine here. This elegant country house has all the elements you will need to enjoy a relaxing full of great hospitality and of...

Traditional Roast Beef Dinner

The suburbs of Cork City are home to a little secret. Located near Douglas, just a short drive from the centre of the Rebel City, Maryborough Hotel and Spa is set in a private estate of mature grounds and gardens. You can sense the 300 years of history...