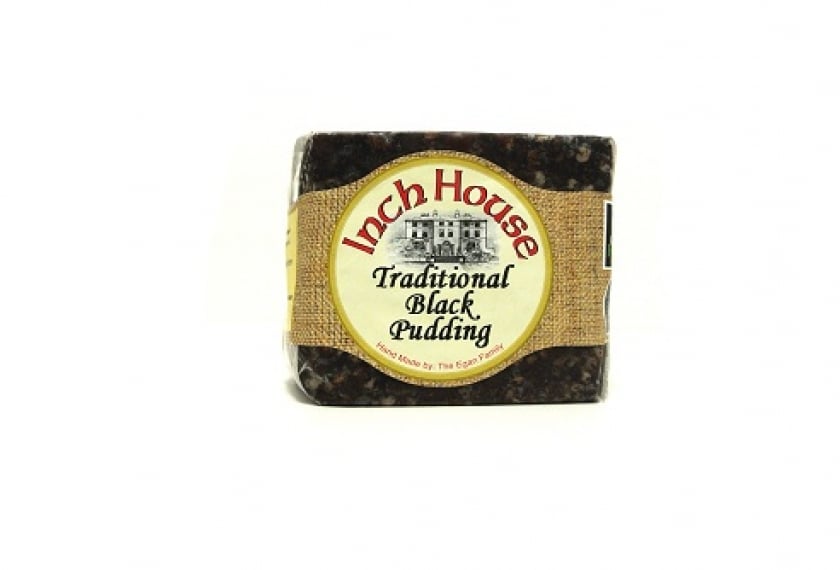 Ingredients
Butter or extra virgin olive oil
6 slices of local Irish Black Pudding approx. 1cm (½-inch) thick
6 slices of local Irish White Pudding
Sweet Apple Sauce:
1 lb (450g) golden delicious or Cox's orange pippins
1-2 dessertspoon water
2oz (55g) sugar, depending on how tart the apples are
Grainy Mustard Sauce:
8 fl. oz (250ml) cream
2 tsp smooth mustard
2 tsp grainy mustard
Salt and freshly ground black pepper
Garnish: Flat parsley or watercress
Method
Serves 12 for canapés, 4-6 as a starter
Make the apple sauce — Peel, quarter and core the apples. Cut the pieces into two and put in a stainless steel or cast iron saucepan with sugar and water. Cover and put over a low heat. As soon as the apple has broken down, beat into a puree, stir and taste for sweetness.
Make the mustard sauce – Put the cream and both mustards in a small pan and bring slowly to the boil, stirring occasionally. Taste and season if necessary. Melt a very little butter in a frying pan and fry the pudding on both sides on a medium heat until cooked through. Remove the skin from the pudding.
Make a bed of apple sauce on the serving plate or plates. Lay the pieces of hot pudding on top of the apple. Spoon a little Mustard Sauce carefully over the top. Garnish with flat parsley and serve immediately or pile it on top of a white soda bread scone.

You may also like
New Season Irish Carrot Cake

International Guest Chef Fred Cordonnier. Recipe baked by Aisling Boggan from team Good Food Ireland.

Greek Yogurt, Lemon Zest and Pistachio Pancakes

Since 1990, the Faughnan family of Dromod, Co. Leitrim have been ensuring the traditional Irish food, boxty remains a key part of Irish food culture with their Dromod Boxty food business.