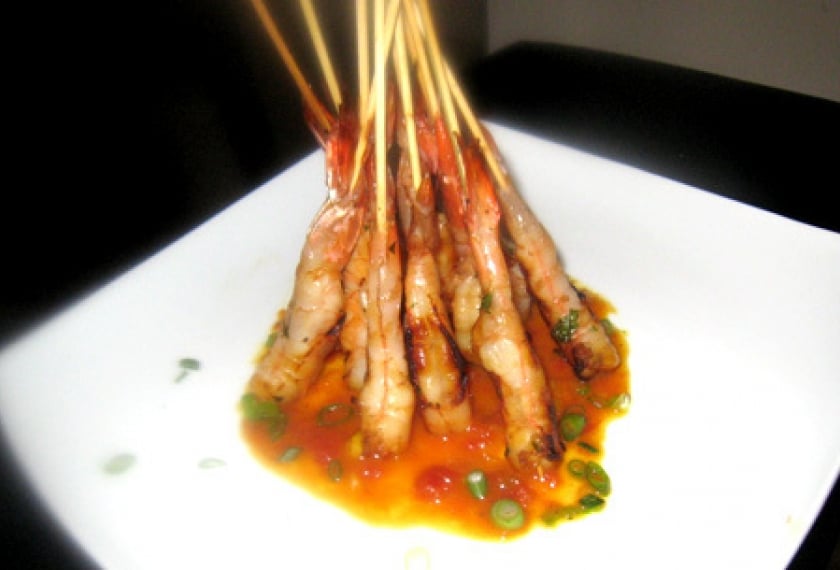 Ingredients
For the skewers:
16 Tiger Prawns
2 Free-range chicken breasts (approx 150g each)
¼ of a lemon juiced
Salt and cracked black peppercorns
Rapeseed or vegetable oil for cooking
8 6-inch skewers
For the glaze:
1 measure of 'Paddy' whiskey
1 tablespoon of honey
Method
For the skewers:
Defrost and devein the tiger prawns.
Slice the chicken breast into 24 thin strips.
Marinate the above in a small bowl with the lemon juice salt and pepper 10-15 mins
Then thread onto the skewers alternate 3 pieces of chicken and two tiger prawns onto each skewer.
Place onto a lightly oiled grill tray and cook approx 6-8 mins turning once
For the glaze
In a small saucepan add the whiskey and bring it the boil add the honey and remove from the heat.
Finishing the Skewers
Remove the skewers from the grill and glaze with the honey whiskey mix place the skewers back under the grill to glaze- the honey should just caramelise.
To Serve
Place on a party plate and share, with a glass of whiskey of course

You may also like
New Season Irish Carrot Cake

International Guest Chef Fred Cordonnier. Recipe baked by Aisling Boggan from team Good Food Ireland.