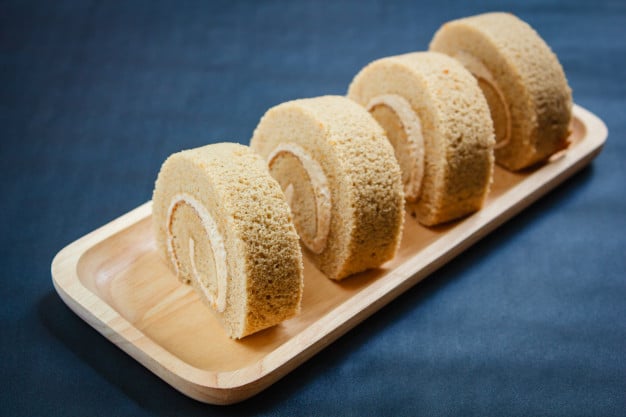 Coffee Swiss Roll, Glenilen Farm, Co Cork
Ingredients
Cake Ingredients 
3 eggs, separated

3 oz plain flour, sifted

3 oz sugar

1 tsp baking powder

1 dessertspoon Irel coffee extract
Filling 
1 tub Glenilen Farm Double Cream

1 dessert spoon sugar

1 dessert spoon real coffee

Method
Preheat the oven to 180 degrees.

Whisk egg whites in a spotlessly clean bowl until stiff (I find the Kenwood Chef does a great job)

Keep whisking and add the egg yolks, followed by the sugar. You should now have a lovely light creamy foam.

Very lightly fold in the flour, not all at once, in 2 or 3 batches.

Now gently fold in the coffee and when mixed spread into the tin, gently.

Bake for 10 – 15 mins or until just firm to touch.

Put a clean tea towel on a cooling tray, tip the cake out onto the tray, remove parchment paper and use the tea towel to roll up the cake. Leave to cool completely.

Whisk the cream with sugar and coffee until stiff.

Tip: if you think the whipped cream is too stiff add milk a teaspoonful at a time, until at the desired texture.

Unroll the cake, spread on the filling, roll up again.

Trim the ends, and dredge with icing sugar.

Enjoy!
Visit Our Shop

You may also like
Rhubarb Martini

What a delight to see rhubarb fabulously starting to make its presence known in the garden. As we are leaving our caves, and with more sunny days, we decided to share this easy and seasonal drink with you.