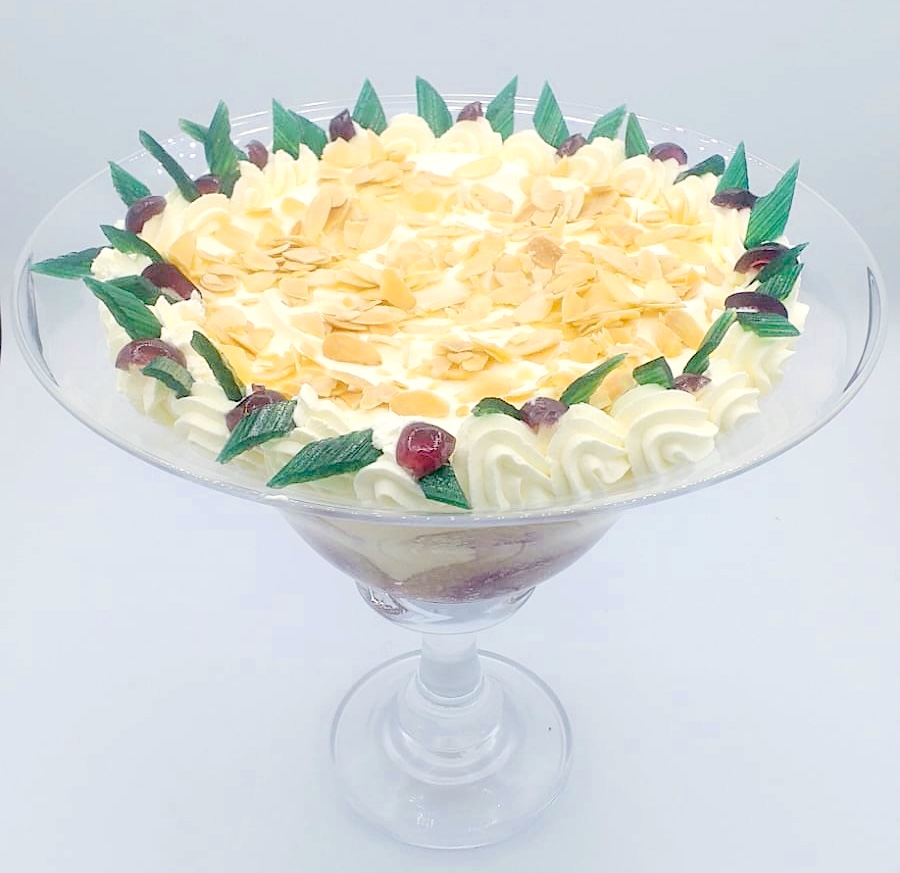 Ingredients
450g (1lb) approx. homemade sponge cake (see recipe) or trifle sponges (trifle
sponges are lighter so you will need less)
225g (8oz) homemade raspberry jam (see recipe)
150 – 175ml (5 – 6fl oz) best-quality sweet or medium sherry – don't spare the sherry
and don't waste your time cooking sherry (we use Bristol Cream)
Custard
5 eggs, preferably free-range and organic
1 ¼ tablespoons caster sugar
½ teaspoon pure vanilla extract
700ml (1 ¼ pint) rich milk
Garnish
600ml (1 pint) whipped cream
8 cherries or crystallised violets
8 diamonds of angelica
A few toasted flaked almonds
1 x 1.7 litre (3 pints) capacity glass bowl


Method
Sandwich the rounds of sponge cake together with homemade raspberry jam. If you
use trifle sponges, and sandwich them in pairs.
Next, make the custard. Whisk the eggs with the sugar and vanilla extract. Heat the
milk to the 'shivery'; stage and add it to the egg mixture, whisking all the time. Put
into a heavy saucepan and stir over gentle heat until the custard coats the back of the
wooden spoon lightly. Don't let it boil or it will curdle.
Cut the sponge into 2cm (¾ inch) slices and use these to line the bottom of a 1.7 litre
(3 pints) glass bowl, sprinkling generously with half the sherry as you go along. Pour
in half of the custard and then add another layer of sponge. Sprinkle with the rest of
the sherry and spread the rest of the custard over the top. Cover and leave for 5 or 6
hours, or preferably overnight in a cold larder or fridge, to mature.
Before serving, spread softly whipped cream over the top or pipe rosettes if you like
and decorate with cherries or crystallised violets and large diamonds of angelica.
Scatter with a few toasted flaked almonds.
Note
For a posher version, line the glass bowl with slices of Swiss roll.
Buy Book

You may also like