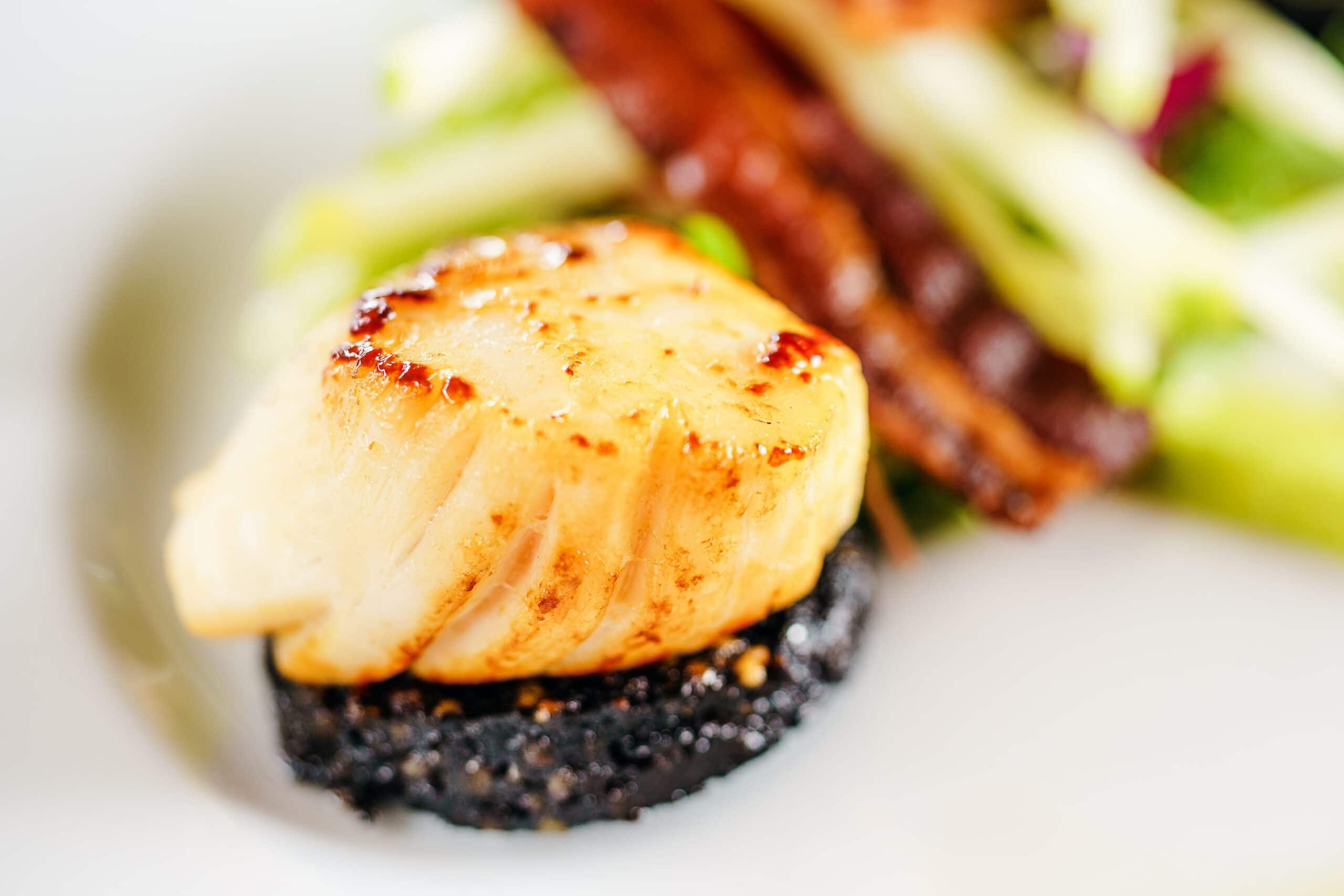 Ingredients
1 tbsp English Mustard
50 g Caster Sugar
Pinch of Sea Salt (or to Taste)
100 ml Rapeseed Oil (Plus More to Sear the Black Pudding and Scallops)
Juice of 1 Lemon
1 tbsp Finely Chopped Thyme, Plus a Few Sprigs to Serve (Optional)
2 Parsnips (Peeled and Finely Chopped)
Freshly Grated Nutmeg
2 tbsp Runny Honey
30 g Unsalted Butter
50 ml Single Cream
1 Black Pudding
6 Hand-Dived King Scallops
Buy A Voucher
Method
There's nothing quite as memorable as a good Scallop recipe. Tender, juicy and full of flavour, a scallop cooked well will win a place in the hearts of all your guests. Combine that fresh light tender flavour with the meaty richness of a good black pudding, some fresh thyme and a zesty lemon sauce – and now you're talking! A recipe to impress, from Paul Flynn of the Tannery, this is easy to make and quite quick. A good tip is to do all your prep in advance, so you're ready to hit the recipe running.
1. To make the dressing, place the mustard, sugar and salt in a small bowl. Whisk in the 100ml of oil and the lemon juice. Season with salt and sprinkle in the thyme.
2. Cook the parsnips in boiling water until soft, then drain well, mash and add the nutmeg, honey, butter and cream. Keep warm.
3. Slice the black pudding into six rounds of a similar thickness to the scallops. Heat a frying pan over high heat, add some oil, then, working quickly, sear the pudding and scallops for two minutes on each side.
4. Place the parsnip mash attractively on two warmed plates, with the black pudding and scallops on top. Drizzle the dressing over, add a sprig of thyme if you like, and serve.
This will not only look impressive but taste divine. Enjoy!
Visit Our Shop

You may also like
Realt na Mara Oysters with Mignonette Sauce

Realt na Mara Shellfish was founded in 2015 by Micheál Sugrue and Emmet Casey. From their farm just outside of Killorglin Micheál and Emmet produce a range of high quality Irish Mussels and Irish Oysters. The unique environment lends itself to the...

Realt na Mara Steamed Mussels with White Wine Sauce

Founded in 2015 by Micheál Sugrue and Emmet Casey, Realt na Mara Shellfish produces a delicious range of Cromane Irish Oysters and Cromane Irish Mussels. Nutrients, taste and texture from the MacGillycuddy Reeks and the local Laune, Caragh and Maine...