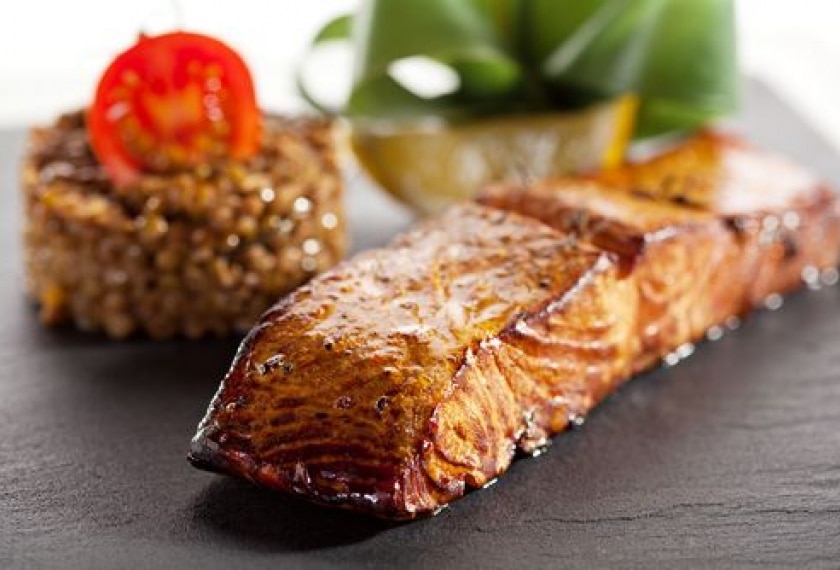 Ingredients
12 oz/350 g of Burren Hot Smoked Irish Organic Salmon
(if you buy a kilo, it will be unsliced. Smaller packs will be sliced, and you can still cut through the slices as you would with the unsliced full side)
salt
black pepper
a pinch of cayenne pepper
2 tbsp unflavoured honey
1 tbsp warm water
1.5 tsp fresh lemon juice
1 tbsp good rapeseed oil (high in omega-3!)
3 cloves garlic, minced
1/2 lemon, sliced into wedges
Rice or fresh baguette to go with the salmon
Method
Cut the salmon into strips of about 4 cm (1.5 inches). Rub the salt, black and cayenne pepper onto the surface of the salmon strips. Put aside for the moment.
Mix the honey, water, lemon juice and a pinch of salt together and stir until everything is well combined.
Heat up a skillet with the olive oil and fry the garlic until it browns slightly. Then add the salmon and cook for another 1-2 minutes on each side. Pour the honey mix and add the lemon wedges into the skillet, and keep on cooking on low heat, until the sauce is sticky.

You may also like
Simnel Cake

Ballymaloe House is home to the cooking dynasty of the Allen family, so you know you are in for a gastronomic treat when you dine here. This elegant country house has all the elements you will need to enjoy a relaxing full of great hospitality and of...

Traditional Roast Beef Dinner

The suburbs of Cork City are home to a little secret. Located near Douglas, just a short drive from the centre of the Rebel City, Maryborough Hotel and Spa is set in a private estate of mature grounds and gardens. You can sense the 300 years of history...