Cooking Time
2 Hours and 30 Minutes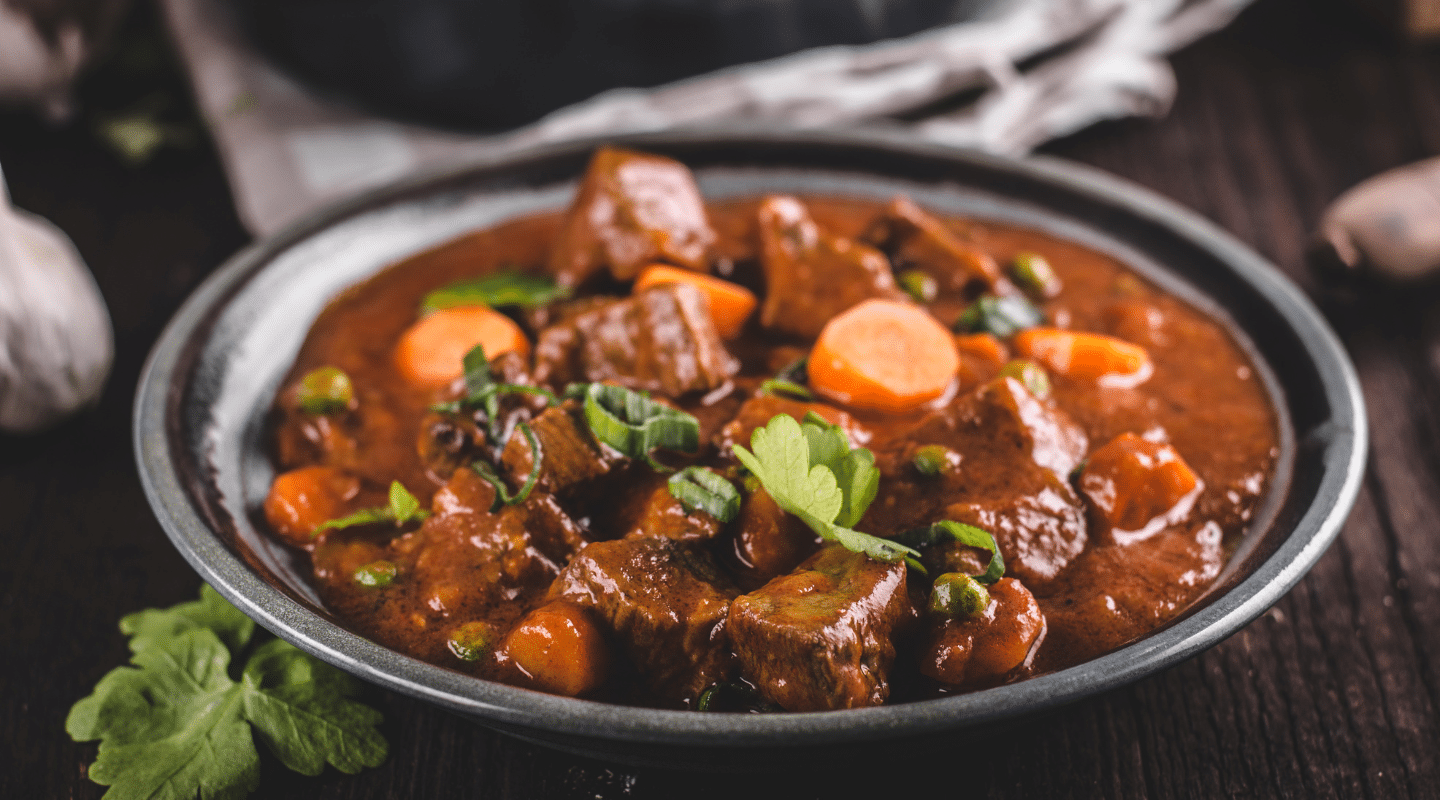 Ingredients
1.5 kg x Irish Braising Beef (cut into chunks)
2 x Bay Leaves
2 x Sprigs of Thyme
2 x Sprigs of Rosemary
2 x Bottles of Ale (we like to use a local Kildare ale, but any ale will suffice)
2 x tbsp of Oil
6 x Carrots (cut in chunks)
3 x Onions (roughly chopped)
3 x Celery sticks (chopped)
4 x Cloves of Garlic (crushed)
3 x tbsp Plain Flour
1 x tbsp Tomato Puree
1 x 400gm tin Chopped Tomatoes
1 x tbsp Sugar
2 x Beef stock Cubes
Salt & Pepper for seasoning
Parsley & Spring Onion for garnish
Method
Step 1
Heat 1 tbsp of oil in a large frying pan & brown the beef. Season with salt & pepper when frying.
Transfer to a bowl when browned.
After frying all the beef, pour a little ale into the used pan to deglaze, wait for it to bubble, take all the caramelized bits from the pan and pour into a large casserole dish along with the beef.
Step 2
Heat One tbsp of oil in a large pan and fry off carrots, onions, celery & garlic until they start to colour. Add a pinch of salt & pepper.
Next, stir in 3 tbsp of plain flour for 1 minute then add 1 tbsp of tomato puree and add to your casserole dish.
Step 3
Add the ale, herbs, tomatoes, and sugar for seasoning into your casserole dish, and stir the ale, herbs, tin of tomatoes, and sugar.
Then cover with foil and pop into a preheated oven at 175 degrees and cook for 2.5 hours or until the beef is tender.
Finish with fresh parsley & finely chopped spring onion.
Serve with mashed potato or crust bread.

You may also like
Irish Seafood Chowder

Bill Kelly is the fourth generation to head up this hotel, and we think it really sums up Rosslare. It has been such an integral part of this beachside location and now International Europort since 1895, that to imagine the place without it is unthinkable....

Tips for Cooking Irish Hereford Prime Steak

Farmer-led and owned, Irish Hereford Prime was founded in 1997 with the aim of promoting Irish Hereford Beef as a premium brand associated with quality and produced with sustainable methods. Since is formation, Irish Hereford Prime has gained a reputation...