Cooking Time
Less than 5 Minutes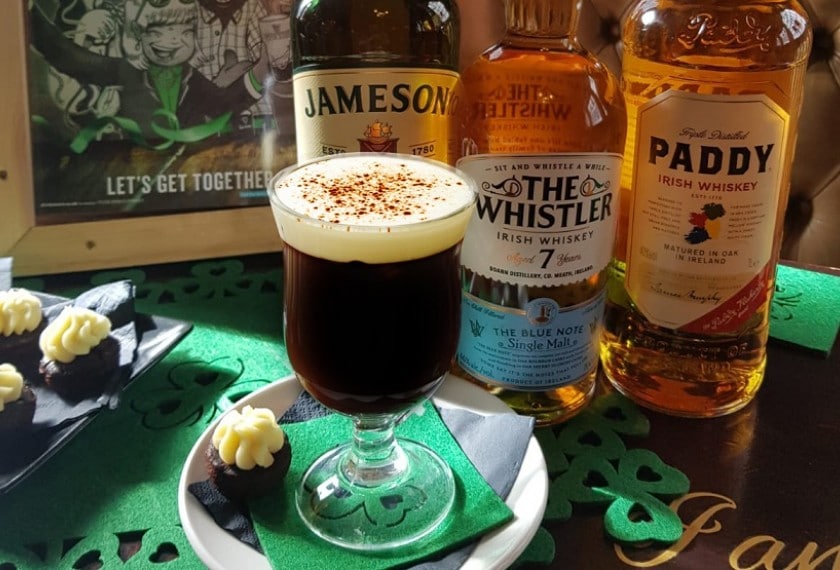 Ingredients
Boiling Water
35.5ml of The Whistler 7 years, Single Malt Whiskey
2 Sachets of Gem Brown Sugar
Hot Black Coffee
Whipped Irish Cream
Powdered Cocoa for garnish
Method
First heat the glass with boiling water and let it sit for 2 minutes. Then pour the hot water out and add 35.5ml of The Whistler, 7 year, Single Malt Whiskey.
Add 2 sachets of gem brown sugar.
Top up with black coffee while stirring the contents to mix the sugar in. Continue to stir until all sugar is dissolved.
After the coffee has settled down add whipped Irish cream on top.
Garnish with shamrock, coffee beans or powdered cocoa. Drink and enjoy!

You may also like
Simnel Cake

Ballymaloe House is home to the cooking dynasty of the Allen family, so you know you are in for a gastronomic treat when you dine here. This elegant country house has all the elements you will need to enjoy a relaxing full of great hospitality and of...

Traditional Roast Beef Dinner

The suburbs of Cork City are home to a little secret. Located near Douglas, just a short drive from the centre of the Rebel City, Maryborough Hotel and Spa is set in a private estate of mature grounds and gardens. You can sense the 300 years of history...