Cooking Time
Less than 5 Minutes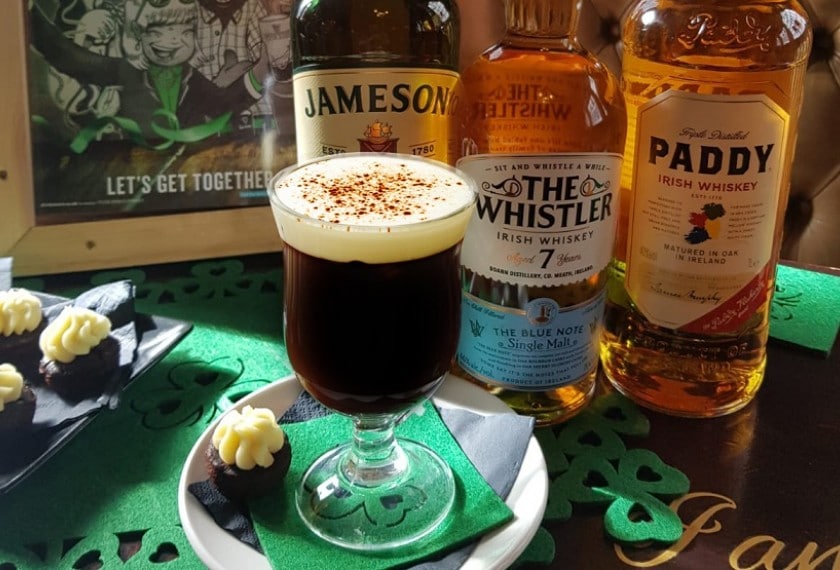 Ingredients
Boiling Water
35.5ml of The Whistler 7 years, Single Malt Whiskey
2 Sachets of Gem Brown Sugar
Hot Black Coffee
Whipped Irish Cream
Powdered Cocoa for garnish
Method
First heat the glass with boiling water and let it sit for 2 minutes. Then pour the hot water out and add 35.5ml of The Whistler, 7 year, Single Malt Whiskey.
Add 2 sachets of gem brown sugar.
Top up with black coffee while stirring the contents to mix the sugar in. Continue to stir until all sugar is dissolved.
After the coffee has settled down add whipped Irish cream on top.
Garnish with shamrock, coffee beans or powdered cocoa. Drink and enjoy!

You may also like
Caramelized Pear & Blue Cheese Salad

Loaded with sweet, caramelised pears, salty and creamy blue cheese and slightly bitter nuts, this fresh salad is full of delicious flavors. Oh! And it looks fancy too, so it is a perfect choice for a dinner party

Raspberry Fool

Irish Raspberry Fool is one of the simplest desserts, made with just 3 ingredients. All you need to do to enjoy this mouthwatering dessert from Ballymaloe Cookery School is to swirl pureed raspberries togheter with fresh whipped cream.