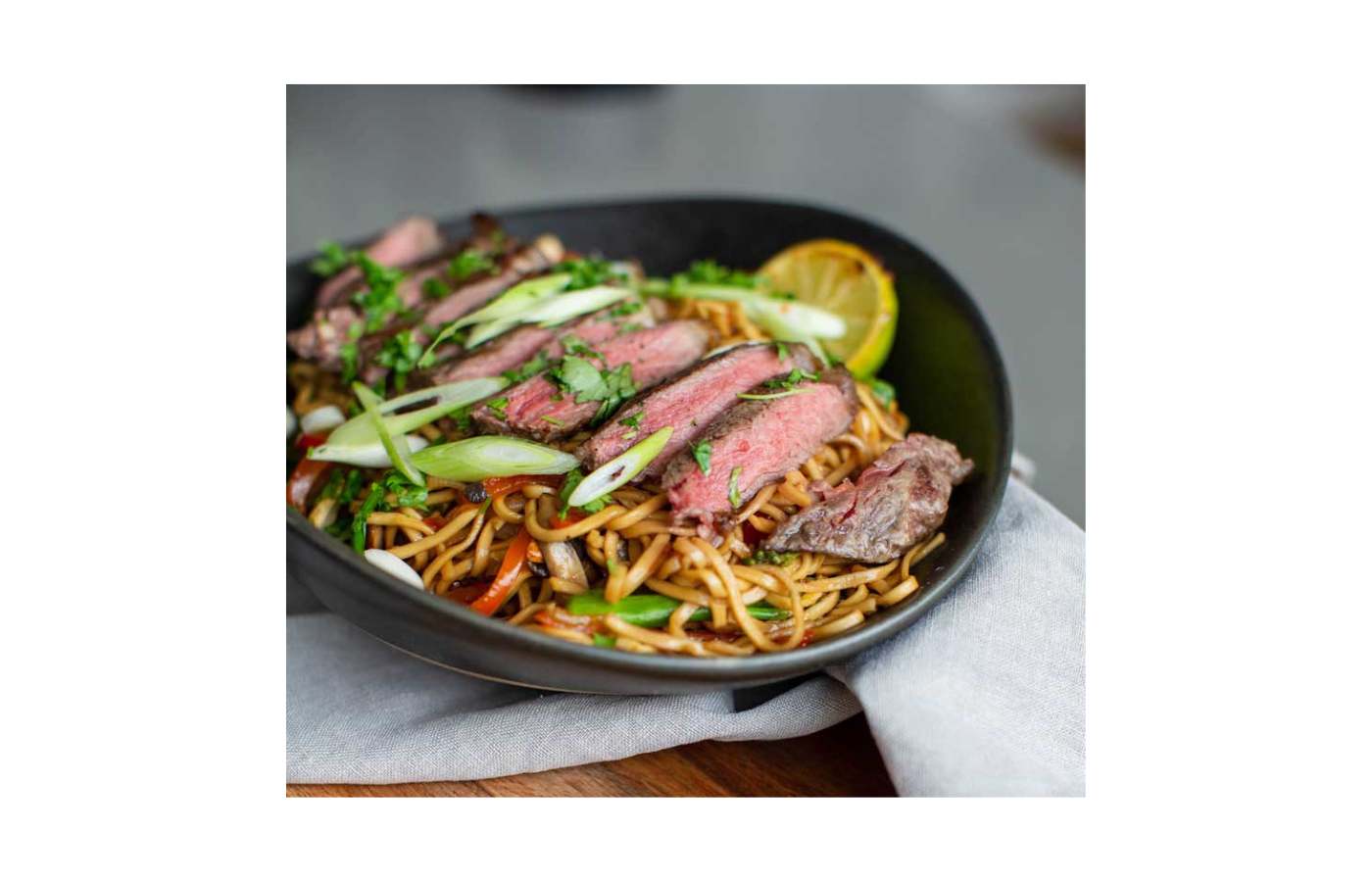 Ingredients
Oil for frying
Pre-cooked Irish Hereford Prime Steak
Packet of rice or egg noodles
Selection of vegetables – pepper, onions, sweetcorn, mushrooms etc.
2 tbsp. soy sauce
2 tbsp. sweet chilli sauce
1 cm piece fresh ginger, grated
1 tsp cornflour
Handful cashew nuts
1 Lime
1 spring onion, sliced diagonally
Fresh coriander to serve

Method
Cook the noodles as per packet instructions. Drain and set aside.
Prep all your vegetables and have them ready to go before you start cooking – slice the onions, mushrooms, peppers etc to the same thickness.
To make your cooking sauce – Mix the soy sauce, sweet chilli sauce and ginger together in a small bowl and then whisk in cornflour and 150 ml cold water. Set aside
When you're ready to cook your dish, heat the oil in your wok large wok, add the more robust vegetables like your onions, peppers and mushrooms and fry for 2-3 minutes before adding in the more delicate vegetables such as mange tout and tender stem broccoli. Fry for another minute.
Add in the cooking sauce and coat the vegetables
Stir in your cooked noodles and cashew nuts and cook for another minute , stirring continuously. Squeeze over some lime juice.
Serve in large bowl with spring onion scattered over the top.
Top with your beautifully cooked, sliced steak.

You may also like
Irish Seafood Chowder

Bill Kelly is the fourth generation to head up this hotel, and we think it really sums up Rosslare. It has been such an integral part of this beachside location and now International Europort since 1895, that to imagine the place without it is unthinkable....

Tips for Cooking Irish Hereford Prime Steak

Farmer-led and owned, Irish Hereford Prime was founded in 1997 with the aim of promoting Irish Hereford Beef as a premium brand associated with quality and produced with sustainable methods. Since is formation, Irish Hereford Prime has gained a reputation...

Irish Beef & Kildare Ale Casserole From Domo's Emporium

Irish beef and Kildare Ale casserole is a true culinary delight that brings together the rich flavours of tender Irish beef and the distinct character of Kildare Ale. Domo's Emporium is located within the iconic Newbridge Silverware Visitor Centre...