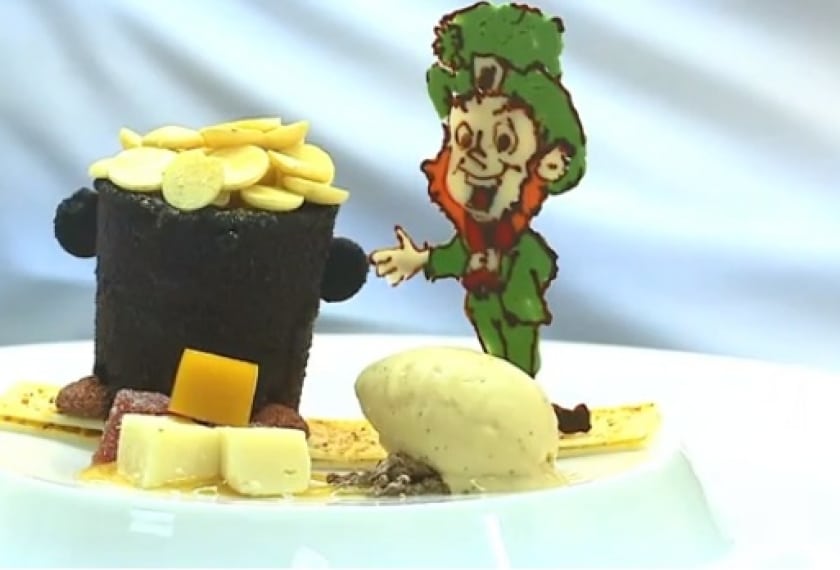 Ingredients
Merrion Chocolate Mousse:
23ml water
114g sugar
80g yolks
114g eggs
280g 67% dark chocolate
400g semi whipped cream
Strawberry Pate de Fruit Ingredients (10 cubes):
40g strawberry puree
8g glucose
40g sugar
1g pectin
0.6g tartaric acid
Bailey's Vanilla Fudge (5 cubes):
40ml milk
70g caster sugar
20g butter
0.2 tsp vanilla essence
20ml Baileys
20g white chocolate
10g washed sultanas
Chocolate chips (as many as desired per person)
Gold Coins
Salted Caramel Ice Cream:
200ml Sauce Anglaise
70g salted caramel
Gold Coins:
Chocolate chips (as many as desired per person)
Gold powder
Method
Merrion Chocolate Mousse:
Whisk the eggs and egg yolks together. In a saucepan, heat the sugar and water to 118°, then pour onto the whisking eggs. Melt the chocolate to a temperature of 40° and add to the egg, sugar and water mixture. Finally, fold the semi whipped cream into the mix to create a light chocolate mousse. Pour the mousse mix directly into individual moulds and freeze.
Strawberry Pate de Fruit:
Heat the puree and glucose and bring to the boil. Mix the sugar and pectin together and add to puree and glucose. Continue to cook until you reach a temp of 107°, then add the tartaric acid and set in small square moulds and refrigerate.
Bailey's Vanilla Fudge:
Place the milk, sugar and butter in a pan and heat to 115°, stirring constantly. When temperature is reached remove from heat and add the Baileys, vanilla, white chocolate and sultanas. Stir well and set in a mould before refrigerating. This can be divided into portions later.
Salted Caramel Ice Cream:
Place the ingredients in an ice cream making machine and turn till soft.
Gold Coins:
To make the gold coins simply place the chocolate chips in a bowl and dust the chips in gold powder until coated.
Presentation:
Remove the chocolate mousse from each mould and place on individual plates – these are your 'pots'. Then place as many gold coins on the top of the mousse as desired. Cut the Strawberry Pate de Fruit into 10 squares and Bailey's Vanilla Fudge into 5 squares and place on each plate. Finally, place one scoop of the Salted Caramel Ice Cream on the plate and serve.

You may also like
Realt na Mara Oysters with Mignonette Sauce

Realt na Mara Shellfish was founded in 2015 by Micheál Sugrue and Emmet Casey. From their farm just outside of Killorglin Micheál and Emmet produce a range of high quality Irish Mussels and Irish Oysters. The unique environment lends itself to the...

Realt na Mara Steamed Mussels with White Wine Sauce

Founded in 2015 by Micheál Sugrue and Emmet Casey, Realt na Mara Shellfish produces a delicious range of Cromane Irish Oysters and Cromane Irish Mussels. Nutrients, taste and texture from the MacGillycuddy Reeks and the local Laune, Caragh and Maine...