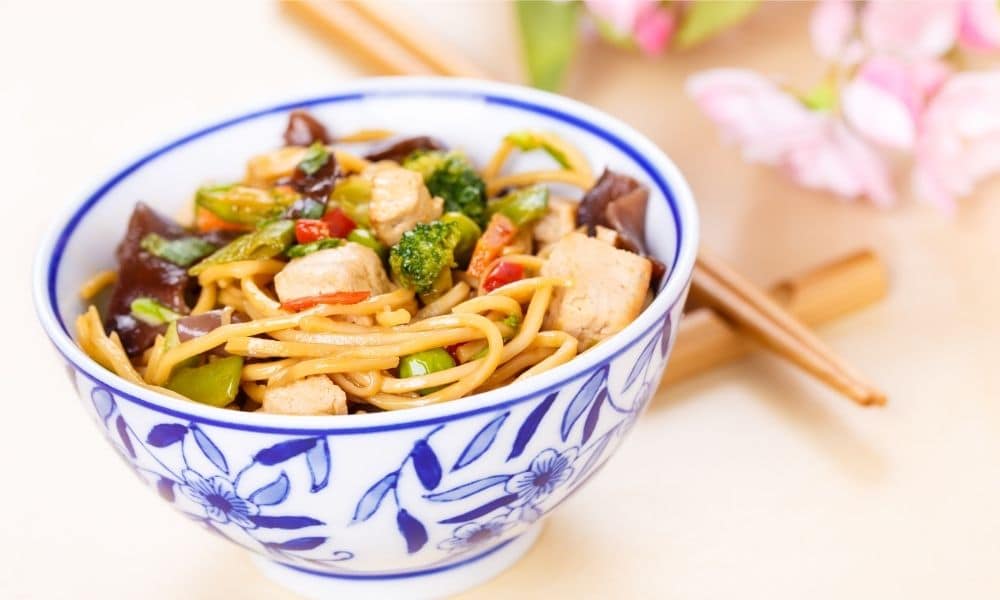 Ingredients
FOR THE SAUCE:
Thumb-size piece fresh ginger, grated
2 garlic cloves, chopped
3 tsp tomato puree
2 tbsp oyster sauce
2 tbsp soy sauce
1 lime for squeezing
FOR THE NOODLES:
1 large red pepper, sliced
2 spring onions, sliced
A large handful of mangetout washed
A large handful of beansprouts washed
2 salmon fillets, sliced length-ways
2 nests of medium egg noodles
1 tbsp Wild About rapeseed oil
TO GARNISH:
A few fresh Coriander leaves & Sesame Seeds, toasted
Buy A Voucher
Method
Put the garlic & ginger in a bowl and add the tomato puree, oyster sauce, soy sauce, 3 tbsp water and stir.
Boil a large pan of water on the hob. When the water is boiling, drop in the noodles, turn off the heat and allow to sit for 5 mins. Drain in a colander or a large sieve in the sink.
With everything prepared, you can now start cooking. Heat the wok – it's hot enough when it starts to smoke.
Add the oil and lay the slices of salmon on the wok carefully, ensuring all the pieces of salmon are in contact with the pan.
Use a spatula to gently keep moving the salmon around the wok until it is half cooked. Add the pepper and mange tout and stir-fry for a further min.
Pour the sauce into the wok and allow it to bubble.
Add the noodles, beansprouts and spring onions, then toss into the sauce until it is well coated, stirring constantly until the beansprouts wilt.
Add lime juice & check for seasoning. Adjust with soy sauce if necessary.
SERVING
Serve in bowls – an easy way is to use tongs.
Garnish with coriander & sesame seeds.
Visit Our Shop

You may also like
Realt na Mara Oysters with Mignonette Sauce

Realt na Mara Shellfish was founded in 2015 by Micheál Sugrue and Emmet Casey. From their farm just outside of Killorglin Micheál and Emmet produce a range of high quality Irish Mussels and Irish Oysters. The unique environment lends itself to the...

Realt na Mara Steamed Mussels with White Wine Sauce

Founded in 2015 by Micheál Sugrue and Emmet Casey, Realt na Mara Shellfish produces a delicious range of Cromane Irish Oysters and Cromane Irish Mussels. Nutrients, taste and texture from the MacGillycuddy Reeks and the local Laune, Caragh and Maine...