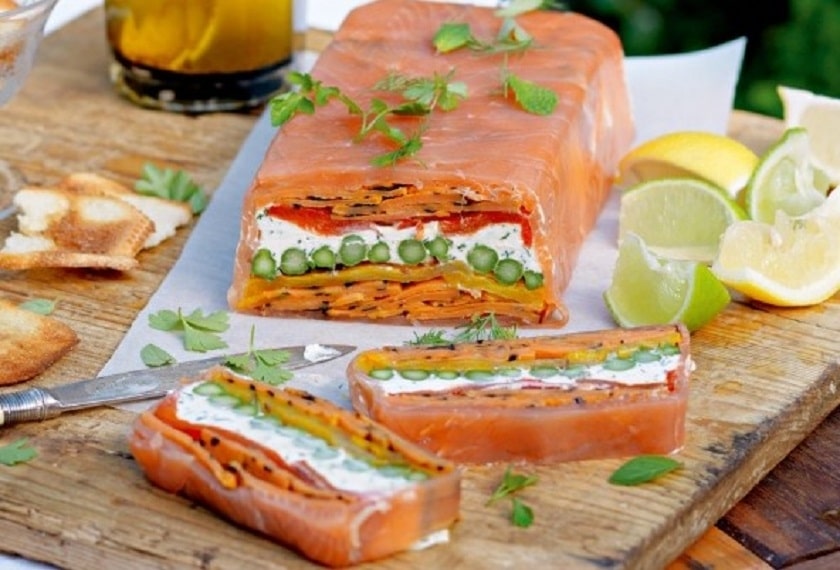 Ingredients
2 red bell peppers
2 yellow bell peppers
2 bunches asparagus, woody ends cut off
rapeseed oil
2 medium sweet potatoes, peeled and thinly sliced
150 g / 6 oz soft goats cheese, coarsely chopped
80 ml (1/3 cup) liquid cream
1 tblsp chopped fresh dill
200 g / 7 oz Burren Smoked Irish Organic Salmon, sliced
2 tbsp rapeseed oil
1 tblsp balsamic vinegar
Method
Preheat oven to 200ºC or 390°F. Line a baking tray with tin foil. Place all the peppers on the tray.
Roast for 45 minutes or until the skin is nicely browned and blistered. Wrap the peppers in foil and set aside to cool (this will help to remove the skin). Peel and seed the peppers, and cut them into strips.
In the meantime, either preheat a barbecue grill or your oven grill to medium-high. Coat the asparagus with rapeseed oil.
Roast on grill for 2-3 minutes or until bright green and tender crisp. Transfer to a plate. Coat the sweet potato with oil. Cook on grill for 3 minutes each side or until tender and golden. Set aside to cool completely.
Chop the goats cheese and cream in a food processor until just combined. Stir in the dill and season with salt and pepper.
Line the base and 2 long sides of a 20 x 10cm (8 x 4 in) loaf pan with plastic wrap, allowing the sides to overhang. Arrange the slices of smoked salmon, overlapping slightly, to completely cover the base and up the long sides. Top with half the sweet potato, again overlapping slightly. Top with red peppers. Spread goats cheese mix over the pepper layer.
Place asparagus, side-by-side and parallel to the long side of the tin, on top. Top with yellow pepper strips and remaining sweet potato. Fold over excess smoked salmon to partially enclose. Fold over plastic wrap to cover filling completely. Place a heavy object (such as 2 or 3 cans) on top to compress terrine. Place in the fridge overnight to chill.
Turn terrine onto a chopping board. Trim the ends and cut into slices.

You may also like
Simnel Cake

Ballymaloe House is home to the cooking dynasty of the Allen family, so you know you are in for a gastronomic treat when you dine here. This elegant country house has all the elements you will need to enjoy a relaxing full of great hospitality and of...

Traditional Roast Beef Dinner

The suburbs of Cork City are home to a little secret. Located near Douglas, just a short drive from the centre of the Rebel City, Maryborough Hotel and Spa is set in a private estate of mature grounds and gardens. You can sense the 300 years of history...