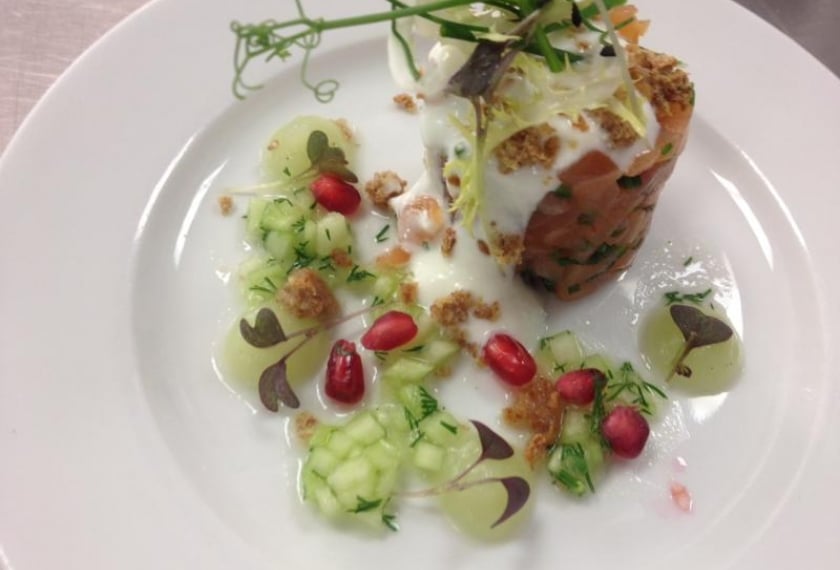 Ingredients
Organic Irish Salmon
100g Chives
20g Glenilen Natural Yogurt
10g Brown Soda Bread
5g Cucumber
10g Cucumber Jelly
5g Pomegranate
5g Micro Leaves (coriander cress and purple Basil)
Pickle:
250ml Rice Wine Vinegar
60g Sugar
1 Tbsp Mustard Seeds
2 bay Leafs
1 Tbsp Atlantic Sea Salt
Makes a 1 pint quantity
Method
Dice the Salmon Brunoise size and combine with chopped chives then press gently into ring. Press down enough for the Salmon to hold its cylindrical shape when the ring is removed
Take the Brown Soda Bread and break into Crouton size pieces and dry under Hallogen Hot Lights or in a low oven for 15 minutes until nice and crunchy. I use my hands to crumble the bread to give a nice natural look rather then cutting with a knife, you do not want to make it to small either as its texture value to the dish will be diminished if too small.
Cucumber:
Peel and core the cucumber leaving the nice firm flesh then dice into very small brunoise – Marinate in the Pickle for 15 minutes.
Cucumber Gel/Jelly:
Take whole peeled cucumber and Blend until smooth add Gelcrem (Sosa product) and blend for another 30 seconds refrigerate.
Pickle:
Mix ingredients together.
Makes a 1 pint quantity.
Pomegranate:
Pop the seeds by cutting the fruit in half and hitting the skin side of the fruit with the back of a spoon and out pop the seeds into your bowl
Assembly
Place the Salmon in the ring and press down firmly
Position ring on your plate and lift off gently leaving a nice Salmon Tower or Tian.
Dot the Plate with six dots of of cucumber gel
Drizzle the diced cucumber in between the gel allowing some of the Pickling Liquor onto to Plate
Drizzle the Glenilen Natural Yogurt onto the Salmon Tower allowing it to fall off ….sprinkle with some of the brown soda bread croutons.
Drop some of the Pomegranate seeds around the plate
Finally place some of the micro herbs around the plate and serve.
Enjoy..

You may also like
Realt Na Mara Oysters With Burren Smoked Irish Salmon Purée

This delicious recipe is from Burren Smokehouse a highly acclaimed, award-winning traditional smokehouse located in the Clare village of Lisdoonvarna, close to the Cliffs of Moher.

Spinach & Irish Greek Style Cheese Rolls

This delicious recipe if from McCormack Family Farm, a Father and Sons team with a taste for excellence and passion for produce has excelled in creating a range of products that is both innovative and commercial in nature.