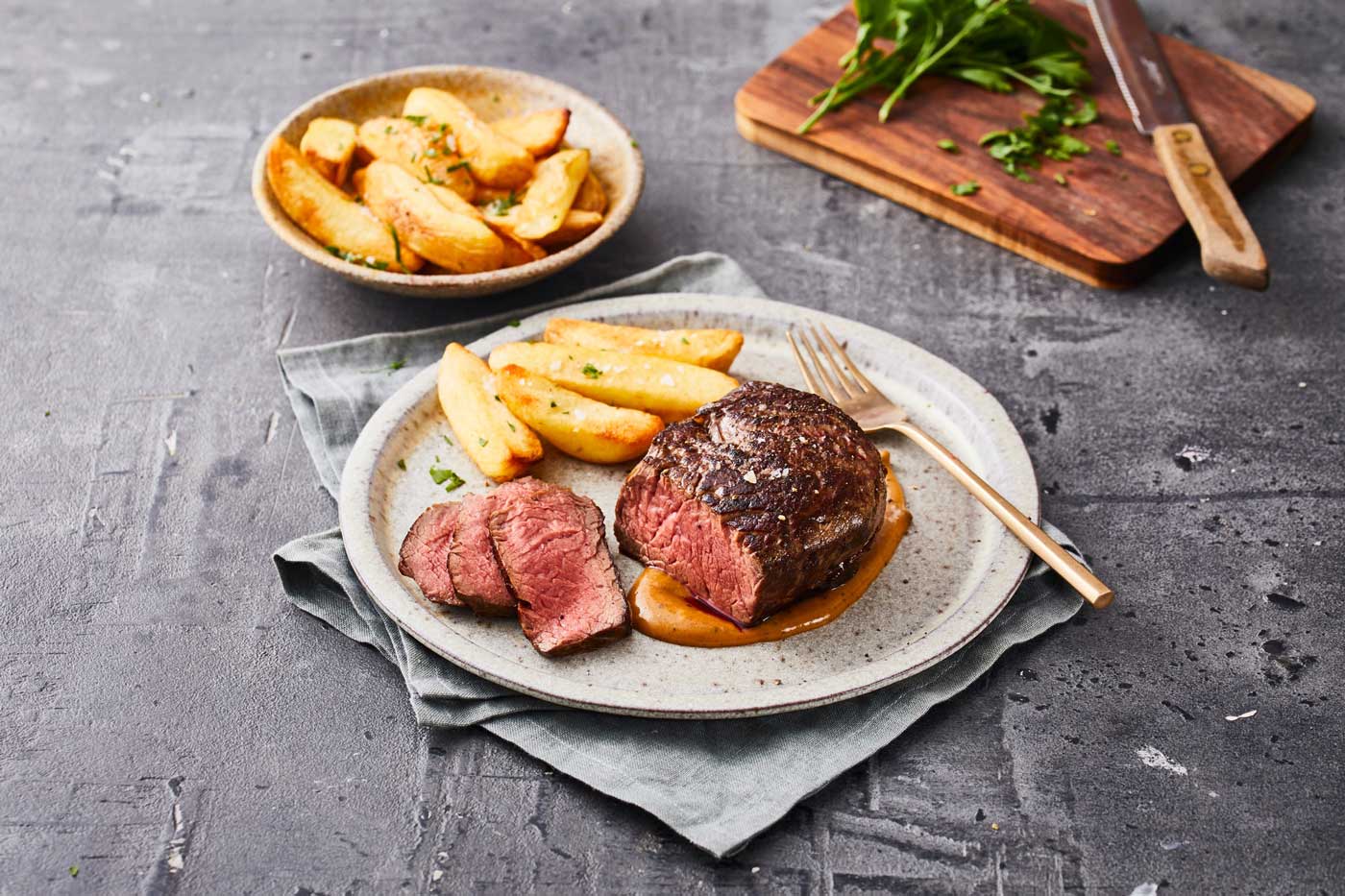 Method
You need two things to cook your fillet steak to perfection – high heat and constant attention.
Fillet is the most tender steak there is, with a delicate but rich flavour that's perfect if you prefer a leaner cut of beef
Here's a few tips to help you cook your Irish Hereford Prime Fillet:
Take your steak out of the fridge at least 30 minutes before cooking to allow it to come to room temperature
Season your steak liberally with salt & pepper and brush with oil
Make sure your grill or pan is (smoking) hot before you start cooking, this will seal in all the flavour and goodness
Be patient – leave your steak to caramelise for 2-3 minutes
Turn the steak over and sear the other side
Cook your steak for another 3-4 minutes – turning it a few times at this point will ensure it cooks evenly
Using a tongs, sear the steak on the edges
Remove your steak to a clean plate rub with a little butter or a good oil, cover loosely with foil and leave to rest before serving an incredible, juicy fillet steak with your favourite sauce
For rare fillet, cook for 3-4 min max on each side.
For medium-rare fillet, cook for 4-5 min on each side.
For medium fillet, cook for 5-6 min on each side.

You may also like
Irish Seafood Chowder

Bill Kelly is the fourth generation to head up this hotel, and we think it really sums up Rosslare. It has been such an integral part of this beachside location and now International Europort since 1895, that to imagine the place without it is unthinkable....

Irish Hereford Prime Beef Stir Fry

Farmer-led and owned, Irish Hereford Prime was founded in 1997 with the aim of promoting Irish Hereford Beef as a premium brand associated with quality and produced with sustainable methods. Since is formation, Irish Hereford Prime has gained a reputation...

Irish Beef & Kildare Ale Casserole From Domo's Emporium

Irish beef and Kildare Ale casserole is a true culinary delight that brings together the rich flavours of tender Irish beef and the distinct character of Kildare Ale. Domo's Emporium is located within the iconic Newbridge Silverware Visitor Centre...