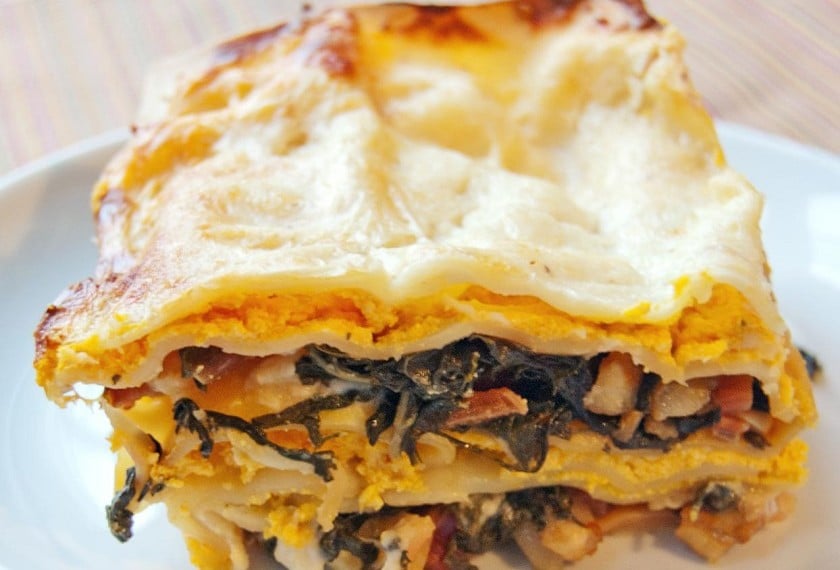 Ingredients
2 medium butternut squashes
1 medium red onion
3 celery sticks
1 tblsp oil
500ml water
10ml honey
10 fresh sage leaves
1 vegetable stock cube
1 lemon
Salt & pepper to taste
2 Kelly's Wild Atlantic Way Black Puddings
1 pack lasagne sheets
For the cheese sauce
80g butter
80g flour
1 vegetable stock cube
1 litre milk
100g grated Irish red cheddar
Method
Preheat the oven at 160C
For the filling
Dice the butternut squash, onion and celery. Add the oil to a deep pan and sauté for a few minutes then add the water, honey, sage and stock cube. Bring to the boil and allow it to simmer for 5 minutes. Squeeze in the lemon juice and season to taste with salt and pepper.
Slice the Kelly's Wild Atlantic Way Black Pudding thinly. Take a deep rectangular dish and put a thin coating of sauce on the bottom. Then add a single layer of lasagne sheets followed by a layer of sauce topped with black pudding slices. Repeat this three times.
For the cheese sauce
In a saucepan melt butter, add flour and mix until it forms a paste. Crumble stock cube into the pan and stir it in. Then begin to add the milk stirring continuously to avoid lumps. Add the grated cheese and stir over a gentle heat until the sauce has thickened. Pour the cheese sauce over the layered lasagne covering thickly. Place in an oven pre-heated to 160°C and bake for 20-25 minutes until golden brown.
* For a vegetarian option simply replace the Kelly's Wild Atlantic Way Black Pudding with Kelly's Vegetarian Pudding.

You may also like
Realt na Mara Oysters with Mignonette Sauce

Realt na Mara Shellfish was founded in 2015 by Micheál Sugrue and Emmet Casey. From their farm just outside of Killorglin Micheál and Emmet produce a range of high quality Irish Mussels and Irish Oysters. The unique environment lends itself to the...

Realt na Mara Steamed Mussels with White Wine Sauce

Founded in 2015 by Micheál Sugrue and Emmet Casey, Realt na Mara Shellfish produces a delicious range of Cromane Irish Oysters and Cromane Irish Mussels. Nutrients, taste and texture from the MacGillycuddy Reeks and the local Laune, Caragh and Maine...