Good Food Ireland® Approved Since 2021
We stand over our recommendations. With exacting selection and regular review processes, we ensure a rewarding local Irish ingredient-led experience. You can count on it!
Overview
Beechpark Eco Farm is a hidden gem, when arriving at the farm it was a surprise to find 20 acres of open and uninterrupted farmland in existence in Dublin City. This farm entrance is beside Clonsilla Train Station and is home to Beechpark House and gardens. The McDermott family has developed this holding into a cultivated organic market garden growing fresh vegetables, fresh herbs and fruit. Every Saturday there is a large indoor Farm Shop from 10am – 2pm. The shop is also open on Wednesdays from 4.30pm – 7pm, ensuring you have a continuous supply of fresh produce to enjoy throughout the week. The shop of
Read More
---
Meet the Maker
Across the 20 acres, fresh vegetable crops are cultivated across a revolving 5 acres allowing the garden farm manager to rest and prepare the land for different crops. Beechpark Eco Farm is a progressive farm managed by David Taylor. David explained that the full growing cycle happens at the Farm. It all starts in the old walled garden glasshouse, here the seeds are propagated in batches in an environment that has an evenly controlled temperature.
Some of the fresh produce includes vine tomatoes, a wide range of salad, micro leaves, clearwater leaves, Bok Choy, herbs, Rosa and Cherry Bell radish, spring onions, onions, garlic, fennel and French beans, mange tout, broad beans. Furthermore, products most popular with customers are their carrots, potatoes, parsnips, beetroot, brussel sprouts, broccoli and chard.
At Beechpark Eco Farm, David plants the seeds in batches in order to have a continuous supply for the farm market on Saturdays and Wednesdays. Once the seeds are developed, they are transferred to the large polytunnel and brought on. Early-season produce is finished in the tunnel and the mid and late season is planted out in fields.
The fields are filled with drills of potatoes, spinach, carrots, onions, and a range of brassicas, the selection is amazing. When we visited the farm we observed tomato plants in the polytunnel trained on upright supports and underplanted with salad plants, David operates a natural strategy to control airborne pests by encouraging ladybirds and planting household marigold flower which has a strong floral scent that helps to keep the pests off the fresh produce.
In the old walled garden, there is an orchard of heritage apples, rhubarb, established asparagus and wild and cultivated garlic. David intends to have free-ranging hens on-site and hives of honey bees, both will yield produce to sell at the market and will produce a natural contribution to sustainable compost and the happy honey bees will play their part in pollinating the plants.
---
Other Facilities
Wowed by the fresh seasonal produce from Beechpark Eco Farm and want to get your hands on it? Good news as they operate a Farm Shop each Wednesday and Saturday onsite.
Food lovers passionate about fresh Irish produce can pick up a selection of fresh veggies from the Beechpark Eco Farm Shop is the which is open Wednesdays 4.30pm – 7.00pm and Saturdays from 10 am – 2 pm. We recommend coming early as the produce sells fast. Visitors can expect to be greeted with a blast of fresh aromas and an atmospheric buzz.
The entrance to the farm is directly beside Clonsilla train station, there is ample free car parking available on site. A visit to the farm shop is an amazing shopping and educational experience. The fresh produce is on open display, directly behind the fresh produce the product is name-checked with some additional information on preparation and cooking tips. The farm shop also offers for sale a range of other Irish produced products including oils, sauces and dressings.
Beechpark Eco Farm also operates a very successful Vegetable Box service. This call & collect service features a box of seasonal produce priced at €15. Six items are included in the box and you can choose what's included from the list of available products. The collection takes place at the farm each Monday evening between 5pm – 6.30pm.
---
Sustainability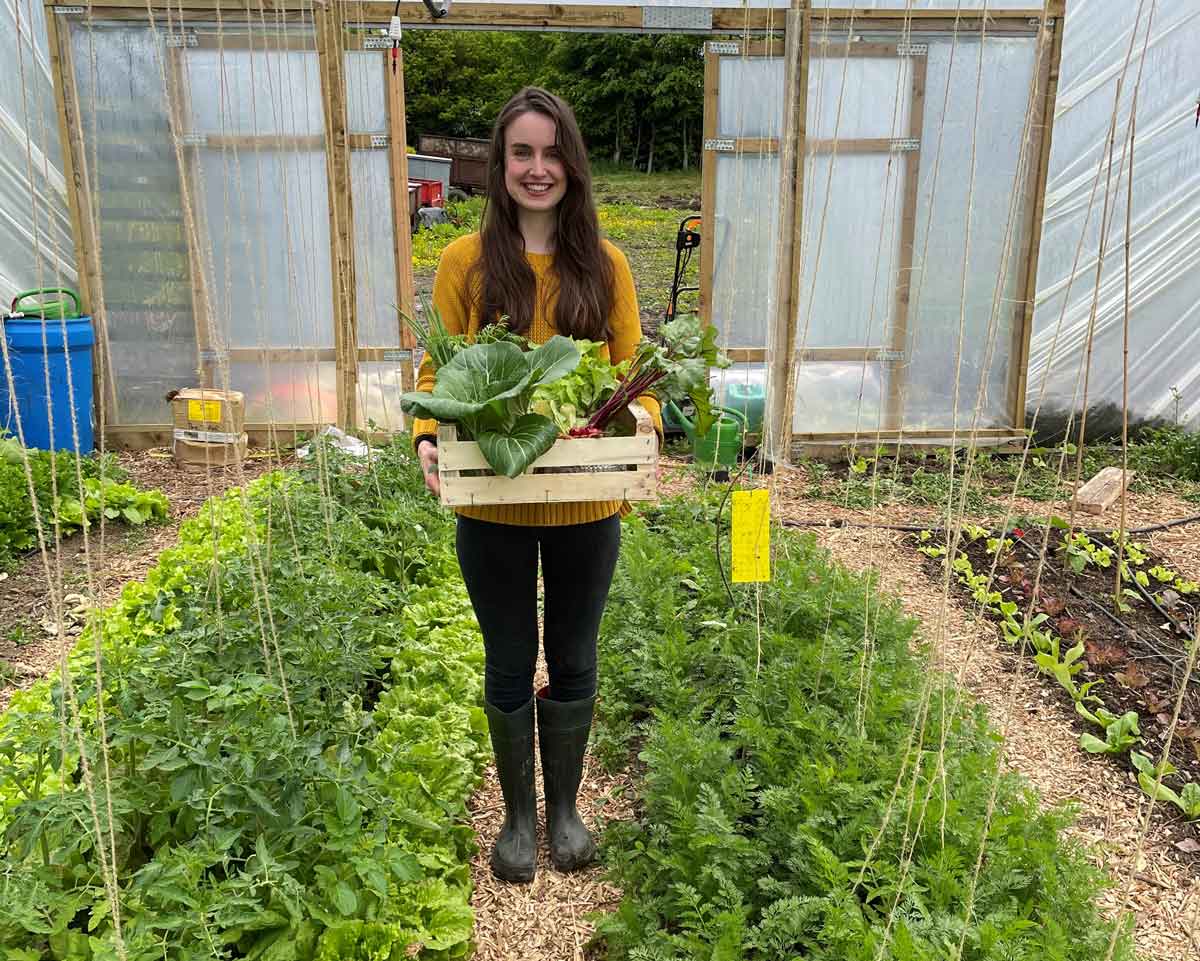 Beechpark Eco Farm is a very good example of a business practicing a sustainable growing system.
Using Irish sourced seeds, they propagate their own plants in a south-facing walled glasshouse using the benefits of solar gain.
They store and keep their own seed potatoes to produce the next year's crop.
The farm is in transition to a regenerative system where a policy of 'no-dig/plough' will be put into practice. This system helps to maintain the valuable storage of carbon, David explained that the soil and land are the most effective carbon sequester.
David has a policy of using farmyard manure, recycled hay and grass to fertilize the land, this will be generated in house when the free-ranging hens are introduced.
---
Leave review
WHAT CUSTOMERS VALUED AND ENJOYED
There are no reviews yet. Be the first one to write one.
---
Nearby Experiences
Experiences

Accommodation

Dining

Cook & Shop

Meet the Makers