Good Food Ireland® Approved Since 2021
We stand over our recommendations. With exacting selection and regular review processes we ensure a rewarding local Irish ingredient led experience. You can count on it!
Overview
Garryhinch Farm located on the Laois/Offaly border just outside Portarlington, is home to a state of the art farming system that produces a range of organic exotic mushrooms in different varieties. This dynamic food business is run by husband and wife team, Joe and Dolores Gorman, who have taken their vast experience in working in the mainstream Irish mushroom growing industry to create something niche and exciting to the Irish mushroom market.
---
Meet the Maker
Owners of Garryhinch Wood Exotic Mushrooms, Joe and Dolores Gorman have used their impressive experience in the Irish mushroom market to create an exciting range of exotic mushrooms that are taking the Irish culinary world by storm.
Garryhinch Wood Exotic Mushrooms has found a big following from consumers and chefs across Ireland who want to bring their love of mushrooms and fungi to the next level.
Upon our visit to Garryhinch Farm, home of the famous exotic mushrooms, we were given a bashful welcome by Duchess, a beautiful Newfoundland dog who acts as the family's mascot and loyal protector.
Joe and Dolores Gorman, founders of Garryhinch Wood Exotic Mushrooms had just completed their morning harvest and were more than ready to introduce us to the exciting world of exotic mushroom production!
The Gorman's are no strangers to the Irish mushroom market having worked in the industry for over 33 years as traditional white mushroom growers. With a keen eye for observation and new trends, Joe and Dolores discovered consumer demands were changing. After a period of research, Joe and Dolores took the plunge and diversified their business into producing a more varied range of organic mushrooms.
Garryhinch Wood Exotic Mushrooms now grow nine varieties of organic exotic mushrooms, tailored to consumer and industry interest and demand. Varieties include Shiitake, Pink and Yellow Oyster, King Oyster, Grey Oyster, Maitake, Lions Mane and more.
Shiitake Mushrooms would be the most recognizable to the ordinary layperson. Japanese in origin like most mushroom varieties, Shiitake Mushrooms are known for their high protein value and low-calorie value. They're very popular in Italian and Japanese cuisine.
Another Garryhinch Wood mushroom variety that is easily identifiable by its vibrant burnt orange colour is the Forest Nameko. Known for its butterscotch like aroma, Forest Nameko, is often used in the kitchen to thicken up sauces, soups and stews, a healthy alternative to more widely used thickening agents.
Touring through the facility, Joe explains the delicate process of growing these mushrooms. They're grown in a state-of-the-art tunnel system; the growing chambers are in a temperature and moisture-controlled environment to maximise the production yield and quality of the mushrooms.
Furthermore, the mushrooms are connected to their natural environment when being placed on a shredded base of wood from sustainably managed forests. This further results in better quality and taste.
Harvest takes place daily and the mushrooms are delivered fresh to market for consumers and foodservice clients. Chefs across the country can't wait to get their hands on these exotic mushrooms, allowing them to push the boundaries and add a new flavour profile to their dining offering.
You can enjoy Garryhinch Wood Exotic Mushrooms in a variety of tasty ways, whether they act as the main ingredient in a delicious risotto or if you simply sauté them in a pan with butter and garlic. Delicious…
Mushrooms also pack quite a punch when it comes to health and well-being. They are low in calories and rich in vitamins and antioxidants. A great choice if you wish to fill your plate with nutritious yet satisfying foods.
Due to the diligent efforts of Joe and Dolores Gorman, the Irish mushroom market has never looked better!
---
Sustainability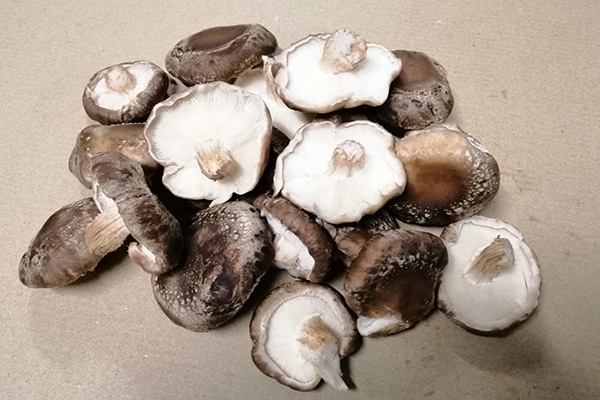 Garryhinch Wood Exotic Mushrooms operate to the highest standards in regards to sustainability. The ground timber base used to grow their mushrooms is sourced only from sustainably managed forests. Once the sub base in question has been exhausted it's replaced with a fresh sub-base. The used sub-base is not gone to waste as it's ploughed into the Garryhinch farmland.
Garryhinch has also introduced a fully compostable retail container for their exotic mushroom mix.
---
Leave review
Quality and Flavour
I have seen and tasted all these wonderful mushrooms grown and harvested with love and care – this is Irish farming with a new twist. I have sold these mushrooms to some of the top chefs all over Ireland. It absolutely brings joy to my heart that this business @Garryhinch Mushrooms is a stand out business regarding a successful Import Substitution product. Well Done Joe and Delores!!! Delicious culinary adventurous for anyone who buys your produce.
---
Nearby Experiences
Experiences

Accommodation

Dining

Cook & Shop

Meet the Makers