Good Food Ireland® Approved Since 2008
We stand over our recommendations. With exacting selection and regular review processes we ensure a rewarding local Irish ingredient led experience. You can count on it!
Overview
Janet's Country Fayre is one of Ireland's leading artisan producers of premium chutneys and relishes. The unique range of traditional and contemporary style products are produced in a purpose-built production kitchen in Kilcoole, Co. Wicklow; just south of Dublin in the foothills of the Sugarloaf Mountain.
---
Meet The Maker
It is almost impossible to describe Janet's Country Fayre without mentioning the woman herself. It's Janet Drew's personal drive, enthusiasm and energy that is among the key components to the quality and success of her product. Janet's Country Fayre delicious chutneys and sauces are available nationwide from food shops and retailers; spot the distinctive square jars with their mauve labels.
When Janet Drew began making pickles at home in 1995, she had no idea that this was to become her life and livelihood. Janet's Country Fayre is now Ireland's leading artisan producer of chutneys and relishes, pasta sauces and pizza sauces. The products are cooked using the traditional method of slow reduction over several hours to give the perfect flavour and finish of texture. No pectin or any other setting or bulking agents are used and all the products are produced without artificial additives and are gluten-free.
Over the years, Janet has built relationships with her vegetable, seed, herb, nut and spice suppliers, guaranteeing that each and every piece of produce is vetted by herself and comes with local, fresh and quality credentials. This has led to the development of new products to be paired especially with other Irish produce, such as the Fig and Apricot Chutney which goes so well with James McGeough's iconic air-dried lamb. No meal is complete without a spoonful of Janet's Country Fayre!
Alongside classic products like the award-winning Sweet Pepper Relish, there's also pizza and pasta sauces produced under Janet's sister brand, Janet's Just Delicious. It's currently the only brand of tomato sauces on sale in Ireland with both no added sugar or salt.
You can find Janet's delicious products in specialist food shops in Dublin and nationwide, including fellow Good Food Ireland® members Cavistons, Donnybrook Fair and Urru Culinary Store.
---
Other Facilities
Witness first hand what it takes to create such a great tasting rang of food products by visiting the factory at Janet's Country Fayre. Be sure to browse and buy some of the range to enjoy at home!
Keen to see the kitchen in action? Anyone wishing to visit the operation can do so, guided by the producers themselves. This is only by way of an organised arrangement, so, to proceed contact Janet directly.
---
Sustainability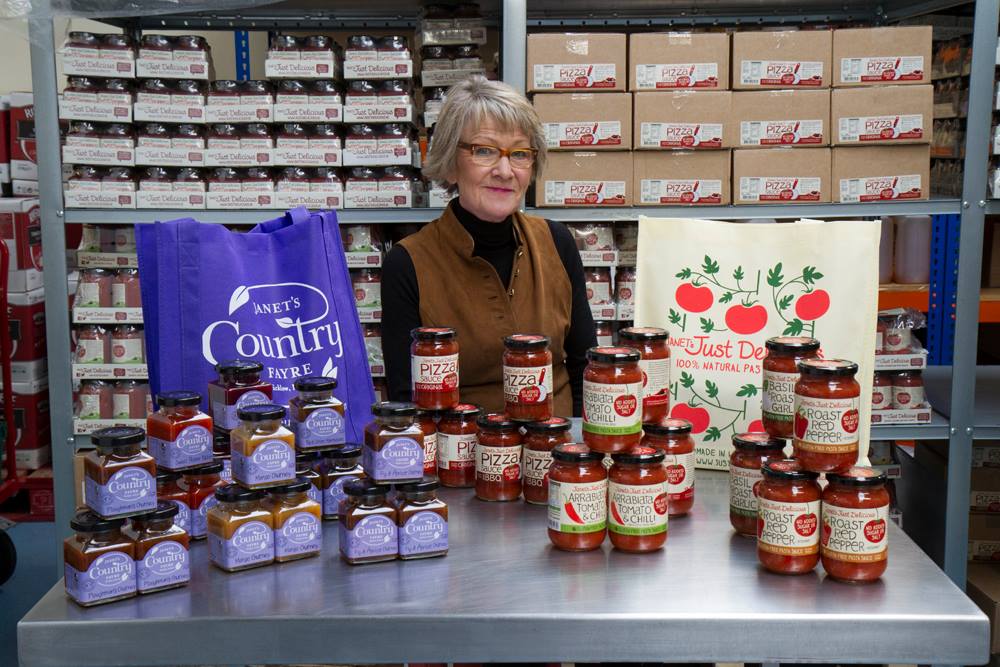 Janet's Country Fayre's products are 100% natural with no artificial ingredients, preservatives, flavourings, colourings, additives or stabilisers. They're proud to be part of Bord Bia's Origin Green Programme.
As a high-quality artisan producer, sustainability is at the core of Janet's Country Fayre company activities; striving to take a partnership approach in relationships with staff, suppliers, customers, other food producers and the community. The company has always looked to produce products in the most energy-efficient manner. A strong and progressive policy on waste management is reflected in the fact that food waste is so minimal that the company is not required to use a brown food waste bin.
---
Leave review
WHAT CUSTOMERS VALUED AND ENJOYED
There are no reviews yet. Be the first one to write one.
---
Nearby Experiences
Experiences

Accommodation

Dining

Cook & Shop

Meet the Makers