Good Food Ireland® Approved Since 2022
We stand over our recommendations. With exacting selection and regular review processes, we ensure a rewarding local Irish ingredient-led experience. You can count on it.
Overview
Long Meadow Cider is an award-winning Bramley apple producer located in the orchard county of Armagh. This is a third-generational family business. At Long Meadow Cider it's all about the family and the Bramley Apple. While the McKeever family have focused on Bramley Apple production, each generation has introduced innovation in the production process and introduced new varieties and different planting processes. Long Meadow Cider farm is located on the banks of the Upper Bann River, the orchard plantation benefits from the mineral and silt deposits from the Bann when it's in flood. This mix of location a
Read More
---
Meet the Makers
The McKeever family at Long Meadow have produced quality apples in County Armagh for generations. After harvest, the apples are stored in state-of-the-art refrigerated storage facilities and supplied to the market as required.
Our first impression when we visited the McKeever Farm was the warm family welcome and their individual input to this business. We met with Catherine and Patrick McKeever and their son Peter.
When you arrive at Long Meadow Cider you enter a working yard with farm buildings on one side and the orchard plantation on the other side.
Every element of the production of the Long Meadow range is managed on-site by the McKeevers, you can be assured of a quality offering that is fully traceable with very few food miles.
What goes around comes around. The farm buildings include the cider and cider vinegar fermentation facility and the oak cask maturing facilities. Back decades ago, the custom and practice were to store the apples in oak casks, the use of casks was discarded with the introduction of state-of-the-art refrigerated storing facilities. The redundant oak barrels were then sold off to a well-known distillery to mature whiskey.
In recent years when Long Meadow Cider moved into producing oak-aged cider, they purchased second-hand surplus barrels and to their surprise, the original McKeever branded apple barrels came back home to Long Meadow.
A lot of expert care and planning goes into producing the ideal apples for the Long Meadow range ciders, juices and cider vinegar. Long Meadow Farm is constantly reviewing and implementing orchard stock chosen for their productivity, flavour, use and growing maintenance.
Long Meadow farm has introduced innovation with a section of their plantation replanted with a variety that is much easier to maintain. The trees are planted closer together and grow to a maximum height of 8 ft. This planting method allows the trees to be supported on a trellis system and is known as a 'Fruit Wall'.
Not to rest on their laurels, following a period of extensive research and development in 2013, the McKeever's established a value-added business to produce Cider, Apple Juice and Cider Vinegar. This business diversification has blossomed into a successful enterprise receiving awards for quality and taste over the years.
The fresh apples are hand-selected and immediately pressed to start the production process. The apple juice and cider produced at Long Meadow are made from pure juice with no concentrates, chemicals or water added, resulting in a high-quality finished product.
The left-over apple matter from pressing is collected for conversion into a natural fertilizer for the farm using a food digester.
---
Other Facilities
Long Meadow produces a varied range of products:
Still & Sparkling Apple Juice
Medium Cider
Blossom Burst
Rhubarb & Honey
Berry Blast
Seasonal Christmas Mulled Cider
Spiced Apple Juice
Oak Aged Cider
Apple Cider Vinegar
Stockists:
Long Meadow's online shop is available on their website if you wish to buy direct. They also stock in Sainsbury stores across Northern Ireland.
You'll also find Long Meadow across independent farm shops, restaurants, hotels and delis in Northern Ireland.
Savour the opportunity to see and taste the Orchard County of Armagh in all its glory with a Cider tasting and Orchard Tour at Long Meadow Cider. Here, a member of the McKeever family will guide you around the orchards, giving you a history of this family business.
You'll also visit the Apple Cider Vinegar room, learning about the vast health qualities of this amazing product before having a look at their cold storage facilities.
Round off this experience with a cooking demo of the famous regional speciality – soda farl bread.
Along the way, you'll also have an opportunity to sample the Long Meadow range of ciders, juices and apple cider vinegar.
Buy Experience
---
Sustainability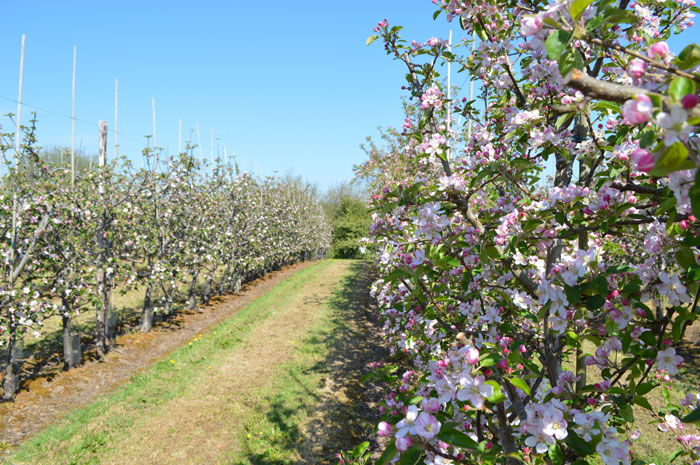 The day-to-day operations at Long Meadow Cider are based on sustainable practices. These include;
Primary ingredients are grown fresh on-site, while all the juice and cider productions are also processed directly on the farm.
Furthermore, any food waste material is reused for farm fertiliser.
---
Leave review
There are no reviews yet. Be the first one to write one.
---
Nearby Experiences
Experiences

Accommodation

Dining

Cook & Shop

Meet the Makers