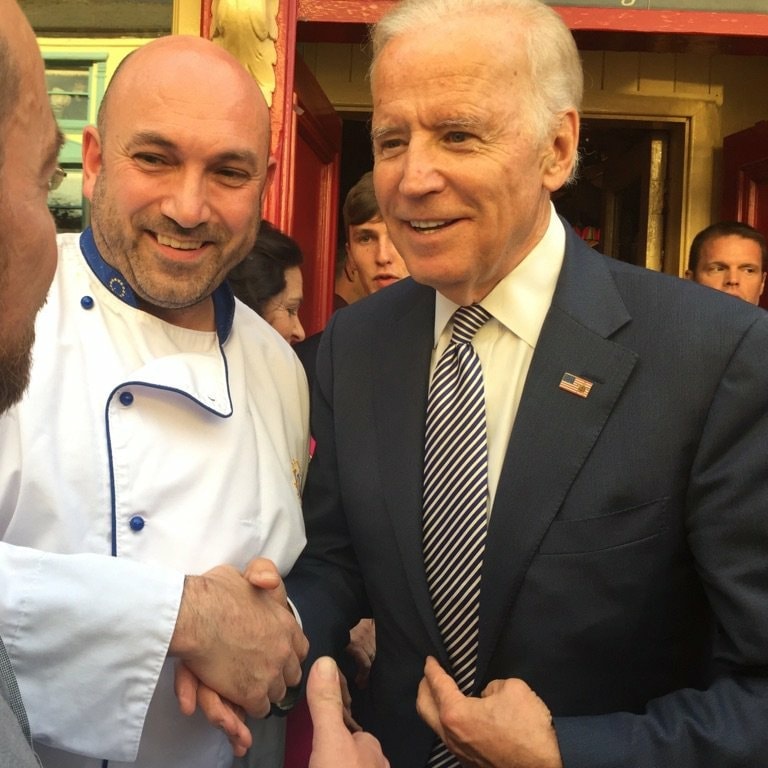 Frankie Mallon, Chef & Owner An Port Mór Restaurant welcomes US Vice President Joe Biden in June 2016
"An Port Mór is a local Irish restaurant serving regional specialities", says Frankie Mallon. "The restaurant has been here 12 years and we have been consistent from day one using local produce".
"Cooking influences are classically French basic cooking skills, but the Mayo ingredients are all incorporated."
Frankie speaks with pride and passion when it comes to the local producers that supply his restaurant in the tourist hotspot of Westport.
"There are more small producers around the country than ever before. The people that you really don't hear of are the ones making jams and chutneys in their kitchens, maybe going around the restaurants and selling it."
The Produce
Then there's the Achill Mountain lamb. "It has got such a unique taste". This is Martina Calvey's lamb that is grazed down on Achill Island. "The salt is blown in off the sea and the sheep are grazing on that down in Achill and that's what gives it that unique flavour and texture. That's what you can taste on the plate. You can taste the Atlantic Ocean."
"It is the same for the beef as well. Our main supplier for beef is Seán Kelly. He is a traditional butcher and he does all the traditional techniques. It is a family run business. His sons are all in the business and the way he does his business and deals with his meat has been handed down through generations. We are lucky enough that we get his experience and we are getting his product and it is on our menu and people can taste it on the plate.
He is famous for his black pudding and his beef. He has his own cows, he rears them. The flavour of them is the flavour of Mayo. We often do a surf and turf and get scallops from Clew Bay. If you are eating a steak from Seán Kelly and scallops from Clew Bay and then they are covered in a little bit of garlic butter, it is simple, but it is a taste of Mayo".
As with Martina Calvey, Seán Kelly and Myles O'Brien, Frankie listens to his customers and community. He knows what they want and this informs his business and menus.
Local Knowledge
People want to go to a local restaurant where they can get local food and they want to spend their money in the community and give their money to local suppliers like Seán Kelly and the Achill lamb. They want to spend local, eat local. They don't want to go to these fast chain restaurants where something is coming in from God-knows-where. People are sophisticated now and they know what good food is and they know what local food is. They don't mind spending that wee bit extra cause they want the quality. They know what the quality is now. They know what the taste is and they know it is unique and different. They will spend that little bit extra on food from their local supplier, but it is 100% worth it. People keep coming back and back and that's why."
Frankie's sentiments also echo those of Seán Kelly and Hugh O'Malley, who know that local people want to buy local food from trusted local suppliers.
But it isn't just customers who influence Frankie's menus. Food is an important part of culture and many traditional cuisines are passed down from one generation to the next. Cooking traditional food is a way of preserving a culture when you move to a new area. Frankie is 'a blow-in' from Armagh but his roots run deep through his menus.
"We always have some sort of smoked eel on our menu here, and that's literally because it is a childhood memory to me"
My granny lived in a little fishing village called Ardboe in Co. Tyrone and I remember as a child every summer I used to go to her house. The eel fishermen used to come in and they used to drop in a bag of eels every night. I remember frying up eels. We'd skin them, cut them up into chunks, put them in flour, put them into a pan, fry them and I remember making sandwiches out of them.
That's my taste of home. We always have it as a special or have it on the menu.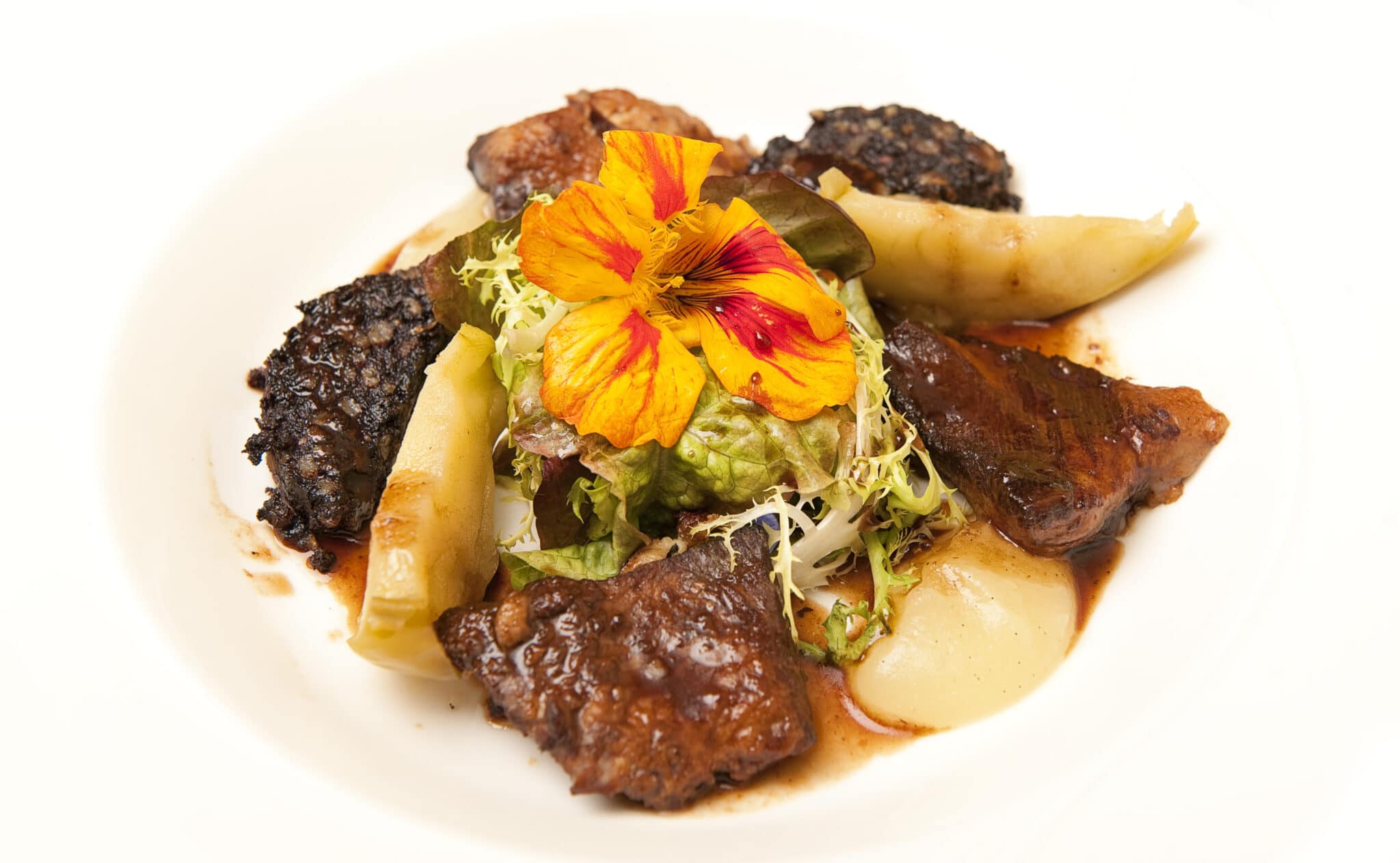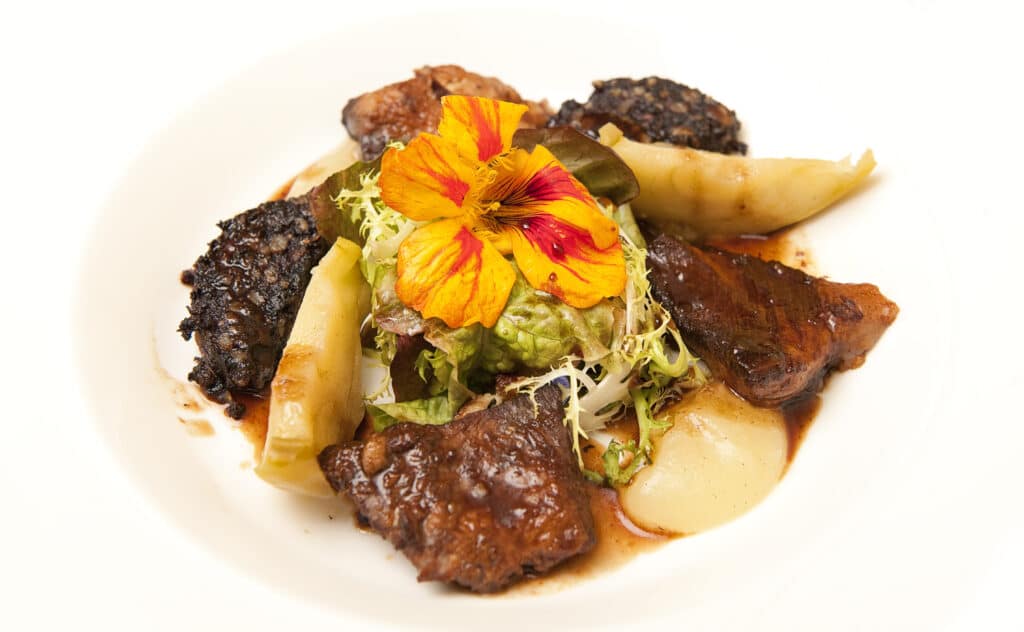 We used to go foraging a lot, too, and we would always make our own jams and chutneys all through the summer. My granny, who lived alone, would be self-sufficient. She'd make her own bread and jams and chutneys that would do us through the wintertime. The eel fishermen would drop in the eels and would have the time and come in and chat to you and then off they'd go again".
It easy to see how Frankie's childhood has informed his food philosophy. With such magnificent indigenous ingredients right on his doorstep, it's no wonder he continues to cook with them, in turn creating lasting food memories for all who are lucky enough to try his cooking.
Of course, chefs have to adapt, identify trends and develop. Westport is a tourism destination and there is no doubt that the throngs of tourists that pass through every year influence his menus.
"Tourism is a huge, here especially in the summertime. Our menus would change seasonally. In the wintertime, it is meat-oriented. In the summertime, from Easter time onwards, the food is a lot lighter and there is a lot more seafood on the menu. Tourists, when they come to Westport, all they want is mussels, scallops and lobster. Lobster is huge. We had half a grilled lobster on our menu last summer and we were running out of them every night of the week. And you know what? People weren't really looking at the price, they recognised good value. It is the same with the scallops. We sell tonnes of them in the restaurant, and that's what the tourists want. Seafood is huge. It is massive.
It is the first thing the tourists look at on the menu – what is your fish of the day, what is your local signature dish or what is your fish speciality? That's what they want. The Irish market would be a bit more meat-oriented".
Food Glorious Food
Knowing his customers, and especially the tourists, but the day of Joe's arrival, the whole thing was running hours late. In the end, we had to reduce the offerings and he just had lobster on brown bread. It was lovely lobster. It was blanched, it was well seasoned, it was simply cooked and we served it on lovely little brown bread and a little bit of fresh mayonnaise. Afterwards, all he wanted was a bowl of ice cream. One of his security men who had been travelling with him for years actually gave me the heads up and said: 'listen, if you have a nice homemade ice cream that's all he wants. He loves ice cream'.
"And we had lovely homemade vanilla ice cream that he got as well, and he loved it. He got seafood, he got the lobster, he got the homemade brown bread and a simple ice cream afterwards, and he was happy out. He was delighted".
No doubt when the tourists start arriving the Biden Effect will be in full force and lobster and ice cream will be in high demand in An Port Mór.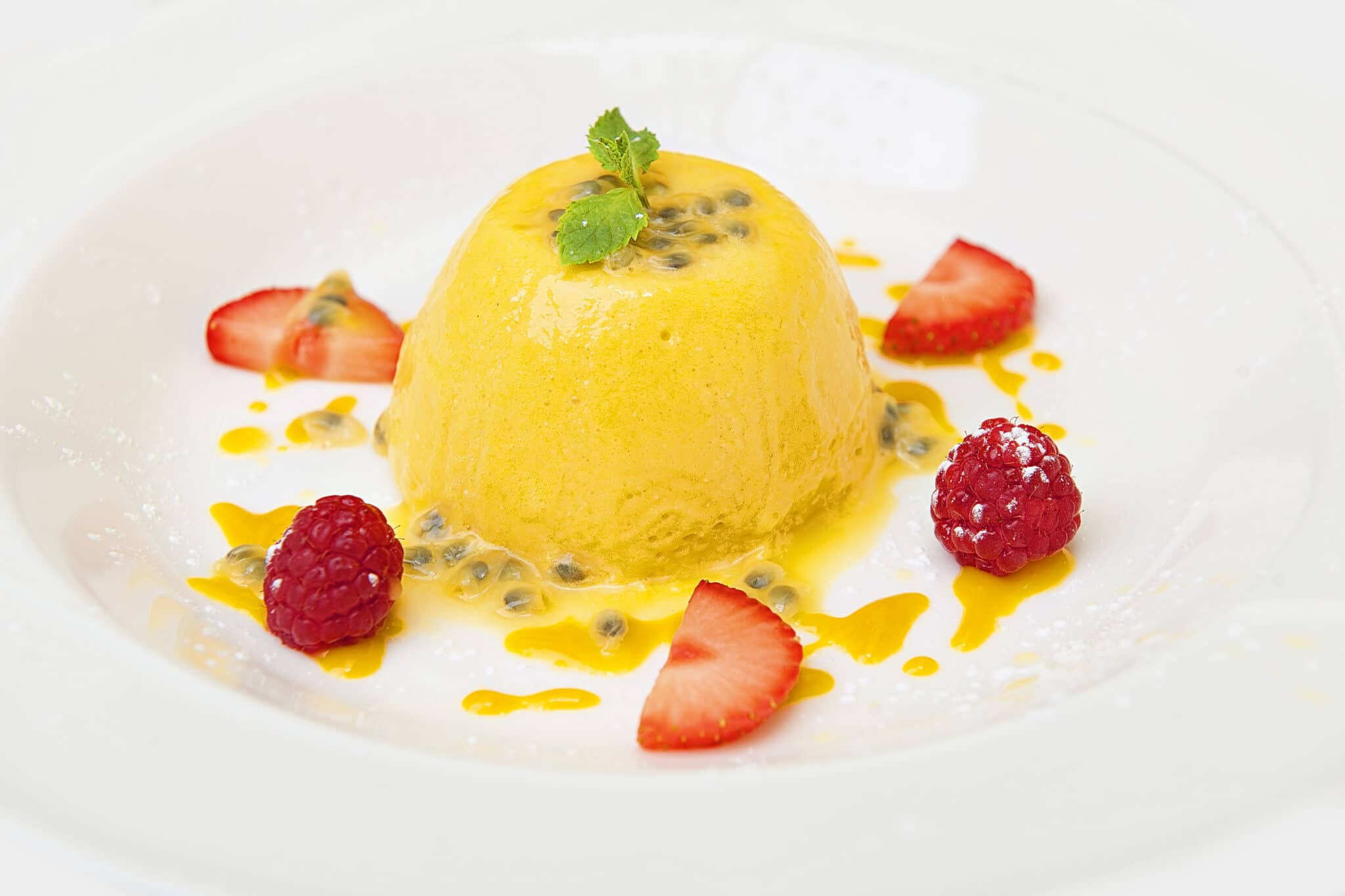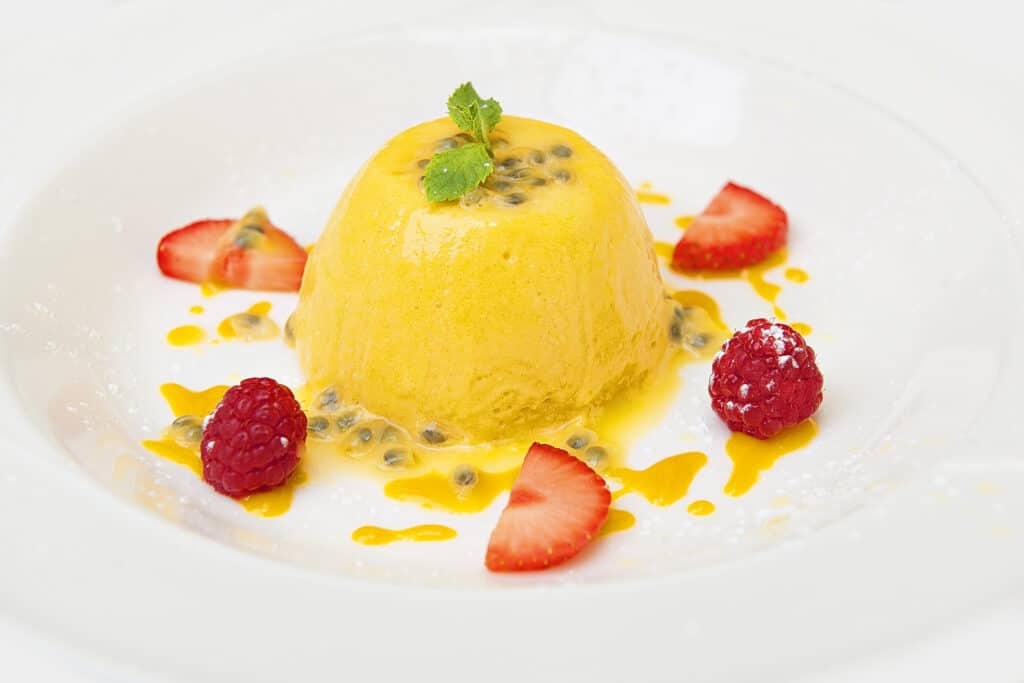 But what else should visitors to Mayo eat to get a sense of the place on a plate? To taste the region, so to speak?
Frankie says, seafood.
"I would say fresh lobster fresh from the bay and fresh scallops fresh from the bay as well."
But what makes these lobsters and scallops so different from what you can eat in other countries?
The fresh taste and "it is the way you cook it as well. What we do here with the lobster is simply grill it and we make up a little herb butter. Cut it in half, under the grill for 12 minutes, nice fresh herbs, a bit of garlic, a bit of butter, on the plate. If we are doing it for a salad, it is just into a pan of boiling water for 8-10 minutes, it is refreshed and we serve it with a simple salad, which is grown just up the road from here. We make a little dressing, little bit of herb mayonnaise, that's it. You are not smothering the lobster with a load of stuff that's hiding the quality of it. You are just tasting the lobster.
Because the produce is so good, the less you do with it the better. It doesn't need anything. It doesn't need to be fussy. The simpler the better".
The love Frankie has for the fresh ingredients found in Mayo is palpable. But what else does he love about the place?
"I came into Mayo over 20 years ago, and I have to say, I was made feel welcome from the first day I arrived. The people are so friendly and the community, now I'm talking about Westport, the people are amazing. They are the nicest people you could ever meet and, as a blow-in, I've been made to feel really, really welcome. That was over 20 years ago and I have been here ever since."
You'll see that for yourself when you visit Mayo – the Céad Míle Fáilte, the time people have for one another and the strong sense of community. You can feel the passion and pride of the people for the place. And, if you can't stick around as long as Frankie has, Mayo will put a fire in your heart that you'll promise to return and rekindle.

Explore & Book
Food & Drink Experiences
Luxury Overnight Stay and Afternoon Tea for Two at the Grand Central Hotel

What You'll Get Luxury overnight accommodation for 2 in the Grand Central Hotel Belfast, including afternoon tea in the Observatory – 'Irelands highest cocktail bar' Stay in a Deluxe Bedroom with views over the city, and enjoy a full Irish...

Wild Atlantic Distillery Tour & Tasting

What You'll Get Witness the magic of distilling with a visit to Wild Atlantic Distillery located in the north-west of Ireland. Brian and Jim, your hosts will give you a warm welcome with a complimentary drink waiting at your arrival. Following this,...