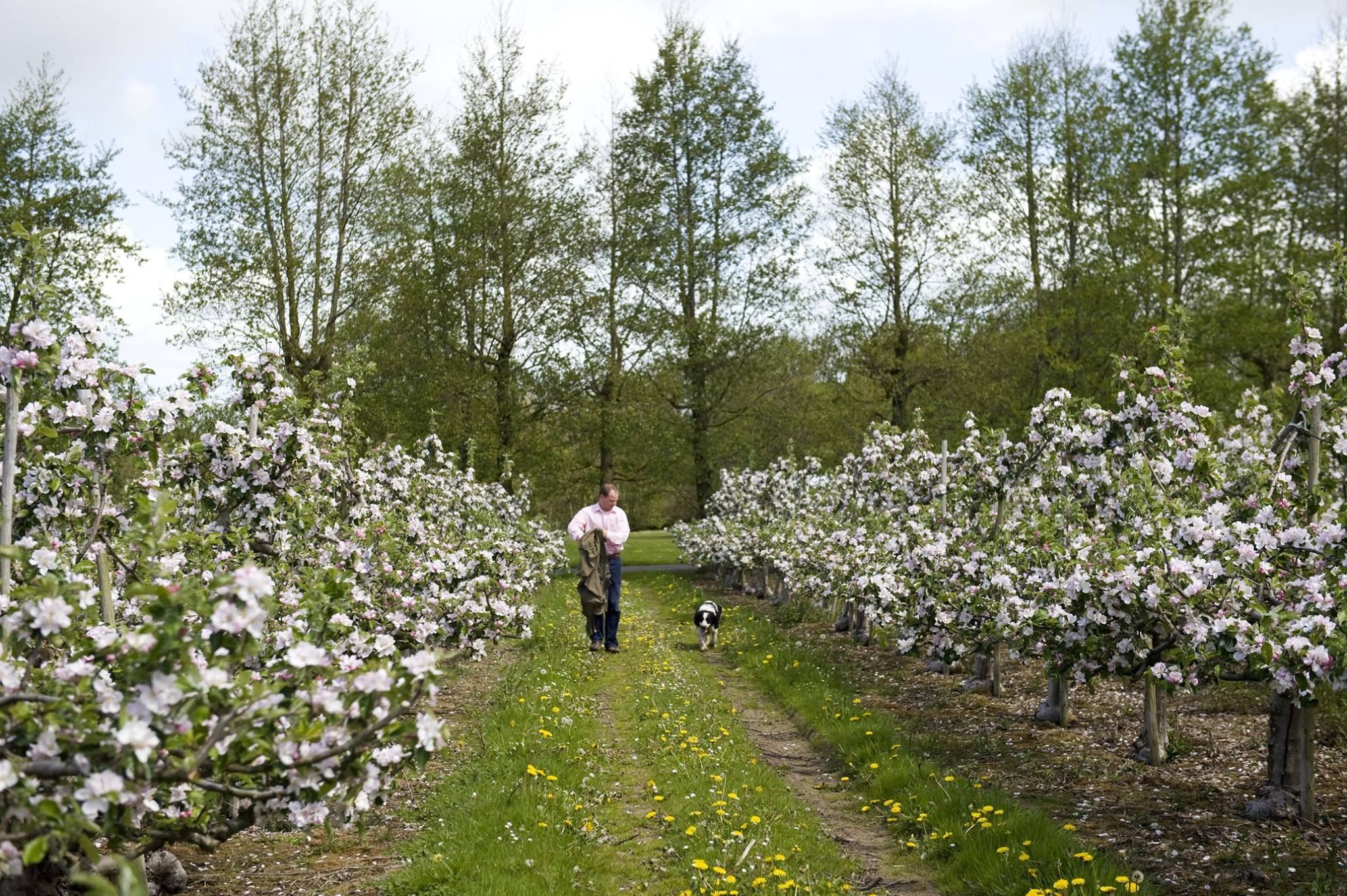 It's Irish Apple Time! 
Ever since Eve was tempted to eat the apple by the serpent in the Garden of Eden,  this seasonal autumn fruit has been the downfall of many a human! What's not to like about the crunchy crispness and fresh taste of a naturally produced Irish apple? September is the season when our homegrown apples come into the market. Growers have worked hard all year, pruning and caring for trees and protecting the delicate blossoms of spring,  that brings forth fruit in autumn. Their work is now done, as the apple harvest comes to fruition.
Visit Our Shop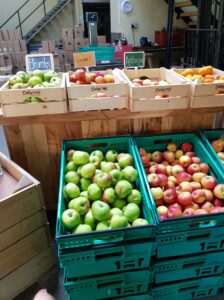 At Ballycross Apple farm, in Bridgetown Co. Wexford,  the Van Englebrechten family from Germany have made a home and business from a house that has two centuries of history behind it. The original house at Ballycross was a five-bay, three-storey mansion, built circa 1840 by John  Rowe. It passed through several families over subsequent years, finally ending up with the Van Englebrechtens a couple of decades ago. The house they occupy is a renovation of a rebuild undertaken by another family in 1948, which burned down.
Today it's been restored by the Englebrechtens, who poured love and care into considerately rebuilding the house to become the family home and farm business that thrives today.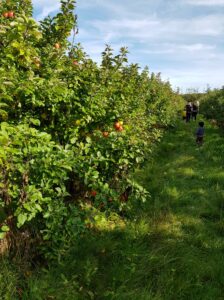 Ballycross is a real working farm growing a number of varieties of apples, which are used to make pressed cloudy apple juices and sold fresh in season. Alongside this production, the family also welcomes visitors to the farm at weekends during autumn.
Opening hours are 12-6 pm Saturdays and Sundays, with extended opening hours at Halloween for the midterm break. A day on the farm includes a chance to walk the Ballycross Farm Trails, which have been specially built to enable the public to enjoy the land here in a considerate way.
A typical walk meanders through woodland, marsh areas, along the river bank and through certain sections of the famous Ballycross Orchards. A great way to get out in the fresh air and see a working farm in action.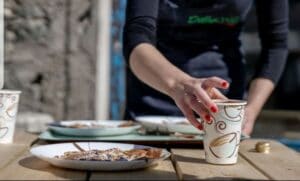 When you've done the walk, you can refresh in the Ballycross Waffle and Crepe Bar which serves light refreshments in the old courtyard of the house. The on-site farm shop stocks the Ballycross range of juices and other products for sale. This time of year, there will be plenty of crisp homegrown apples picked fresh from the trees,  ready to take home for the fruit bowl or to cook in pies and tarts. Absolutely yummy!
Discover more about Ballycross Apple Farm here >
The Apple Farm in Cahir, Co. Tipperary is in the hands of second-generation grower Cornelius Traas. He grows a range of apple varieties from which he makes fresh juices, cider vinegar and cider on site. The shop on-site at the farm stocks all these products plus some other artisan specialities, and of course, this time of year, lots of fresh apples picked in the orchards.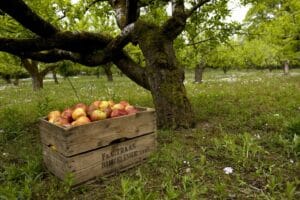 No less than twelve different sorts of apples are grown here. The early season starts with James Grieve and Katya, followed by Delba Estivale. As October kicks in, you'll find unusual varieties like Alkmene and Cevaal alongside more familiar Cox's Orange Pippins. Golden Delicious, Elstar and Jonagored also make an appearance later in the season, and all the while you can get the plump, knobbly Bramley's Seedling, the famous cooking apple.
Bramley's have a sharp, citrus and juicy flesh which cooks to a soft puree, making them ideal for inclusion in a typical Irish Apple Tart encased in buttery pastry, or some fabulous sauce to go with a crackly crisp joint of Roast Free Range Pork.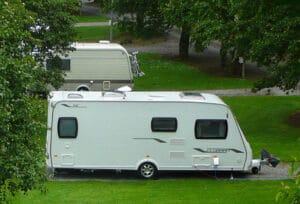 The Apple Farm also offers a caravan and camping Park with top-class facilities and very spacious grounds. The area is well located for sightseeing throughout the region, close to St Patrick's Well, Cahir Castle and many other attractions here. The campsite caters for up to about sixty people per night with the use of the newly-laid full-size tennis court included in the price.
Also included are hot showers (for as long as you like), hot water, campers kitchen (with freezer and fridge) and use of the hardstands.
Discover more about The Apple Farm Here >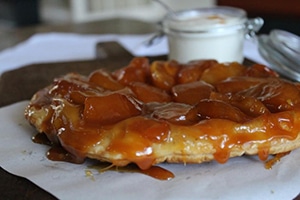 Recipe Suggestions for the weekend:
Apple Tarte Tatin
This luscious Apple Tarte Tatin (an upside-down pastry in which the fruit are caramelized in butter and sugar before the tart is baked) topped with whipped mascarpone mixed with vanilla and icing sugar and sprinkled with almonds! Mouthwatering stuff.
Definitely one to try this weekend we reckon.
Foraging Fun!
Here's a recipe from Brooklodge and Maccreddin Village that marries two wild members of the Rosacea family together; The Wild Crab and The Wild Rosehip. We love recipes like this and it's the perfect time to give it a go! Not only will it get you out and about to gather your rosehips it also means you'll have a gorgeous jelly to accompany tasty meats and cheeses in the run-up to Christmas! NB- Always ask a professional if you are unsure of what you are picking before you eat it!
Buy Gift Voucher