Achill Oysters, Co Mayo
Oyster Farmer Hugh O'Malley speaks with Melanie May about growing up in Achill, eating oysters and how he started his business.
Hugh O'Malley, oyster farmer and founder of Achill Oysters
"He was a bold Man, that first ate an Oyster," wrote Jonathan Swift in 1738, but Irish people have been slurping these silky molluscs for thousands of years before Swift's quip.
The first settlers to Ireland found an abundance of food in the fields, rivers and seas. Oyster shell middens dating from prehistoric times have been found around the coast of Ireland showing that oysters were an abundant food in the Irish diet and oyster cultivation in Ireland dates all the way back to the 13th-century. This Irish indigenous ingredient has a really rich history and one of the people telling this food story and protecting its heritage is Hugh O'Malley of Achill Oysters.
"I am the first one in our family to have oysters. We were fishermen. Five generations before me were harvesting from the sea around Achill. I am merely carrying on from what was done before," says Hugh. Whilst around the world there is a growing interest in local produce, food history and regional cuisine, growing up in Achill with all the spoils of the seas, Hugh felt a little put upon.
"Dad had a trawler and the fish would be brought home and I was feeling very put upon living on wild salmon and wild lobsters, while everyone else was having Pop-Tarts and Findus Crispy Pancakes. I felt very much like a second class citizen because we had to eat lobster, again
Much in the way that Frankie Mallon and Myles O'Brien approach the handling of their ingredients, Hugh remembers that the food would be cooked "really simply. The salmon would be boiled, and the same with the lobster. It would be very, very simple. A butter sauce because butter was in the house and spuds from the garden".
Keeping things simple and not doing much to the raw ingredients is also the best way to treat his oysters. "It is so nice to hear the likes of Alan Woods extolling the virtues of the oysters and how clean and fresh they are and how they don't need anything extra". Eating the oysters au naturel is one of the best ways to truly experience the taste of Achill. Much like wine, and the Achill Mountain lamb, oysters get a distinctive character from their environment.
"The reason that our oysters are unique is that it is foggy-boggy. It's the peat bogs that surround the beach, and actually, the submerged bogs that are underneath the beach, that gives a really peaty taste. In the height of the rains, the entire bay will turn a tea colour with the amount of peat that's being swept down off the mountains. We get lots of rain and lots of lovely freshwater. So even though the Atlantic is very salty and there's a briny taste to the oysters, they are flushed through with an inordinate amount of freshwater. So the Atlantic around us would be quite saline, but the bay where we are, there's so much fresh water being pumped in and there are hills all the way around it and its a little bowl and it does tend to make them unique, a truly unique taste".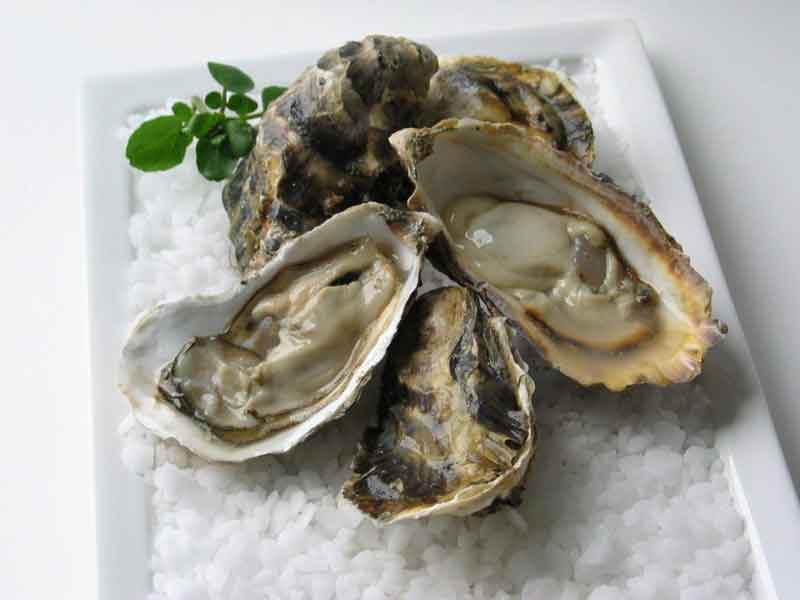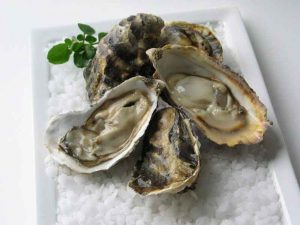 Hugh has been farming oysters in Achill now for over a decade and, like many businesses in the region, including Kelly's Butchers, Hugh likes to keep things local.
"We employ four households 52 weeks of the year in Achill. We employ many casual workers during the summer and during holiday periods. We support local businesses. If we can source something on the island with local businesses, we source it on the island. If you can support your local businesses, they will tend to support you. It creates a virtuous cycle".
The benefits of supporting local food producers for the customers are also plenty.
"It reduces the miles that each piece of the plate makes. The less the food has traveled, the better it tastes. There's nothing better than sitting on a veranda having your oysters and looking out at the bays beneath you with the oysters there in the bay. We sell a lot of oysters around Achill simply because of that connection. It's good for the environment, too. So there's the virtue of being virtuous. The taste is better. If you can open an oyster on the beach and taste it, it's never going to be better than that. The oyster isn't stressed, it hasn't traveled. It just has taste, taste, taste".
You can enjoy that taste, taste, taste year-round too.
"We've got different types of oysters for the different times of the year so that 52 weeks of the year we can bring a proper product to the market. The oysters that we have ready for this time of year will have milk in them during the summer. They are referred to as being milky. They are the oysters that would have been traditionally grown around Ireland, and why you don't eat oysters if there is not an 'r' in the month. Those oysters need cold weather to be told to bring the milk back into the oyster and turn it into fat. That's where you get the really creamy marbled oyster. Full and fat this time of year".
So, much like ourselves, oysters gain a little extra weight (although I prefer to call it 'insulation') in the colder months.
Speaking of weather, Hugh can be seen out on the beach in rain, hail, and sometimes shine. It is a harsh environment, but he loves it.
"Achill is home. It is beautiful. You go to Achill because you hope that you'll get one of those days you have in the summer and never want to leave again. It is the people. It is the clear atmosphere. It is the rain. We spent all day in it today. Even with all my gear on, it still got in down the back my neck. I am soaked to the skin at the moment. And still, it's gorgeous. It is enjoyable and we're making something there. We are creating a business. We are creating a brand. We are producing some absolute belters of oysters. It's just a joy to be around".
Food Culture and Traditions
Like many other food producers and chefs in Mayo, Hugh is engaging with and re-imagining his local indigenous food culture and traditions.
"It's not so much passing on what we did in the past. It's more building upon what we've done in the past and innovating into the newest means of producing what is indigenous to the island. We are showing due deference to the past, but definitely innovating for the future and making what we're doing relevant. We've worked with several different producers throughout Ireland to get an offering of Irish oysters and supply them to the markets in the Far East. We are building a business where we can work with local people, where we can extol the virtues of, firstly, Achill oysters, then oysters from Mayo and, fundamentally, Irish oysters globally".
You've probably eaten an Irish oyster, though you might not know it. Ireland exports a lot of oysters especially to France and Asia, but they aren't branded or labelled 'Irish oysters', unlike Irish beef. Shouldn't we be doing our best to protect their unique provenance and quality?
As Léon-Paul Forgue romanticised (perhaps feeling the effects of their aphrodisiac properties), eating an oyster is "like kissing the sea on the lips". And he was right. Each time you shuck and slurp an Achill Oyster you taste the sea in every mouthful and with their flavour reflecting the pure, pristine, peaty landscape you are sure to fall in love with this magnificent Mayo mollusc.

Explore & Book
Food & Drink Experiences
Luxury Overnight Stay and Afternoon Tea for Two at the Grand Central Hotel

What You'll Get Luxury overnight accommodation for 2 in the Grand Central Hotel Belfast, including afternoon tea in the Observatory – 'Irelands highest cocktail bar' Stay in a Deluxe Bedroom with views over the city, and enjoy a full Irish...

Wild Atlantic Distillery Tour & Tasting

What You'll Get Witness the magic of distilling with a visit to Wild Atlantic Distillery located in the north-west of Ireland. Brian and Jim, your hosts will give you a warm welcome with a complimentary drink waiting at your arrival. Following this,...