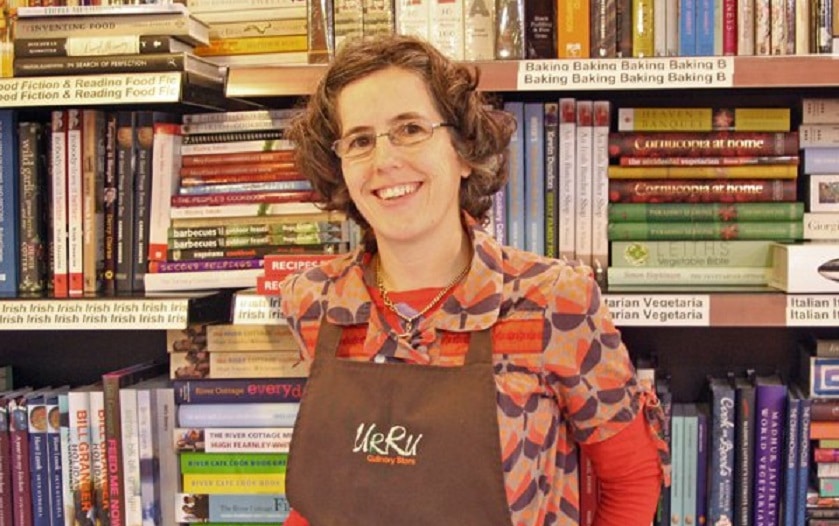 When you walk into a food and hospitality business, have you ever wondered what a day in the life of the owner of the business must look like? Being in the food game is no ordinary job. It's a vocation for most, and you have to love it to be in it. So we decided to ask our dedicated members how things work in a demanding job where the clock never stops.
Our Day in The Life series is launched with an insight into the daily working life of Ruth Healy of Urru Culinary Store in Bandon, West Cork. Ruth has been running her business in this market town since 2003. Thirteen years of dedication and commitment to creating a food emporium that rivals the best shops of the biggest cities. Over to you Ruth…
Visit Our Shop
Our Day in The Life series is launched with an insight into the daily working life of Ruth Healy of Urru Culinary Store in Bandon, West Cork. Ruth has been running her business in this market town since 2003. Thirteen years of dedication and commitment to creating a food emporium that rivals the best shops of the biggest cities. Over to you Ruth…
When and How Do You Begin Your Working Day?
I get up at 5.30 am and am usually in the shop somewhere between 6.15 am and 6.30 am. I start opening up when I arrive, then I leave again at 7.15 am to meet Arbutus, our bread supplier, and pick up our fresh bread and pastries delivery for the day. I come back to the shop and open up at 8 am sharp. I have at least one regular customer waiting outside the door at that time for a coffee and a sandwich.
Breakfast is absolutely essential for me. I start with an espresso coffee before I leave for the bread, which comes from my coffee machine which is on and ready to go first thing. Very important! At about 7.45 am, before I open the shop, I have an Americano with a fresh Pain au Chocolate from Arbutus. When my staff start arriving at 10 am, I take a short break for a cup of Macroom Oatmeal drink or else a bowl of Glenilen Yogurt with our new Granola which is tastes absolutely delicious, and you can feel the power of the nutrition coursing through the veins.
My morning pre-opening routine and alone time are really precious to set me up for the day of continuous interaction with people behind and in front of the counter. The general routine is also very important to my day, especially in allowing space for extra activities like promotions, demos, tastings, and events that we run here regularly.
 How Did Your Passion For Food Shop-Keeping begin?
Looking back there were strong seeds sown from my grandmother and grandfather who had a shop each in Cork. My grandmother's shop had everything behind the counter and did a roaring trade in sanitary towels because she was near the Erinville Maternity Hospital in Cork! She had a thriving business and as all our grandchildren got older we ran the shop. She would probably have said we ran it into the ground because, for example, we'd order a whole case of beans even if there was only one tin missing off the shelves!  Ultimately though, my grandparents got old and had to sell their shops, firstly to next-door neighbours, who then sold them on.
After that, when I was in secondary school, we opened our own tuck shop and I was appointed manager of that. There were lots of bright 17-year-olds in my school but none of them matched me for organizational skills,  which are essential in this business. I studied marketing in college then went to work for Proctor & Gamble in a very customer focussed role,  working with retailers and suppliers. I worked with them for a number of years. After I left I knew I wanted to have my own business as a shopkeeper in the food sector. So I went to Ballymaloe Cookery School first to do the professional cookery course and learn about artisan foods, which is what I really liked. I was never cut out to be in a kitchen full time but I knew I could be a shopkeeper specializing in promoting and selling Irish artisan products, which is what we have always done.
What Gives You The Most Satisfaction From Your Job?
Satisfaction comes from my very first customer when I opened in 2003. They were strangers at the time and they have become daily customers thirteen years later. I remember what they bought the first day, it was a Cole & Mason Peppermill.
I get great satisfaction on a daily basis from the enthusiasm of my customers about what is on offer in the shop, and see them motivated and energized when they come in here. When producers mention Urru as part of the development of their business, that's also very satisfying.
Which Part Of Your Job Do You Like The Least?
The lack of physical freedom. By that, I mean the ability to not be here when I don't want to be! It's not that easy to just disappear, as much as you'd like to sometimes! There's no doubt that taking time off does impact the business in sales terms. Not because of staff issues, but often because many customers want to see the boss behind the counter when they spend their money. That's very much part of my business, having a direct relationship with my customers.
Disappointments also come from producers who compromise too much too early, in pursuit of short term commercial success.
What Advice Would You Give Someone Looking to Become a Food Shop owner?
I would say that to start with you need a good idea with a novel aspect. For me, it was the geography of being situated here in Bandon, in a small market town. This is why the shop is called Urru – it's a combination of the words 'urban' and 'rural' which perfectly describes the quality of our offering in relation to our location. So for anyone considering this as a business, you need to find something new and different to offer. After that, it's about graft, graft, graft, and perseverance. And also having conviction.
Once you get going, the best approach to sales is knowing your product and then caring enough about your customer's needs to find a solution to wow them. You must always remember as well, that the customer's experience of the shop continues when they get home, getting compliments from their family and friends about what they have bought. This is particularly important in relation to good bag packing and neat cheese wrapping etc., plus the integrity of the food and good recommendations from the staff.
If You Weren't a Food Shop Owner, What Else Would You Like To Be?
Well, I would never have a different job, but in the future, I would love to find time to go back to college to study digital marketing and also art. I love painting and drawing.
Are You A Technophile or Technophobe?
I move with the times. I don't resist technological change, but then I wouldn't necessarily be an early adopter either. When something new comes out, I'd rather wait and see what the response is first before I decide to invest.
How Do You Manage the Work/Life Balance?
I don't think there is a prescriptive balance. I think about my life as a whole so when I look back over the last ten years, I might think I haven't travelled as much as I used to, and I work longer hours than most. But then I always did because I am a pretty all-or-nothing person. So maybe I don't have as much time to myself as I would have had in the past, but  I can switch off easily when I leave the shop and go out to socialize. The activities of the day will be left behind when I close the door.
How Do You Relax When You Get Time Off?
I do yoga and swimming. I spend time with my family at weekends and we always go for a good long walk. I also go to rugby matches with my dad, and we go out together to eat in different places when I get time off.
What Is Your Guilty Pleasure?
Eating good bread and butter and watching The Walking Dead on RTE!
What are the daily challenges of combining a food retail business with a hospitality aspect?
The cafe side of the business has grown through a direct link to the retail side of the shop, in that the menu was born of ingredients that we sell in the shop. Our sandwiches, soups, and salad plates are all made from things available to buy. So the biggest daily challenge is in making sure you do everything perfectly for every customer, whether they are shopping or eating, or both.
The other challenge on any given day is in everyone arriving at the same time. I don't mean lunchtime, because you would expect people to want to come and eat then. But it's the hit and miss aspect of days when there's no one, and then there is suddenly everyone, and it doesn't have any rhyme or reason or pattern to how it happens. The challenge at that time is that every customer wants the same attention, whether they are spending two euros on a cup of coffee or two hundred euros on shopping. People suffer from a 'rush mentality' which means they want to be dealt with speedily and efficiently, and that becomes a challenge when you get a number of people arriving all at once.
Disappointment also comes on days when I hear the words 'I can't' or 'No'!
What's Your Favourite Good Food Ireland Place To Visit?
I have always been a fan of good casual dining and I think Farmgate in the English Market does it especially well.
Want to pay a visit to Urru Culinary Store? Have a look at their review page here for more details. 
Buy Gift Voucher