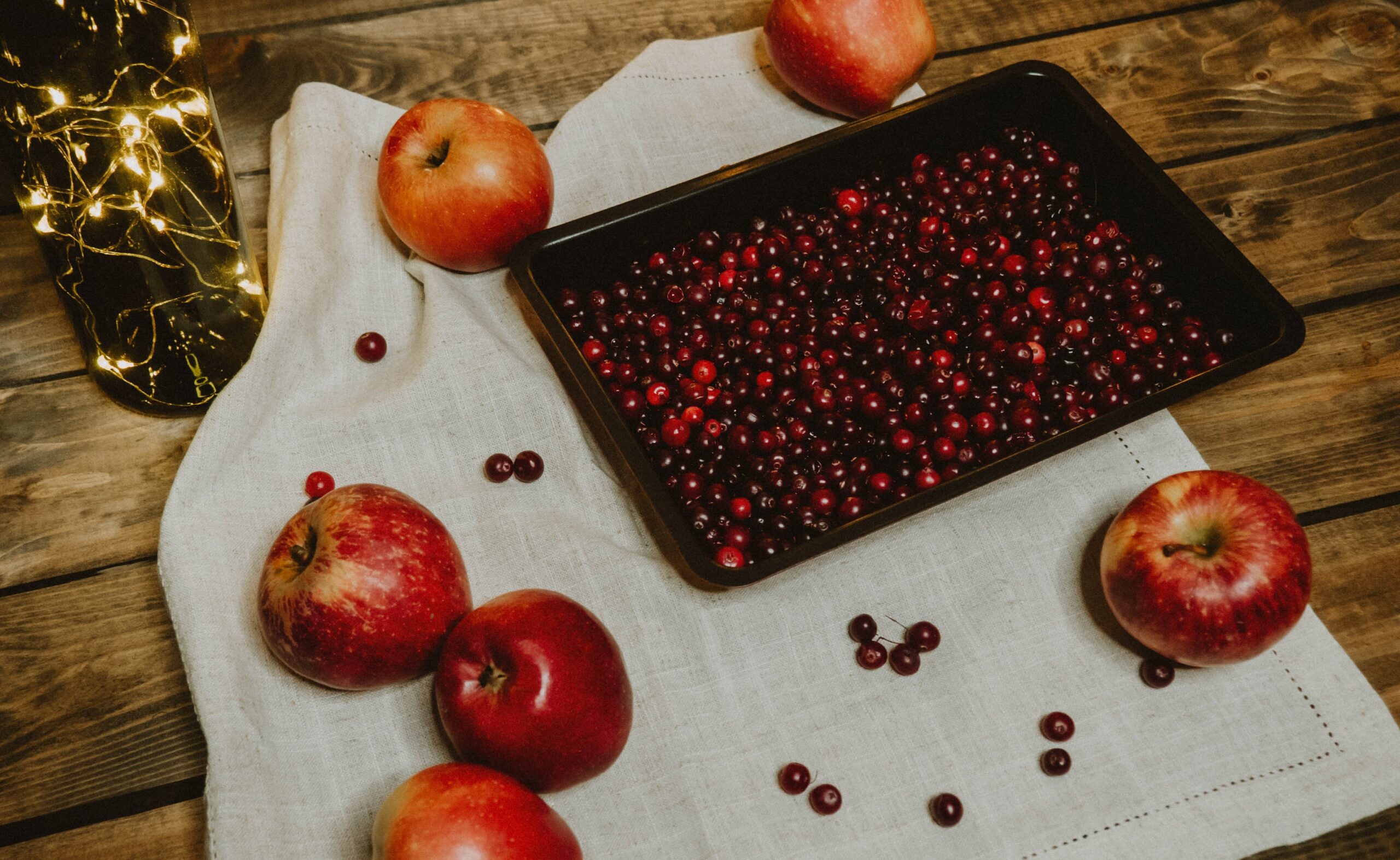 Cranberries are one of the great fruits of Christmas. Where would the turkey be without a bowl of fresh cranberry sauce to serve on the side?
Visit Our Shop
And Ireland's soft cheeses like Cooleney, from Tipperary, which can be deep-fried or baked like its French cousin and served with cranberry sauce to accompany.
Cranberries thrive in boggy areas with wetlands nearby. Ireland's natural peat bogs are excellent for cranberry production, but for some reason, these seasonal festive fruits are only grown here in very small amounts by one or two specialist growers. The majority of the annual cranberry crop comes from North America.
Some quite spectacular sights are to be seen in October and November in the major cranberry growing regions. This is harvest time when the fully ripe berries are ready to be picked. Most cranberries are harvested by flooding the bog with water. Farmers then use special equipment to agitate the water, which gently removes the cranberries from their vines. Air in the berries allows them to float to the water's surface, where they are then channelled along in big swathes of crimson colour. This makes for quite a dramatic and striking autumnal sight. Berries harvested by this 'wet' method are generally used for juice, sauce and relishes. Whole fresh cranberries are normally 'dry' harvested by mechanical pickers, guaranteeing whole berries of consistently top quality and without damage.
The way to tell if your cranberries are super fresh is to drop one on the floor from a bit of a height. If it's fresh it will bounce. The bounce means the berry is still nice and firm. Whole firm fresh cranberries are the ones you want for making your own cranberry sauce at Christmas, or for adding to other festive relishes and chutneys. Cranberries are naturally sharp in taste, so you will need to add sugar during cooking to your own taste.
Check out farm shops for fresh Irish cranberries, but get in quick because there won't be very many! North American fresh cranberries are now available in supermarkets. It's not too early to buy them. These berries freeze well for when you need them. This saves having to rush frantically around the shops during Christmas week, when you may find all the fresh berries are sold out.
For a simple Cranberry Sauce, place cranberries in a pan with sugar to taste and just enough cold water to cover. Simmer gently till the berries pop. Remove from the heat then cool and place in a jar or bowl covered with cling film. Cranberry sauce keeps well for a few days in the fridge.
You can also combine a few fresh cranberries with our own Mr Jeffares Blackcurrant Cordial. Blend the cranberries and blackcurrant cordial together with natural yoghurt and milk, for a delicious festive smoothie packed with superfruit vitamins and anti-oxidants. Both blackcurrants and cranberries are known to possess high quantities of valuable Vitamin C to help fend off winter coughs and colds.
Written by: Good Food Ireland
Buy Gift Voucher