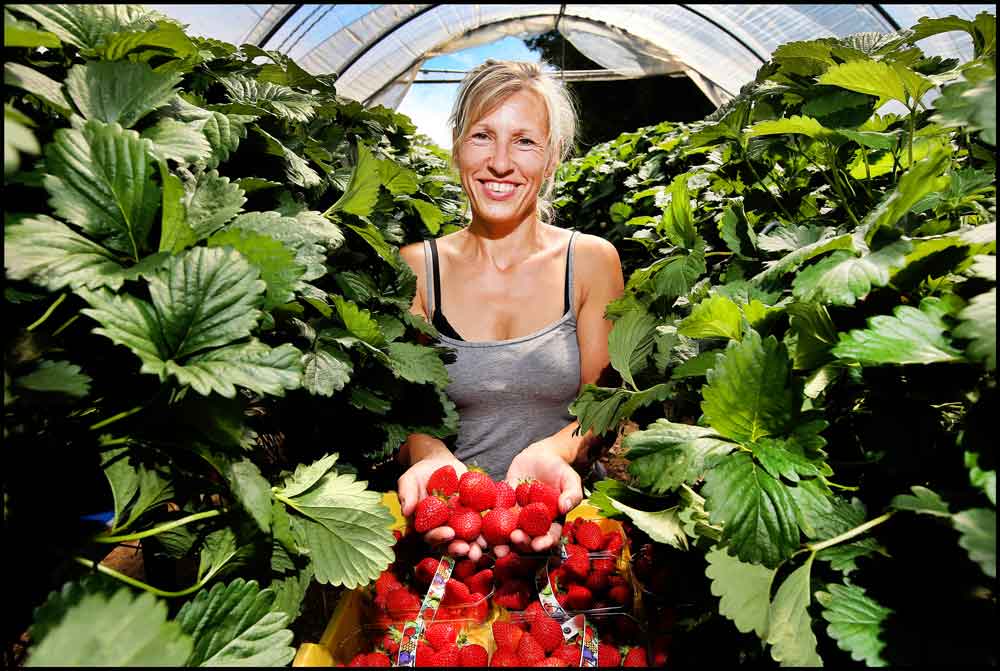 As early summer rolls in we welcome back the Irish Strawberry season.
We all love strawberries! Most of all, we love strawberries that are Irish grown and served in summer. For many, the arrival of Irish strawberries marks the real start of summer.
Seeing this bright vibrant fruit brings back happy memories of summer childhood road trips and holidays, watching the scenery from the car window and stopping at stalls set up on the roadside in Co. Wexford and beyond for punnets of sweet-tasting strawberries.
Eat them straight from the punnet or with a dollop of fresh cream, Irish Strawberries are the ultimate summertime treat!
In the Good Food Ireland® we've got some super fruit farmers growing delicious Irish strawberries. All these growers are dedicated to growing the very best quality fruit.
Sign Up To Our Newsletter
Top Irish Strawberry Growers
Greens Berry Farm, Co. Wexford 
Established in 1987 by John and Paula Greene, this fantastic farm brings the best product straight to local customers, with more than 70% of their total fruit farm products sold directly to the consumer at their two farm shops in Wexford in Tinnock and Courtown.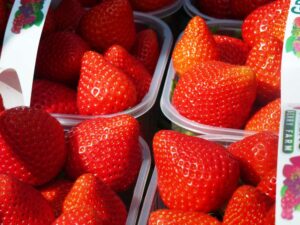 Greens Berry Farm Shop at Tinnock just off the M11 near Gorey is one of Ireland's finest examples of farm gate sales. The farm shop is a huge and very popular farm gate stall at the entrance to the farm, with product coming straight from fields to shelves – no food miles here!
Take your pick from tempting stocks of fresh strawberries, raspberries, blackberries, gooseberries (in season) new potatoes, handmade juices, Greens Berry Farm preserves and more.
Read More
Kearns Fruit Farm, Co. Wexford 
Kearns Fruit Farm is a family affair, operated by Jim, Susan and son Noel, daughter Patricia and son-in-law Damien Fitzhenry. This farm in the rolling Wexford countryside has been in the Kearns' family for over forty years. During that time, the expertise of growing succulent summer berries has grown and grown.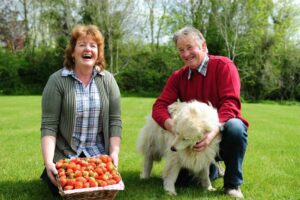 Jim follows his father's footsteps in soft fruit growing. He and his wife Susan run a modern operation, which produces strawberries from May to November and raspberries in June, July and August.
The dedication to quality is apparent in every step of production. At harvest, crops are handpicked to ensure the highest quality fruit reaches the shops.
Find their delicious Wexford strawberries in good independent retailers.
Read More
Malone Fruit Farm & Shop, Co. Carlow 
The Malone Family produce soft fruit from their Co. Carlow based farm. Fresh fruits are available in summer, and frozen fruits are also available all year round for smoothies and desserts, jam making and jellies. These can be purchased from the Malone Farm Shop in Ballon, Co. Carlow on the road to Wexford.
They also produce a wide variety of jams, jellies, marmalades, chutneys, fruit tonics and cordials, as well as a variety of hampers and gift ideas for special occasions.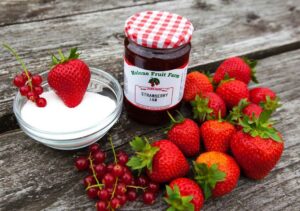 Strawberries are the main crop here, but James Malone also soil grows raspberries, blackberries, tayberries, loganberries, blackcurrants, redcurrants and white currants, and in good years (or when the birds don't get them!) cherries. For a very short time in the summer, a couple of trees yield peaches and nectarines.
A special treat if you manage to get some. Green and red gooseberries and rhubarb are grown outdoors. Careful tending and lots of variety mean a good fresh fruit yield during the season.
Read More
The Apple Farm, Co. Tipperary
Orchards full of delicious apples can be found at the Trass' Apple Farm in Co Tipperary, between Cahir and Clonmel on the main Limerick to Waterford road. These orchards produce juicy, crisp apples that in turn give their bright, fresh flavours to the handmade and pressed apple juice that Cornelius Trass produces here on the farm.
No less than twelve different sorts of apples are grown here, available to buy in various forms at the farm's well-stocked farm shop on site.
While the main farming operation centres around delicious apples, Con also grows a small amount of soft fruit during the summertime including strawberries and cherries. These can be purchased direct from the farm at his farm shop located on site. You'll also find The Apple Farm range of fruit juices and other local produce here.
Read More
Did you know that our Good Food Ireland® Physical Gift Vouchers can be used to purchase fruits from any of the above growers? Now there's a versatile gift for food lovers this summer!
Buy a Physical Gift Voucher