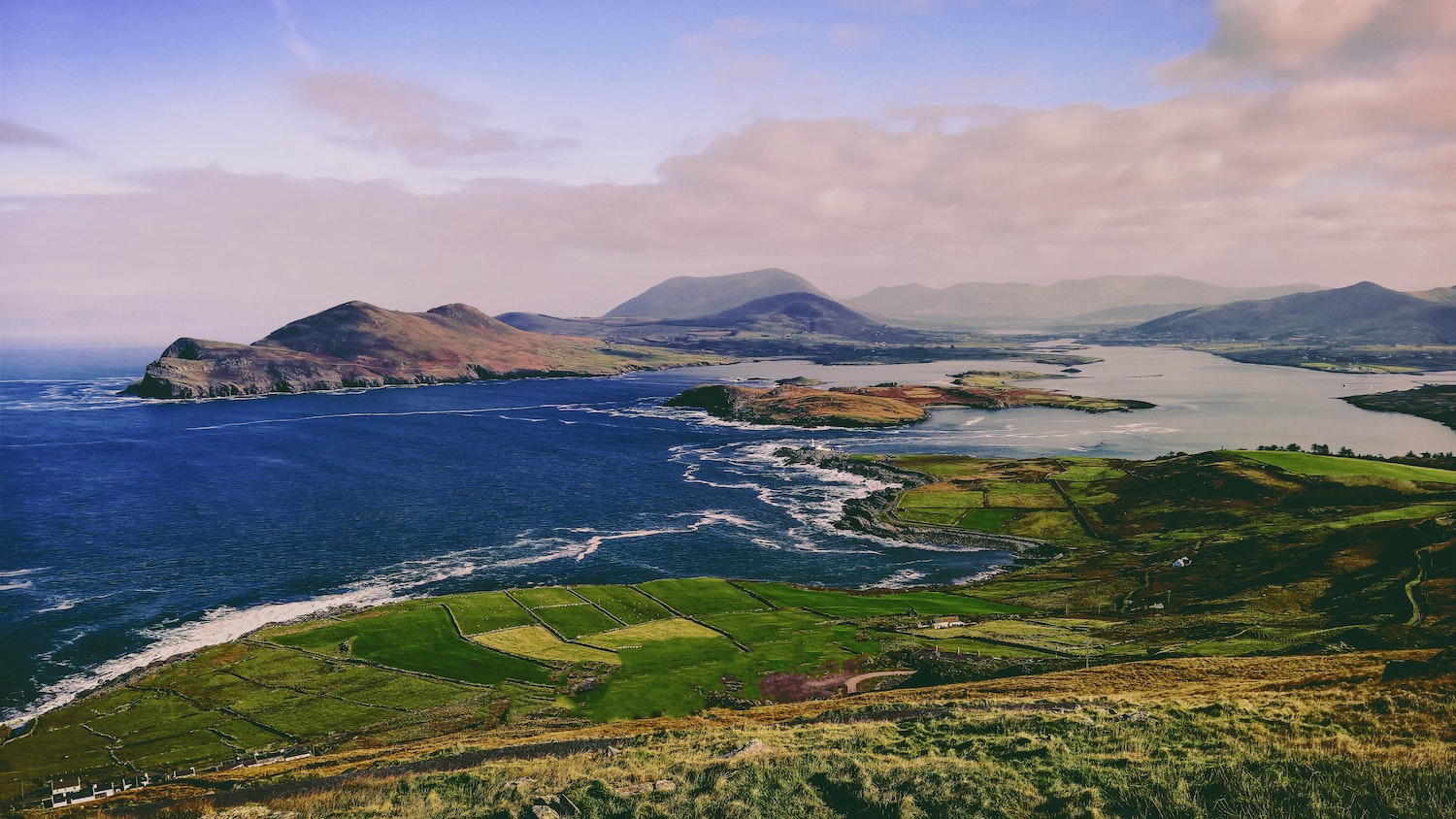 Wild Atlantic Way. Three words that equal 2500km of coastline on Ireland's western seaboard, waiting to be explored. 
Visit Our Shop
Since its launch in early 2014, the Wild Atlantic Way has become one of the 'must do' road drives of the world. A meandering journey which can be travelled from north to south or vice versa. Its two start/endpoints are located in Muff in Co. Donegal and Kinsale in Co.Cork. Whichever way you choose to go, the result is the same. An exciting adventure amid rugged coastal scenery, beautiful little harbours, quiet coves and seaside villages. Glimpses of mystical islands far-flung from the mainland. Signature viewpoints to stop at as you weave your way along this route. And always present at every turn of the road, the raw unbridled beauty of the Atlantic Ocean.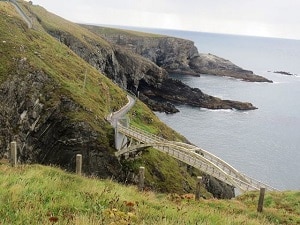 This ocean shapes the west of Ireland in every way. It holds history beyond measure, as the main body of water the Irish travelled to escape raging famine and devastating unemployment over centuries. Its soft sea mists bathe grazing pastures and hillsides in West Cork and Kerry or moisten the mix of alpine, arctic and Mediterranean rare plants that thrive in the Burren in Co. Clare.
The peninsulas of Mizen, Sheep's Head and Beara in West Cork, Iveragh and Dingle in Co. Kerry, Corraun at Achill, Co. Mayo and Inishowen in Co. Donegal is hewn from rocks hundreds of millions of years old, constantly battered by the tides. In Co. Clare, the majestic Cliffs of Moher rise sheer over 700ft from the swirling depths below.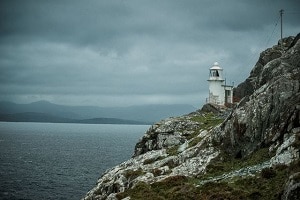 An ocean dominated climate brings its own highlights on the west coast. When it rains on the Wild Atlantic Way, it rains. Some days, just a gentle drizzle that goes on for hours. Other times, a pelting rainstorm which can be over in no time, but in its wake leaves spate waterfalls gushing down mountains and instant lakes on lowlands, which disappear as fast as they came.
On sunny days you'll see for miles and wonder at the colours of the water, the vibrancy of the heather-clad mountains and the enchanting hues on the bog, formed from ancient plants which have been used for centuries to die wool for the west of Ireland's famous tweeds. You can never predict what will happen with the weather on this epic journey, in a part of Ireland that has battled with the elements forever and has sturdy, hardy people, carved from the environment in which they live.
One thing you can be sure of though is some great food that reflects the culinary diversity of this journey. Marry this with great places to stay and rest awhile. Places, tastes and experiences will become as much a part of your Wild Atlantic Way adventure as every other feature of this magnificent road drive.
JIM EDWARDS KINSALE, CO.CORK
No finer place to lay your head at the start or end of your Wild Atlantic Way journey than this seafood restaurant and bar with rooms. Right in the heart of bustling Kinsale town, Jim Edwards is close to the harbour where local fishing boats land the best catches which end up on the menu here. You can dine in the formal restaurant or grab something more casual in the bar and enjoy the West Cork craic as you dine. After a night's sleep, you'll be bolstered for the day with a hearty West Cork breakfast.
THE SMUGGLER'S INN WATERVILLE CO.KERRY
The ocean is two minutes from the door of the amazing Smuggler's Inn, a family restaurant and guesthouse. Before dinner in the evening, you can sip a G&T while watching the sun go down over the sea – the real way to see an Irish sunset! In a childlike way, you won't be able to resist wondering whether the golden path of light the sun leaves in the waves really does lead to the horizon.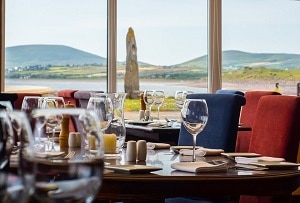 Dinner here is a magnificent feast of local specialities including Kerry mountain lamb and freshly caught seafood, with vegetables from the famous Maherees region of Kerry. A short stroll upstairs afterwards leads to comfy rooms, some with ocean views. Listen to the waves lap as you close your eyes. Or get out there on the beach and enjoy a spectacular light show of stars as this part of Kerry is an exclusive International Dark Sky Reserve, one of only eleven in the entire world to date. Pollution-free skies enable you to see constellations and galaxies in all their glory on a clear night.
QUINLAN & COOKE BOUTIQUE TOWNHOUSE AND QC'S SEAFOOD RESTAURANT CAHERCIVEEN, CO. KERRY
If you're into a bit of history, Caherciveen is the only place in Ireland to have a Roman Catholic church named after a layperson rather than a biblical person or saint. The Daniel O'Connell Memorial Church in the town commemorates a man Ireland knows as 'The Great Liberator', for his dedication to campaigning for Catholic emancipation which included the rights of Catholics to sit as politicians in Westminster, banned since the Penal Laws of 1695. Daniel O'Connell was born in Caherciveen and the ruins of his birthplace can be seen along the road out of town.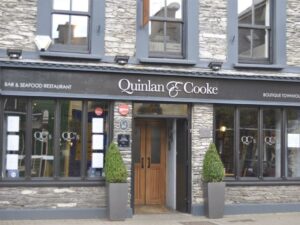 When you've done that, you might want a bit of lunch or dinner at QC's Seafood Restaurant in the heart of town.
Owned by husband and wife team Kate and Andrew Cooke. Kate (the Quinlan half of the team) gets the best fish and seafood from her family's fishing boats in nearby Valentia Island. The couple also owns the swish Quinlan and Cooke Boutique Townhouse residence a few doors away, where elegant rooms await and a continental breakfast is hung on your door as you sleep. Tea and Coffee making facilities, organic juices, yoghurt and granola are all in your in-room fridge. Breakfast in bed is easy!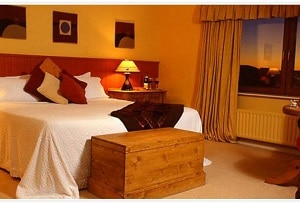 GORMAN'S CLIFFTOP GUEST HOUSE
Sile Gorman runs the superb Gorman's Clifftop Guesthouse, located at the foot of Mount Brandon in Co. Kerry. Rooms here have either mountain or sea views, both splendid vistas to wake up to in the morning. A divine breakfast of home-baked goodies and the Full Irish start the day. A superlative array of Kerry produce cooked carefully and creatively. Gorman's is the place to hear Ireland's Mother Tongue of Irish spoken fluently by all the team.
They love it when guests want to hear it and better still when they ask to learn a few words! If you have any Irish at all you are wholly encouraged to use it here. No shame in only knowing one or two words, you might add to your repertoire before you leave!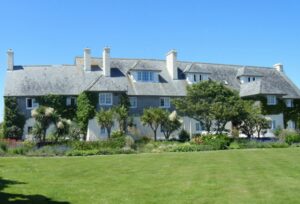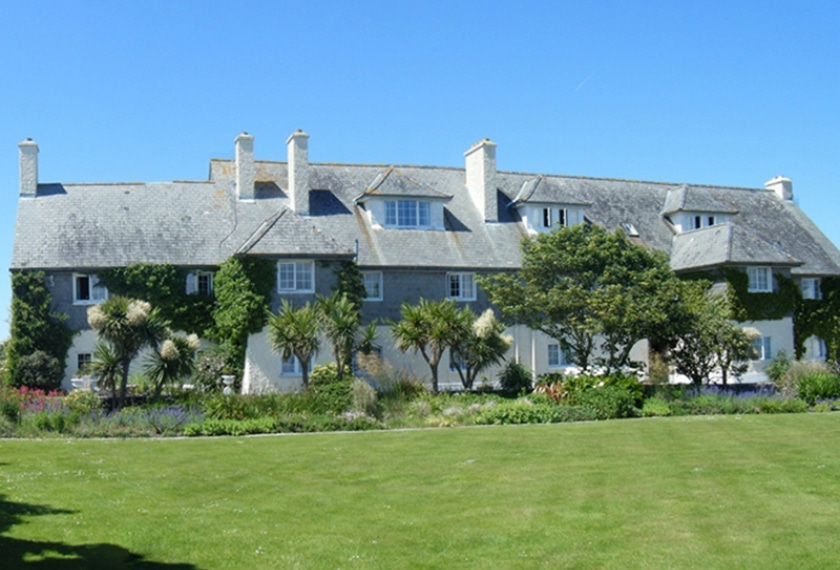 RENVYLE COUNTRY HOUSE HOTEL, CONNEMARA CO. GALWAY
Another gem on the Wild Atlantic Way. Renvyle Country House Hotel on the coast of Connemara in Co. Galway has been a family home and business and that warm atmosphere shine through. Renvyle is a family-friendly hotel where even well-behaved dogs are welcome. You'll often find a mutt or two stretched out in front of the fire in the lounge.
This is an Arts and Crafts Period House and as such, retains that simplistic style of décor. Long-standing and experienced Head Chef Tim O'Sullivan crafts a beautiful menu from local fish and meats served in the superb dining room.
THE CONNEMARA COAST HOTEL, CO.GALWAY
The magnificent scenery of Connemara can be appreciated to the full at The Connemara Coast Hotel. This luxurious four-star hotel sits on the beautiful and renowned western coastline – right on the sea looking across Galway Bay and out to the Aran Islands beyond. A variety of stylish bedrooms include the beautiful split level presidential suite with a roaring turf fire and a balcony that offers unbeatable vistas. This is a good all-around family hotel with plenty of intimate spaces for those alone or in couples.
An upstairs resident's lounge provides a great spot to take tea or coffee and have a read of the daily newspapers. Two restaurants offer differing styles. Daly's is an all-day restaurant, with a general menu for lunch and dinner, especially suitable for families. The Gallery Restaurant is a fine dining option for the evenings showcasing the best in local produce and great wine matches.
RATHMULLAN HOUSE, CO. DONEGAL 
Rathmullan House sits in a prime spot on the banks of Lough Swilly on the Wild Atlantic Way. A golden beach begs to be strolled after breakfast or before dinner in The Cook and Gardener Restaurant. As the name suggests, The Cook and Gardener represent the connection of the chefs here to the seasonal produce grown in the walled garden of the house. Combine this with local fish and shellfish and the best of Donegal meats and you've got a fine feast in store. Rooms are cosy and comfortable, in this magnificent stately house.
Have a tipple by the fire in Batt's Bar before you have dinner, or retire there with a nightcap and a bit of a chat with your fellow residents. A glorious spot with the ocean right outside the windows.
WILD ATLANTIC WAY EXPERIENCES 
You can experience the thrill of the Wild Atlantic Way combined with a Good Food Ireland experience in this region. Catch and Cook in Dingle with Dingle Cookery School. Enjoy Michelin Star dining in Loam or Aniar Restaurants in Galway City and meet the chefs. Try an Irish Whiskey and Farmhouse Cheese Tasting in Killarney in Co. Kerry. Or lick a farmhouse Ice Cream and meet the makers on the Flaggy Shore in Co. Clare. All of these magical experiences can be booked on the dedicated Wild Atlantic Way Experiences page. You'll be spoiled for choice!
Buy Gift Voucher