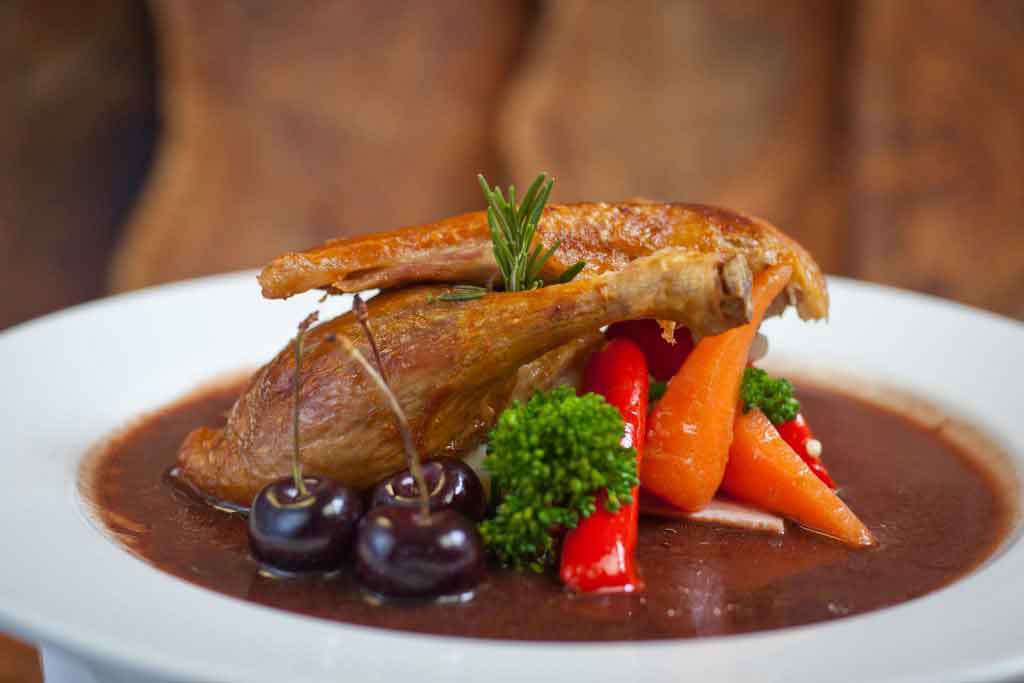 Melanie May speaks with Myles O' Brien about local food provenance and why it tastes so good.
Myles O' Brien Chef & Owner of The Tavern Bar & Restaurant, Murrisk
Located just five miles from Westport, Croagh Patrick soars above the surrounding countryside and dominates the landscape. Its conical shape and craggy slopes beckon you to don your hiking boots and climb your way to the top.
Considered one of the holiest mountains in Ireland, The Reek as it is known locally, is where St Patrick fasted for 40 days. Even before St Patrick's arrival, it is thought that pagans came here to celebrate the beginning of harvest season. Nowadays, it is a site of pilgrimage and around one-million pilgrims each year attempt to reach the summit, many doing so barefoot.
The steep sides are covered in shards of shale, and the ascent can be tough going in places. But the effort is worth it as the views from the top are breathtaking. Spread out before you, in all of its shimmering glory, is Clew Bay and its many islands and the magnificent Mayo countryside.
If, like St Patrick, you climbed The Reek without so much as a sandwich, or if your summiting snacks were insufficient, you can banish your hunger and refuel your body in The Tavern Bar and Restaurant which lies in the shadow of Croagh Patrick in the village of Murrisk.
Good Food Ireland® Gift Vouchers are valid at The Tavern Bar and Restaurant. Treat yourself, a friend, or loved one to a delicious meal in this beautiful setting.
Buy a Gift Voucher
Rich & Relaxing
Sink into the deep, cushioned chairs and rest your sore feet. Let the roaring fire warm up your bones and the warm welcome light up your heart. Settle in and Myles O'Brien will feed you a feast of the best local produce from Mayo's rich pantry.
"At the Tavern Bar and Restaurant, we try to buy everything as local as we can. We use Seán Kelly's gluten-free black pudding, we use Mayo eggs, we use as much fish as we can get locally and we buy our crab, mussels and oysters from the suppliers around here. I have my lobster fisherman in Inishturk and we do our own sea foraging for our seaweeds" says Myles.
His way of doing things and keeping things local is rooted in his childhood and his enterprising mother who ran a very successful bed & breakfast in Mayo.
"She had a large table where she'd seat all the guests together and then she'd cook dinner for them all. We reared our own lamb, we made our own butter and she bought wild salmon from the co-op down in Achill. She'd spend all winter making jams and marmalades and white and black puddings for the summer for the B&B. We killed our own pigs, we reared our own ducks, we had our own chickens and we killed our own cattle. She was a very successful lady. She won best guesthouse of the year a couple of times in Ireland"
Much like his mam, Myles says: "we produce everything we can in the tavern. We bring in the raw materials and try not to buy anything ready made".
But what makes those raw materials so good?
"It is the quality of our land and the cleanliness of our waters that comes back into our food chain. The Irish farmers and food producers are ethically good in their handling of food and food production and that feeds all the way down into the care of and flavour of the food."
This is why, much like The Calvey family, Seán Kelly, Frankie Mallon and Hugh O'Malley, Myles likes to keep things as local as possible.
"You know the food. You know where it has come from. You know its provenance. You know how good it is".
Importance of provenance is reflected in the menu, upon reading which, your eyes light up and your mouth salivates.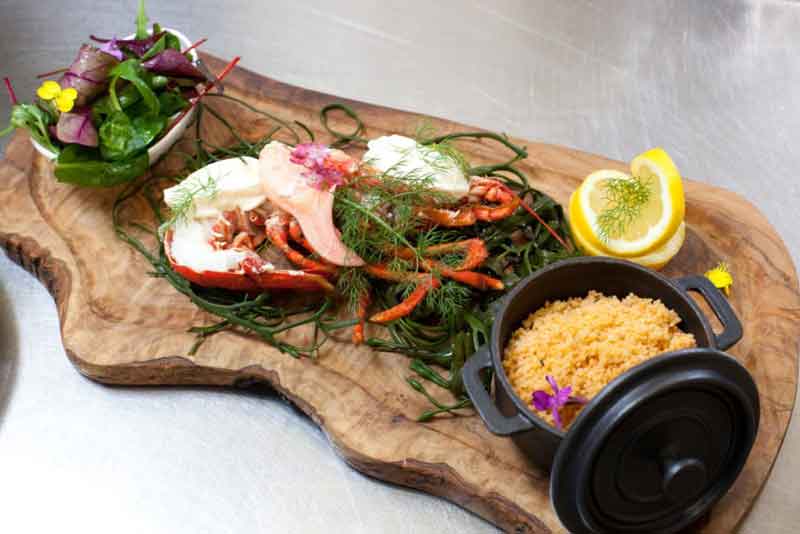 "We have quite a large menu as we have quite a large kitchen team. The menu is based around comfort foods.
We have our Atlantic seafood chowder, seasonal soups, slow-braised shanks of Mayo lamb, slow-cooked feather blade and, of course, beef and Guinness stew.
But, at the same time, we would have beautiful chorizo and cod cassoulet or you could go for our local smoked haddock smokies with a panko crumb and served with a green Thai aioli.
We try to put a twist on everything we do to make things a bit more interesting".
But, with ingredients this good "you don't have to spend hours marinating or decorating or trying to influence the flavours. The flavours are naturally there. You just try to enhance them a small bit.
Take our Clew Bay scallops. They come in fresh and a few minutes on the pan and they are beautifully caramelised. Then we put a slice of Seán Kelly's beautiful black pudding and some Andarl Farm smoked bacon. We actually cook the bacon and sprinkle it on top. We serve it with a beautiful pea and mint puree.
It's the same for our lobsters. We keep them in the tank. We don't pre-cook them. We don't do anything to them. We just cut them in half and put them straight into the oven with butter. Sometimes we do Thermidor, but most of our lobsters are straight out of the tank and 6-7 minutes later, out on the plate in front of you".
It doesn't get fresher or better than that, does it?
"I think our seafood is amazing, especially our shellfish. The plain and simple mussels in our Clew Bay chowder are delicious. We use different types of mussels as depending on the time of year ,the rope mussels or the floor mussels might be better. There is a difference in taste and they just taste so fresh. They are not treated. They are not bagged.
And our oysters can be taken straight out of Clew Bay and eaten".
Myles is Mayo through and through. You can hear it in his voice, and I don't just mean his accent, as he sings the praises of and waxes lyrical about where he lives.
"I love the views, the walks on the beaches, the fresh air, the sense of freedom and the coastline that we have. That rugged coastline makes the Mayo people a tough people because it is tough around here in the winter and it is quiet. That's why community is so important.
The whole sense of community around the pub and the village of Murrisk – the lotto draws, the chats — it's fantastic.
There would be one guy in the pub and I would say: 'look, I'm running out of lobsters'. And he would say, 'Right, I'll go and get a few' and he would go down to his tank and twenty minutes later he would be back with his lobsters for us. You don't get that anywhere else. It's brilliant.
You also have a great mixture of young and old – the young surfing, the old people sightseeing, and the pilgrims coming to the village of Murrisk. It has its hippies, it has its yuppies, it has everything. It is a great melting pot of people, especially in the summer. It is a really fun place to live and work, and I enjoy going to work every day. I wouldn't want to live anywhere else in the world".
St Patrick might have been famished at Croagh Patrick, but you don't have to be. Call into The Tavern Bar & Restaurant in Murrisk and let Myles feed you from Mayo's laden larder. It is a wonderfully warm and welcoming place to discover true local flavours and enjoy a memorable meal.

Explore & Book
Food & Drink Experiences
Luxury Overnight Stay and Afternoon Tea for Two at the Grand Central Hotel

What You'll Get Luxury overnight accommodation for 2 in the Grand Central Hotel Belfast, including afternoon tea in the Observatory – 'Irelands highest cocktail bar' Stay in a Deluxe Bedroom with views over the city, and enjoy a full Irish...

Wild Atlantic Distillery Tour & Tasting

What You'll Get Witness the magic of distilling with a visit to Wild Atlantic Distillery located in the north-west of Ireland. Brian and Jim, your hosts will give you a warm welcome with a complimentary drink waiting at your arrival. Following this,...