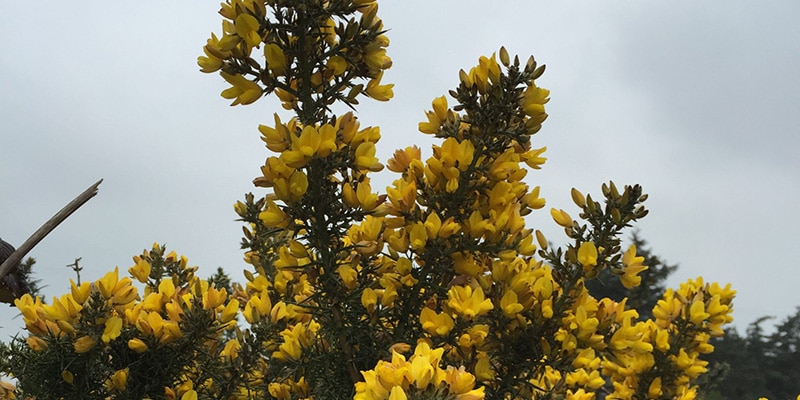 "It's all Emily's fault", Sharon Greene tells me. Emily is her fifth child, and while the family were out for a walk in the countryside, she picked up a rosehip and asked her parents what it was. "I was raised by a woman who knew all these things, so I did too. I assumed my kids knew as well. It was only when I got too child number five that I realised they didn't."
Sustainability and Caretaking
And so began the process of teaching their children about nature, which eventually became Wild Irish Foragers and Preservers. "There was no plan. We fell into it", says Sharon. The couple started making rosehip and other fruit syrups produced on their farm in Shinrone, near Birr, Co. Offaly, and giving them to friends. "They suggested I try the farmer's market in Nenagh. We set up a table there and sold out on our first day. Then Evan Doyle of McCreddin Village brought me up to his wild food festival and there was huge interest. That made me realise that there might really be a business."
Sharon is a passionate and articulate exponent of alternative agriculture. "Our son is the fifth generation to be working this farm. Conventional agriculture didn't fit with Gordon (her husband). He is very much a caretaker and wants to pass on something in good shape to the next generation. We still have some beef cattle for land management but one third is left fallow for a generation, another third is used for foraging. He has rewilded certain areas, grafted old trees and planted an elder grove with two hundred trees. We are trying to forage without leaving a huge human footprint. Just by leaving it, everything comes back. Apart from the gorse we take from the bog across the road, everything is from our own farm. Everything is done by hand here. The is no machine to destalk elderberries or take the flowers off gorse."
The secrets revealed
As is obvious, Wild Irish Foragers is a philosophy as much as a business. "If you make enough to keep a roof over your head and food on the table then why expand into a huge farm?," asks Sharon. "We are unconventional", she laughs.
When home, all of the family help with picking but Gordon is the main forager. Sharon is in charge of making the various products. "We have a small one-woman commercial kitchen – my husband was very clever about that," she says. The Greenes handpick a bewildering array of fruits, herbs, grasses and flowers including rosehips, elderberries, damsons, elderflowers, gorse, rowanberries, sloes, nettles, blackberries, honeysuckle, goosegrass and clovers.
From these they make a variety of potions including syrups, preserves, fruits cheeses, jellies, pontacks, shrubs and pots. All of these are traditional. "I am fascinated by our food history and heritage," Sharon tells me. "Since the famine we have this attitude that if you ate out of the ditch, you were poor. Yet our hedgerows are a huge source of food. Pontack for instance isn't Irish but it has an Irish connection. In 17th century London, Frenchman François-Auguste de Pontac set up the first ever gastro pub. Pontack is an elderberry ketchup or sauce created by de Pontac to accompany game and other meats. It was a favourite of Jonathan Swift who was a regular there. Shrubs, in case you wondered, are drinks that arrived here through the ports pre-famine. The name comes from an Arab word to quench. If all this seems a little daunting, take a look at the Wild Irish Foragers website. I did and bought a range of fascinating syrups, pots and preserves for drinking, cooking and enjoying with all sorts of foods.
Everything begins and ends with Customer Care
As with many small producers, Covid has been mixed blessing. "This has been a strange year," says Sharon. "We had planned to hold a festival and open a farm shop. That has all been shelved. We only have the online shop but that has really taken off. Word-of-mouth has been huge. You can do all the marketing you like but being good to customers is the best way to go." Wild Irish Foragers has been approved to the Good Food Ireland® since 2014.

Explore & Book
Food & Drink Experiences
Good Food Ireland® Picnic for Four – Co. Clare

What You'll Get The prelude to a great day out exploring the outdoors is having a tasty and satisfying picnic to enjoy on your travels. For families or small groups looking to explore the beauty of Co. Clare and enjoy some great local and homemade...

Mountain Lamb Farm Tour & Tasting on Achill Island – Co Mayo

What You'll Get Immerse yourself in the longstanding tradition of Blackfaced Mountain Sheep farming with an adventurous experience on Achill Island. The high hills and coastal splendour of Achill is home to this famous variety of sheep. You'll...

Unique Seafood Experience, Oyster Farm Tour & Tasting – Co Sligo

What You'll Get Enjoy a unique seafood experience when you tour a Sligo oyster farm with your guide Aisling. The experience offers an immersive guided tour and visits the working oyster farm on the shores of Sligo Bay, overlooked by the majestic...