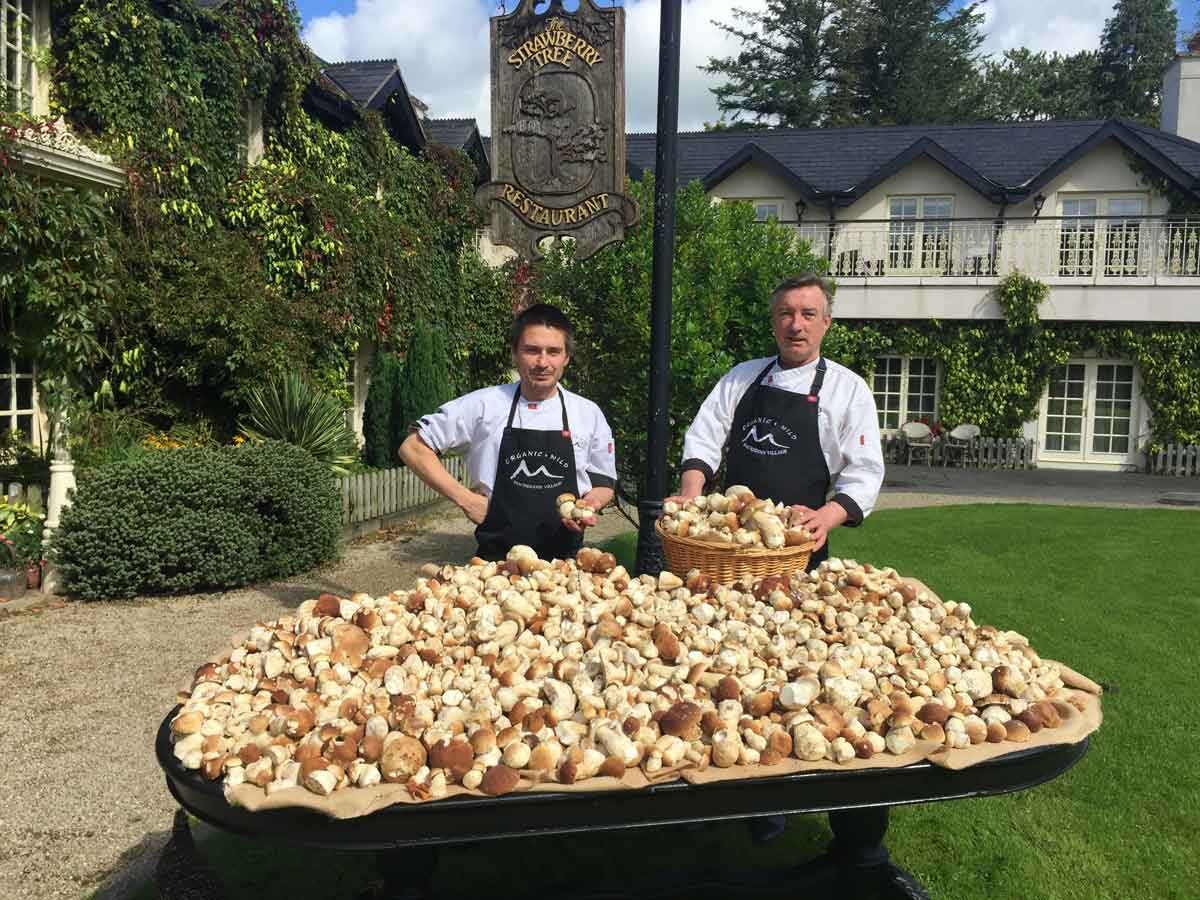 Five Irish Smokehouses with a combined knowledge of over 180 years of smoking foods come together to celebrate the art of smoking with a very unique Dinner menu on Sunday the 28th of May in Good Food Ireland® Approved, BrookLodge & Macreddin Village, Co Wicklow.
Smoking is an age-old way of preserving foods, long before refrigeration was invented. In its simplest form, the process used salt to 'cure' the fresh item, and smoke to prolong its longevity. Meats and fish were preserved in this manner since the earliest of times.
Things have changed and techniques have been perfected in the modern day. Artisans have specialised in smoking meats and fish, using their own blend of salt and other ingredients and carefully choosing wood chips to get exactly the flavour they want.
Oak and beech are popular woods for smoking; some artisans use a mix while others choose one or the other. Some are even experimenting with the wood from barrels used to age whisky and wine. Smoking is an art and each specialist has his own way of doing things.
In celebration of Ireland's rich history and culture of smokehouses, BrookLodge & Macreddin Village are hosting an exciting for one night only Smokehouse dining event which will bring together some of Ireland's top smokehouses.
These include Good Food Ireland® Approved Ummera Irish Smoke House, Co. Cork and also Connemara Smokehouse, Co. Galway.
BrookLodge has curated a fabulous overnight package around this dining occasion with prices starting from €255 per person. The package includes:
One Night Bed & Breakfast in BrookHall
Pre-Reception SmokeHouse Cocktail at 6.30 pm in The River Lounge
A 10 Course Tasting Dinner at banquet style tables in The River Room
Wine & Drinks Pairings
Late checkout of 1 pm
The SmokeHouses Dinner package can be booked through BrookLodge's website online or by contacting them directly on 0402 36444 or email [email protected].
Read more about Good Food Ireland® Approved Smokehouses featured at the event below:
Anthony Creswell has been smoking fish at Ummera since the 1980s. The business was started by his father who smoked the wild salmon he and his friends caught on local rivers. The business grew from here and Anthony joined after a long career in the wine trade.  In 2006, Anthony took things in a new direction, just before the ban on commercial wild salmon fishing in Ireland. He began to source organically farmed fish from Irish waters. Ummera now focuses on producing the best quality organic smoked salmon, using salt from Portugal and a small amount of organic raw cane sugar.
The smokehouse also produces smoked bacon with no artificial preservatives, smoked chicken and smoked duck. Pork and chicken are locally sourced.
Connemara Smokehouse has been in the Roberts family since 1979, the oldest smokehouse in the region and one of the oldest in the country. It's now in the hands of the second generation with Graham Roberts and his wife Saoirse at the helm. Graham favours beech wood to smoke his fish and uses a traditional kiln dating back to 1946. Connemara Smokehouse is open to the public. You can get a guided tour of the production, tasting of product and buy smoked salmon while you're here.
Connemara Smokehouse produces Smoked Salmon and Organic Smoked Salmon, Smoked Wild Salmon in season, Gravadlax, Smoked Mackerel, and roast salmon products.
Learn more about BrookLodge & Macreddin Village

Explore & Book
Food & Drink Experiences
Luxury Overnight Stay and Afternoon Tea for Two at the Grand Central Hotel

What You'll Get Luxury overnight accommodation for 2 in the Grand Central Hotel Belfast, including afternoon tea in the Observatory – 'Irelands highest cocktail bar' Stay in a Deluxe Bedroom with views over the city, and enjoy a full Irish...

Wild Atlantic Distillery Tour & Tasting

What You'll Get Witness the magic of distilling with a visit to Wild Atlantic Distillery located in the north-west of Ireland. Brian and Jim, your hosts will give you a warm welcome with a complimentary drink waiting at your arrival. Following this,...