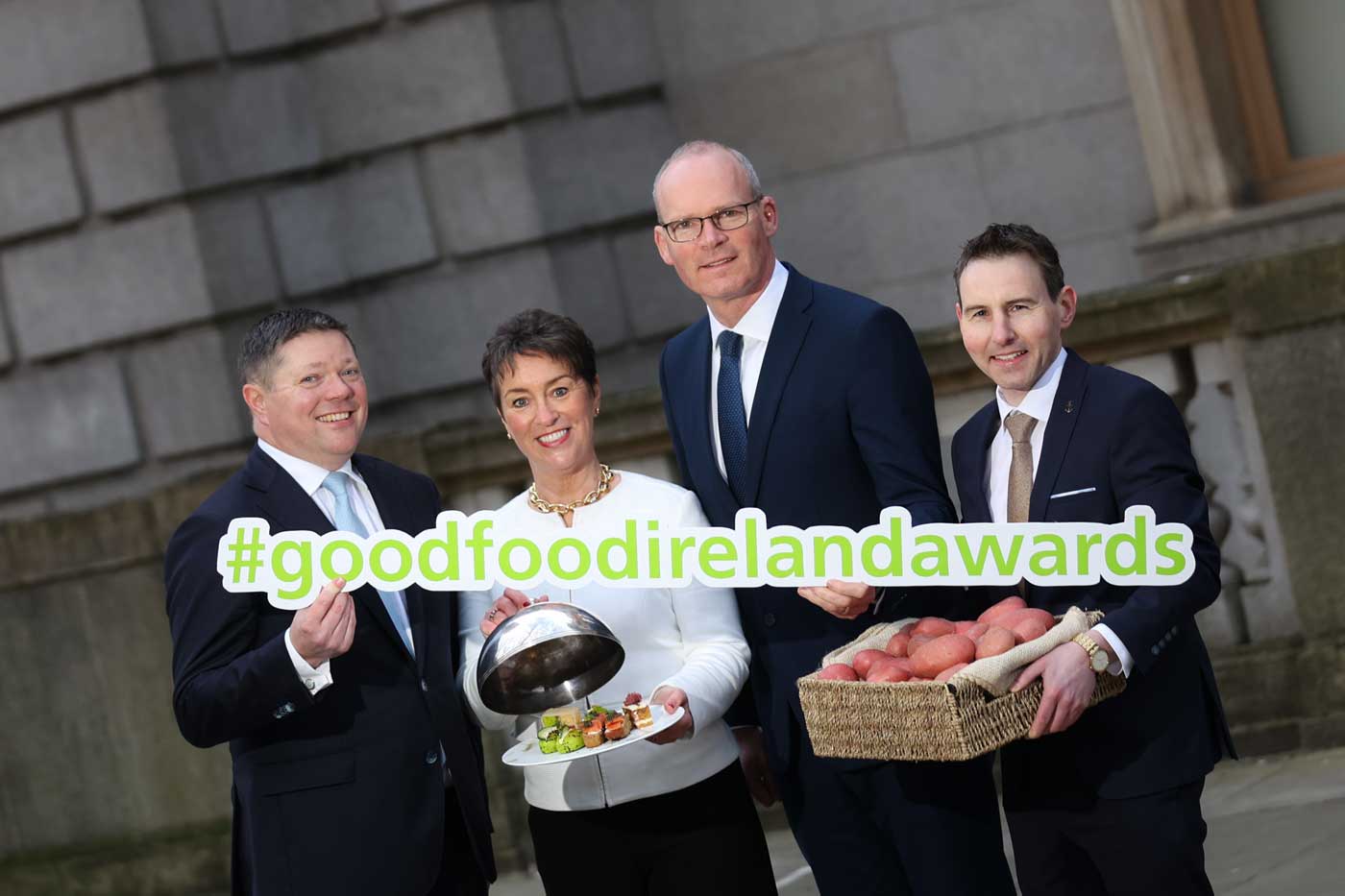 Image Caption: From Left, Paul Heery, General Manager, The Club, Co. Kildare, Margaret Jeffares, Founder & Managing Director, Good Food Ireland®, Simon Coveney T.D., Minister for Enterprise, Trade & Employment, James O'Shea, O'Shea Farms, Co. Kilkenny
Press Release 
February 2023
Images HERE
HIGHLY COVETED GOOD FOOD IRELAND® AWARDS RETURN
Monday 17th April 2023
The K Club, County Kildare
Now returning for the first time since pre-Covid, the highly-coveted Good Food Ireland Awards will take place on Monday 17th April at The K Club, County Kildare. The high-profile business lunch will be opened by guest of honour, Simon Coveney T.D., Minister for Enterprise, Trade and Employment, and attended by some 300 guests including business owners, Irish and international chefs, buyers, food and drink writers, media and industry leaders.
The awards are unique in their cross-sector approach and core criteria around commitment to local Irish produce. They aim to enhance linkages between agriculture and tourism and present significant opportunities for stimulating local production, retaining tourism earnings in the local area, and improving the distribution of economic benefits of tourism to the four corners of the island.
Margaret Jeffares, Founder and Managing Director of Good Food Ireland says:
"For the last 17 years we have worked to create a greater understanding of the needs of both sectors to successfully broaden and deepen local agriculture and tourism linkages, helping make tourism work for economic diversification.

"The Good Food Ireland Awards celebrate the successful collaboration of businesses working together for inclusive economic growth. They recognise people who genuinely capture the essence of Ireland's food and drink, setting it in a cultural context to inspire travellers, international consumers and locals to seek out real authenticity and Irish provenance."
Award Categories include: Producer of the Year; Sustainability Award; Hotel of the Year; Restaurant of the Year; Food Truck of the Year; Shop of the Year; Pub of the Year; Culinary Haven of the Year; Café of the Year; and Excellence in Food Tourism Award. Recognition will also be given to Outstanding Contribution to Food Production; and Outstanding Contribution to Food and Drink Internationally.
James O' Shea of O' Shea Farms, Kilkenny says: 
"We see these awards as unique in the way that they champion Ireland's best producers and shine a light on biodiversity at farm level as well as the way producers grow, cultivate, harvest and catch the produce they supply to leading chefs, establishments and retailers. Now, more than ever, it's important to show all the hard work and innovation that is happening within the Irish farming industry."
Anita Mendiratta, Special Advisor to the Secretary General of the United Nations World Tourism Organisation, will deliver the afternoon's Key Note speech. Anita is widely recognised within the industry as "Most Influential Woman in Tourism' in 2019" and "Top 25 Inspirational Executives in Travel/Hospitality' in 2021".
Paul Heery, General Manager and CEO of The K Club, says:
"We're delighted to be hosting this year's Good Food Ireland Awards. With seven different food and drinks spaces across our busy resort, we're hugely passionate about where our produce comes from and the journey from field (or sea) to fork. Ireland is home to some incredible producers and it's only right that they are spotlighted alongside the businesses who serve up their outstanding produce to consumers."
The awards are proudly sponsored by Kerrygold, Irish Farmers Association, Tourism Ireland, Bord Bia and the National Dairy Council.  All businesses approved by Good Food Ireland, subject to meeting strict criteria through onsite inspection, are eligible for the awards. For full details on the individual awards, tickets to the event, and general information about Good Food Ireland® visit goodfoodireland.ie
Good Food Ireland®
@goodfoodireland
-ENDS-
For further information contact: 
Good Food Ireland®
Notes to Editors
About the Awards:
All businesses approved by Good Food Ireland, subject to meeting strict criteria through onsite inspection, are eligible for the awards. An independent panel of industry experts will create a shortlist of finalists in each of the award categories. Following further onsite mystery inspection and assessment the winners will be selected. The public will also have an opportunity to vote from a shortlist of finalists for their Favourite Place to Eat, Favourite Food or Drink Producer or Favourite Place to Shop in each of the tourism regions across the island of Ireland.
Full list of award categories:
Hotel of The Year
Culinary Haven of The Year
Restaurant of The Year
Café of The Year
Pub of The Year
Shop of The Year
Food Truck of The Year
Sustainability Award
Producer of The Year Awards
Meat Producer of The Year
Fruit And Veg Producer of The Year
Dairy Producer of The Year
Fish & Seafood Producer of The Year
Drinks Producer of The Year
Sweet & Savoury Producer of The Year
Overall Producer of The Year
Food Lovers Choice Award
Wild Atlantic Way
Dublin
Ireland's Ancient East
Ireland's Hidden Heartlands
Northern Ireland, Embrace a Giant Spirit
Excellence In Food Tourism Award
Outstanding Contribution to Food Production
Outstanding Contribution to Irish Food and Drink Internationally
Recognition of Good Food Ireland International Ambassadors
Supreme Award of The Year

Explore & Book
Food & Drink Experiences
Luxury Overnight Stay and Afternoon Tea for Two at the Grand Central Hotel

What You'll Get Luxury overnight accommodation for 2 in the Grand Central Hotel Belfast, including afternoon tea in the Observatory – 'Irelands highest cocktail bar' Stay in a Deluxe Bedroom with views over the city, and enjoy a full Irish...

Wild Atlantic Distillery Tour & Tasting

What You'll Get Witness the magic of distilling with a visit to Wild Atlantic Distillery located in the north-west of Ireland. Brian and Jim, your hosts will give you a warm welcome with a complimentary drink waiting at your arrival. Following this,...