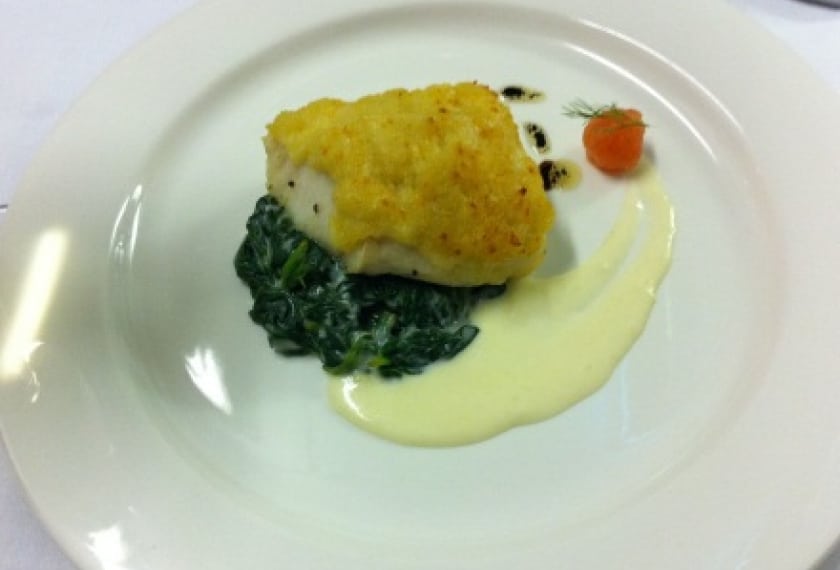 Ingredients
2 x 6oz fillet of Pollack
200g washed and dried spinach
50ml of your favourite béchamel
40g breadcrumbs
15g soft butter
20g grated cheddar cheese
Salt and pepper
Lemon
Method
Pre-heated oven at 170°C.
Preparing the fish fillets: Season the fillets with salt and pepper and a squeeze of lemon juice. Place onto a lightly buttered baking sheet or oven proof dish flesh side down and bake for 8-10 minutes. Remove the fish from the oven you should be able to peel the skin of easily. Place the cheese crust on each of the fillets and return to the oven until golden brown approx 3-4 mins. Place under a grill if necessary.
To make the cheddar crust: Mix the breadcrumbs cheddar and butter add a little lemon juice and cracked black pepper- the mix should be dry and hold shape when pressed slightly.
Cooking the spinach: Place in a microwave bowl season lightly with salt and pepper and cook for 1 to 2mins at high heat and drain of excess juices add the béchamel, check your seasoning and reheat.
To Serve: Warm two plates. Place the spinach in the centre of both plates set the fillets of fish on top. Serve with lemon on the side.

You may also like
Simnel Cake

Ballymaloe House is home to the cooking dynasty of the Allen family, so you know you are in for a gastronomic treat when you dine here. This elegant country house has all the elements you will need to enjoy a relaxing full of great hospitality and of...

Traditional Roast Beef Dinner

The suburbs of Cork City are home to a little secret. Located near Douglas, just a short drive from the centre of the Rebel City, Maryborough Hotel and Spa is set in a private estate of mature grounds and gardens. You can sense the 300 years of history...