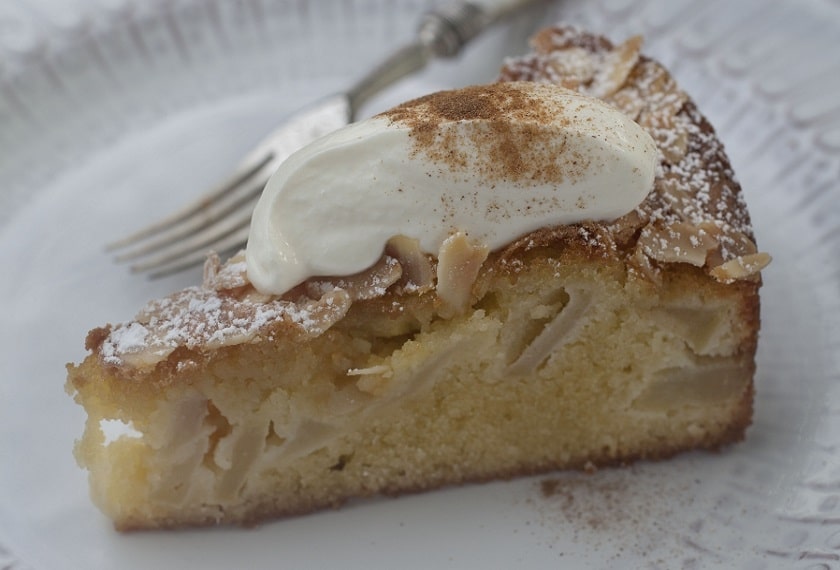 Ingredients
For the Cake:
220g caster sugar
110g self-raising flour
110g ground almonds
1 tsp baking powder
3 eggs, beaten
140g butter, melted
2 medium cooking apples, peeled, cored and cut into slices or chunks
To decorate:
Method
Additional Equipment: 20cm springform pan with a removable base.
Preheat the oven to 160°C, 140°C Fan, 325°F, Gas 3. Line the cake tin with a circle of bakewell/parchment paper on the base. Butter and flour the sides of the cake tin and shake out the excess.
Mix the sugar, flour, ground almonds and baking powder together in a bowl. Add the beaten eggs and melted butter and stir well.
Put one third of the batter into the cake tin. Place a layer of apples over the batter and then spoon the rest of the batter on top. Sprinkle the surface with flaked almonds. Bake in the oven for about 50-55 minutes, or until a skewer inserted into the centre comes out clean.
Turn out onto a wire tray and leave to cool. This is delicious served as a cake with afternoon tea, or with a good dollop of cream for dessert.
A truly special Apple Cake Recipe. We hope you enjoy Biddy's delicious creation!

You may also like
New Season Irish Carrot Cake

International Guest Chef Fred Cordonnier. Recipe baked by Aisling Boggan from team Good Food Ireland.